Giving Back to Support Those in Need
Category: Spotlights
November 22, 2021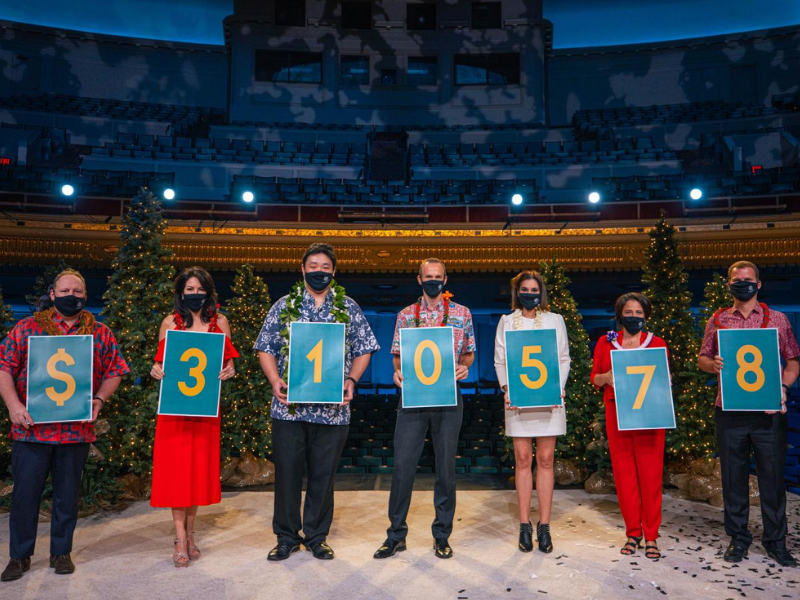 When Avery Fukeda graduated from Saint Louis School in Honolulu he knew he wanted to earn his bachelor's degree in Hawaiʻi. He was looking for a unique college experience, one that would be different from anywhere else, a university that offered myriad degree programs, small class sizes, guaranteed internships, and student life opportunities to mature into a strong leader. HPU was a perfect fit.   
"Attending HPU gave me the opportunity to live, learn and explore my career opportunities right here in Hawaiʻi," said Fukeda. "I wanted to develop friendships that span the world, and engage with professors who have real work experiences in their fields. I also wanted access to internship opportunities."
Fukeda always loved business, so HPU's business administration degree was a natural choice. An active and engaged student, Fukeda joined the Circle K International organization, Campus Activities Board, and Student Philanthropy Council. He was President of the Circle K International organization and Student Philanthropy Council, and Vice Chairman of the Campus Activities Board.
"Being part of registered student organizations (RSOs), or clubs, played a significant role in helping me find success in fundraising and building relationships," said Fukeda. "Being a student leader really challenged me to find ways to raise money to support RSO activities and dues. 
"I remember when I was with Circle K and we had to pay international, national, and district dues each year. It costed around $900 per year. As president, along with club officers, we would engage and advocate for our club with friends and classmates. We asked them to join and pay club dues each year. Through various fundraising efforts the club was able to attend the CNH Circle K District Convention in 2015 and took home 12 distinguished awards and the prestigious William A. Dunlap fellowship award."
Internships are an invaluable opportunity for students to get firsthand experience in various professional environments. Fukeda interned for Make-A-Wish Hawaiʻi, and this role helped him reach his current position as Director of Development and Special Events at Hawaiʻi Theatre Center. 
"I worked as a development intern as a student and was provided the opportunity to work with individuals who shared their knowledge of fundraising," said Fukeda. "I was introduced to the many facets of fundraising roles, including donor solicitations, event planning, grants management, corporate relationships, and more. It was an amazing opportunity to have and, from that experience, I became passionate about what I wanted to pursue in life. I wanted to give back and support those in need. Through HPU, I was provided the opportunity to explore non-profit fundraising and development."
Fukeda joined Hawaiʻi Theatre Center in 2019 as Development Associate. He was promoted to Development and Events Manager and was quickly promoted again to his current role. Fukeda is responsible for all fundraising at the non-profit, ensuring that the 99-year-old iconic theatre provides access to the arts for future generations. In addition, he is responsible for planning and execution of the upcoming Centennial Celebration for the Hawaii Theatre in 2022.
Hawaiʻi Theatre opened in 1922 and at the time was the largest theatre in Hawaiʻi. It had seating for over 1,800 people and had several modern features, including air conditioning. The Theatre was reopened in 1996 after an extensive $32 million dollar renovation and is the oldest existing structure in Hawaiʻi that was built and used as a theatre. Today, the Theatre hosts live concerts, and musicals, including the 2020 Gift of Aloha Concert – a live televised concert that raised over $300K for the Theatre during one of the hardest phases of the pandemic and was one of the largest fundraisers in the theatre's history.
"HPU provides students the opportunity to live, learn, and explore. Right here in Hawaiʻi," said Fukeda. "You have the chance to develop friendships that span the world, engage with professors who have real work experience, and you have access to internships for all majors. HPU also has a career development center, and they provide opportunities to network with alumni to learn about their experiences and career pathways."
To learn more about the college of business at HPU click here.
Photograph courtesy of Avery Fukeda, taken at a fundraiser for Hawaiʻi Theatre in 2020.