Men's Basketball Team Engages in Community Service
Category: Campus News
October 26, 2021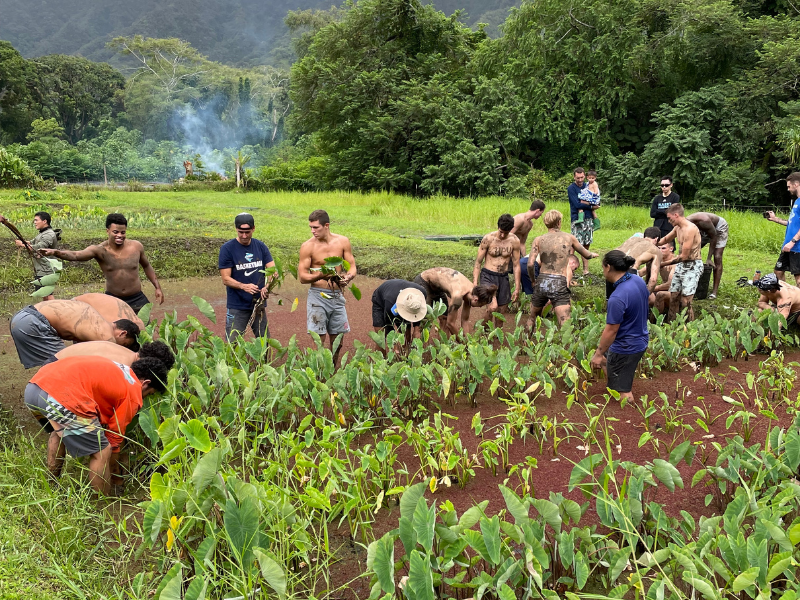 The Hawai'i Pacific University Men's Basketball team visited Ka Papa Lo'i o Punalu'u on Saturday, Oct. 9, for a community service activity. The team members were able to assist the farmers with weeding lo'i kalo (taro field) to prepare it for planting and helping to huki kalo (harvest taro) for food and replanting. The team members acquired a unique cultural perspective and gained valuable life and team lessons to take with them as they gear up for the upcoming 2021-2022 basketball season. 
"This was a terrific experience for our student athletes to gain understanding about the culture of Hawai'i and the importance of sustainability," Head Men's Basketball Coach Darren Vorderbruegge said. "Coach Nakanishi is from Hawai'i and set up this opportunity to blend our local players with our mainland and international team members. They all learned the meaning of 'malama 'aina' and gained an appreciation for their island."
The HPU Men's Basketball team members and coaching staff extend mahalo nui to the kumu (teachers) of Ka Papa Lo'i o Punalu'u and the Hawai'inuiakea School of Hawaiian Knowledge, who took the time to impart their mana'o (knowledge) to the HPU Sharks.