HPU student wins first prize at national POSea conference
Category: Campus News
October 20, 2021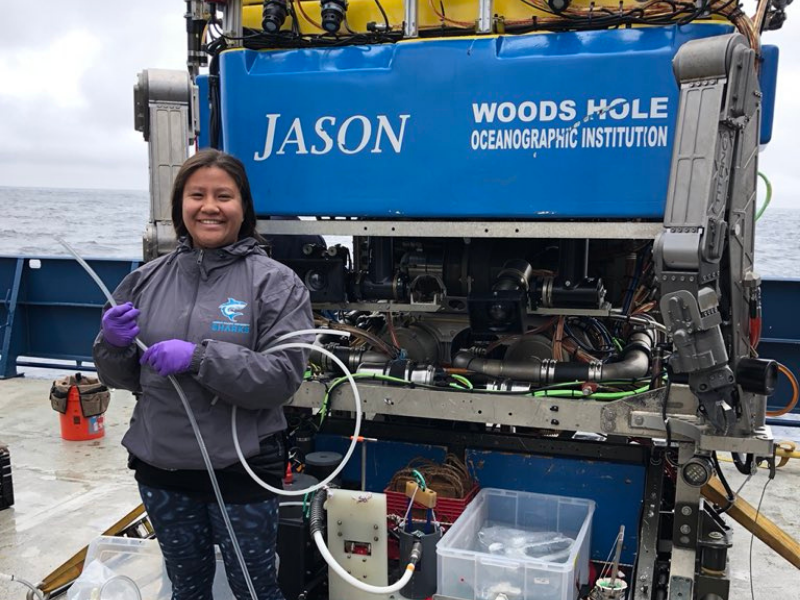 Cherise Spotkaeff, a Master of Science in Marine Science (MSMS) student at HPU, took home first prize in a national Marine Science conference centralized around People of Color. 
The POSea 2021 Conference is a virtual national conference that focuses on Black, Indigenous, People of Color (BIPOC) scientists from different parts of the world. The joint conference took place from Oct. 1 to 3. Topics discussed were focused on conservation efforts and challenges among scientists between different ethnic minority groups. 
"I think it's important to remember where you come from and to take care of your place. But, also remember that there's the rest of the world out there," Spotkaeff said. "Everyone's contribution to science is valid." 
Spotkaeff placed first in the Outstanding Presentation category for her work on the Research Vessel Atlantis in 2019, along with previously recorded expeditions. These expeditions cruised the Juan de Fuca Ridge Flank, an underwater volcanic mountain range along the coast of Washington and Oregon. Spotkaeff was responsible for filtering out water and collecting data samples, which she says was a rewarding yet tremendous effort. 
"The cruise was really fun. It was interesting in the fact that I've never done that before, and it was also a huge learning curve," Spotkaeff said. "It also taught you that things can really go sideways."   
In response to winning first prize, Spotkaeff says she was shocked, but overall was proud to have represented herself as a Native Hawaiian amongst BIPOC scientists. 
"It makes me feel more valid and I worked really hard," Spotkaeff said. "It's just representing who I am and my heritage." 
Growing up in Kalihi, Spotkaeff attended Kamehameha Schools and took an interest in their Honors Science Research program. She attended HPU and earned her Bachelor's of Science in Marine Biology. Ultimately, Olivia Nigro, Ph.D., had convinced her to pursue the MSMS program and this project.  
"If you do a master's project, you know that you have to be very independent and figure out all your problems. But there's a point when you get stuck especially with something very niche," Spotkaeff said. "She's a tremendous help." 
Currently, Spotkaeff is interested in marine viral ecology and studies viruses in extreme environments. Her graduate thesis focuses on the global scaled comparison of viruses in the oceanic basement. 
With this new accomplishment, Spotkaeff hopes that her gained confidence can carry over as she hopes to defend her thesis later this fall.