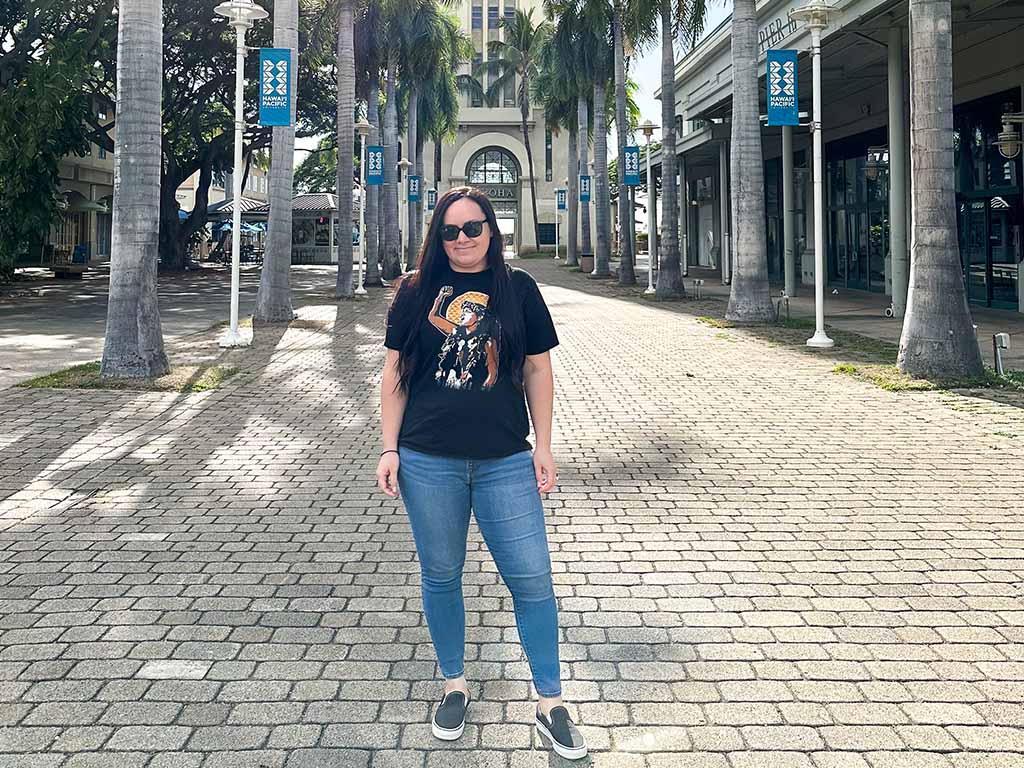 Danielle Carreira Ching at HPU's Aloha Tower Marketplace.
HPU Doctor of Clinical Psychology (PsyD) student Danielle Carreira Ching was born and raised in Kāneʻohe and graduated from Castle High School. Her unique background of working after high school and returning to university later in life has encouraged others to remember that it's never too late to pursue a new career at any age.
"I'm a nontraditional student, someone who did not do things by the book or on time, by any means," said Carreira Ching. "I had a bunch of jobs that were behavioral health related and when I went back to Windward Community College I really enjoyed psychology and women's studies courses. It snowballed from there. I took my time, followed my instincts, and have been very fortunate to take this path."
In high school Carreira Ching was interested in becoming a veterinarian and took classes with the intention of entering the medical field. "I dreamed of having a mobile therapy clinic when I was a teenager," says Carreira Ching, "where I could drive around with my clients for therapy. I still believe that listening to music in a car can be cathartic." 
Carreira Ching is currently in her third year of studies at HPU and expects to graduate with her doctorate degree in 2025. She is working on her dissertation that reviews the health, impact, and historical trauma on the colonization of Native Hawaiians. The dissertation also serves the purpose of the "Act 209 Trauma-Informed Care Task Force," which shall provide recommendations that are rooted in empirical literature and science to the Hawai'i state legislature when creating laws, policies, and procedures a more trauma-informed state. 
"I am also working on a few different projects through my practicum at the Family Court Liaison Branch (FCLB)," says Carreira Ching, "and as a research assistant with the Child and Adolescent Mental Health Division (CAMHD), and The Baker Center for Children and Families, a Harvard Medical School Affiliate. Many of these projects are focused on youth and families including justice-involved youth in Hawaiʻi, a population that I have become particularly passionate about supporting."
The HPU PsyD program educates future practitioners in the mental health community by actively advocating for social change and policy. Graduates will be prepared to fill a niche in Hawai'i and throughout the national mental health community. HPU students receive hands-on experience in the classroom by highly experienced faculty with a wide range of experience in clinical settings that range from private practice to government health service agencies, major medical centers, and state hospitals.
"What really makes the HPU PsyD program unique is that we are housed within a small, private, secular university and our students and faculty are incredibly diverse," said PsyD Director and Psychology Professor Vincent Tsushima, Ph.D., J.D. "We have small class sizes that allow for very cohesive, supportive cohorts of students." 
Carreira Ching's educational journey of post-graduate study and social psychology research in London, and graduating with her PsyD from HPU in 2025 has been inspirational to her faculty and to her fellow students within her cohort. Her desire to inspire change in Hawai'i will undoubtably pave the way for significant change in the mental health community.
"I believe that happiness comes from being comfortable with who you are and finding ways to be an active participant in the world around you," said Carreira Ching. "For me, this means having genuine conversations or experiences, doing work aimed at improving the lives of others."
To learn more about the PsyD program at HPU click here.