HPU's new mural, 'The Reef at Sharky's Cove' at Aloha Tower Marketplace.

Kai'ili Kaulukukui at the blessing ceremony on November 1, 2023.

John Gotanda at the blessing ceremony on November 1, 2023.

Kahu Kordell C. L. Kekoa at the blessing ceremony on November 1, 2023.
When the opportunity arose for HPU to create a mural that faces the tranquil aquamarine ocean at Aloha Tower Marketplace (ATM) one name the University thought of immediately was renowned Hawaiʻi-based artist Kai'ili Kaulukukui. Known for his vibrant, large-scale murals that incorporate elements of marine life like sharks, tropical fish, dolphins, and turtles, Kaulukukui was the perfect choice for HPU's first mural at ATM called "The Reef at Sharky's Cove."  
For Kaulukukui, the mural began as a project to encapsulate the essence of HPU's Makapu'u campus and its commitment to educate students on the natural environment. The mural is centered on a powerful shark motif – symbolizing its critical role in marine ecosystems – and along with it the bright coral reefs of Hawaiʻi, and a variety of tropical fish that are raised at Oceanic Institute of HPU.   
"I am deeply honored that I was invited to create this piece," said Kaulukukui at the mural blessing ceremony held on November 1, 2023. "I am a firm believer that art should be everywhere. I've seen how murals can change communities. Art is culture, and without it, people will be lost. It's important for me that students who use this area like the artwork. I wanted to bring color into their lives. I am honored and blessed to be a part of this project." 
HPU Vice President and Chief Information Officer Cody Down and HPU Information Technology Administrative Coordinator Sandra Meyer helped in overseeing the project from start to finish by helping to interview a pool of potential artists and presenting their recommendations to HPU President John Gotanda for the final selection of the artist.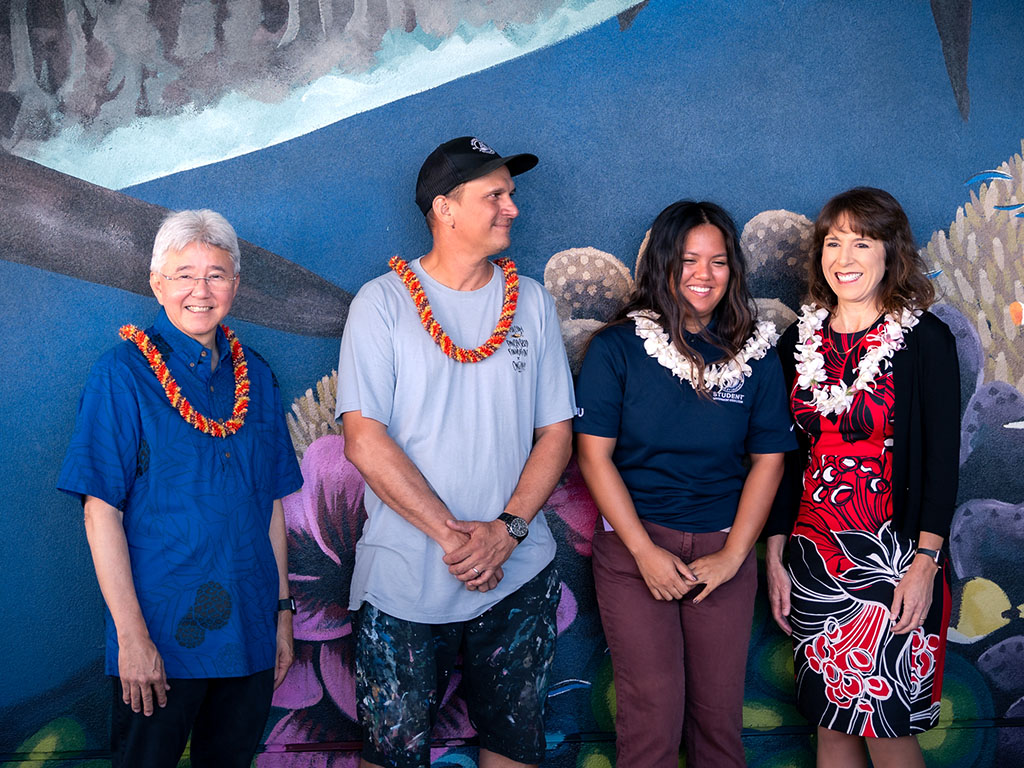 Left to right: John Gotanda, Kai'ili Kaulukukui, Andrea Maminta, Jennifer Walsh.
The mural took six days to complete and is painted on a large wall in Sharky's Cove at ATM, an outdoor space reserved for students to study, relax, and hang out with friends while looking over the water. The student residence lofts are just a few steps away from The Reef at Sharky's Cove, which was created to be a part of the community space where students can embrace art where they live and study.  
"I really hope that students are pumped about the mural," said Kaulukukui. "I'm so proud that I'm here, and that HPU is embracing art, bringing art into the dorms and into the safe spaces where students can relax with friends." 
President Gotanda spoke on the importance of art in the community and the overarching themes of the mural at the blessing ceremony that was attended by HPU students, faculty, and staff. 
"When we first looked at the wall at Sharky's Cove, we all agreed that we needed something unique, instinctive, that brings our community together," said President Gotanda. "A mural that educates, that inspires our students, fosters a sense of community. We wanted to tie our campuses together, incorporating our Makapu'u campus, our strong academic programs there, and our wonderful marine biology program. We also wanted to join the remarkable work at Oceanic Institute of HPU, and the fish raised there, the study of coastal resilience, and the research of Hawaiʻi's corals. Kai'ili created a mural that weaves all these ideas and academic programs together into a true masterpiece."   
HPU undergraduate business administration student and student body president Andrea Maminta spoke at the blessing ceremony as well, expressing her esteem for the mural and what it will mean for current and future HPU students for years to come. 
"This mural is not just a work of art, but a symbol of collective efforts to create a space where students can revel in the magic of art, foster connections, and build lasting HPU memories," Maminta said to the audience. "It is symbol of unity, creativity, and a shared vision. May it inspire generations of students to embrace the power of art and continue the tradition of creating meaningful memories at HPU."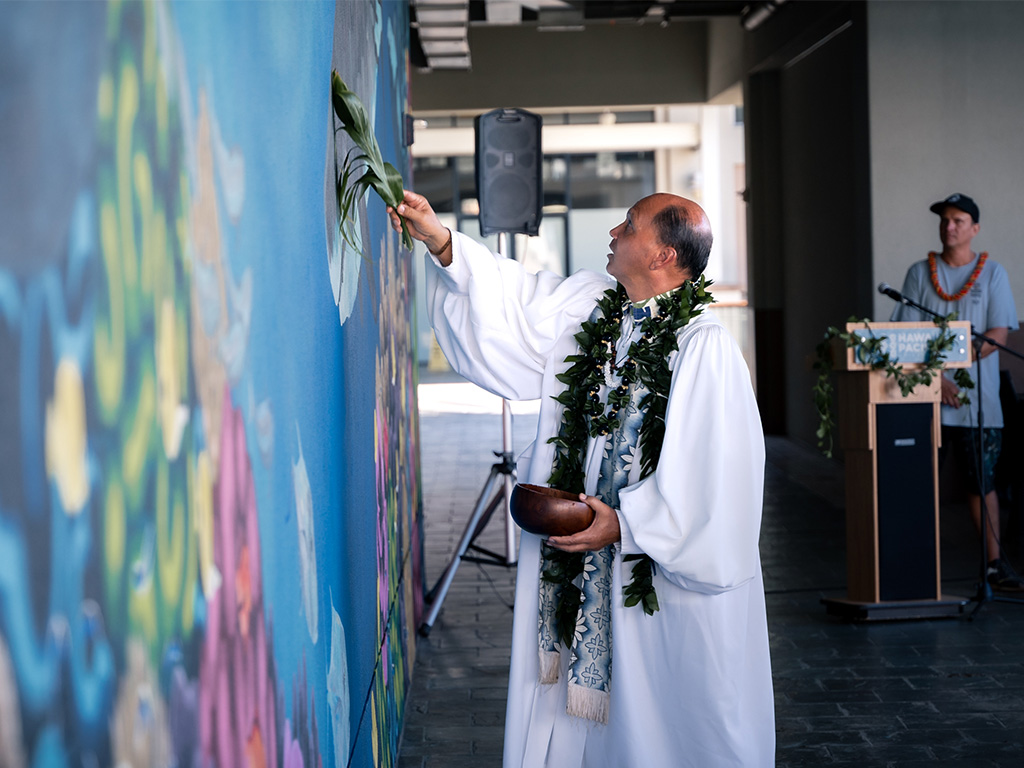 Kahu Kordell C. L. Kekoa blesses the mural on November 1, 2023.
The mural was blessed by Kahu Kordell C. L. Kekoa who spoke articulately on the transformative themes in the mural, sharing a reflective metaphor with the audience on the journey of an HPU student from freshman year to graduating senior. 
"If we think about the transformation of our students, as they arrive at HPU they may be very green, not sure what they want to do in their life, but they are ready for adventure," said Kekoa. "If you look at the color of the ocean in this mural, from the left-hand side, there is this green color, and notice that the water gets darker and darker until we get to the far-right side of the mural. The coloration of the water when it's close to the land has a lighter color to it. When our students get to HPU they may not be sure what they want to do, but we help them develop further into the ocean, and we help them create themselves into what they want to be.  
"When our students pass through, from the light part to the dark part, they pass through the shark in the center of the mural, which is HPU. There is a deep meaning in Kai'ili's mural, and that is something we will be able to share with other students for many years to come."  
Kaulukukui is a Kanaka Maoli (Native Hawaiian) artist, painter, and muralist. His artistic journey has been a lifelong commitment to raise awareness about the issues plaguing the oceans. His work has mirrored his concerns about the state of the global waters, especially the pervasive problem of plastic pollution and microplastics. He notes that almost every ocean in the world faces the same challenges, and his art aims to be a beacon for change. 
He is a member of Lana Lane Studios and the Ground Operations Manager for the Pangeaseed Foundation's Sea Walls: Artists for Oceans program. Kaulukukui's art is a catalyst for global change, and the program seeks to spread the message of ocean conservation through art on streets around the world, engaging artists to become advocates for the oceans.
He believes that everyone is an artist at heart, and when he paints murals across the world or on the islands of Hawaiʻi, he speaks with children and adults on the power of accessing the inner artist within. 
"For anyone interested in becoming a mural artist, I tell them to never stop drawing, paint as much as you can, find a wall to paint over and over again," he said. "My mom built me a garage wall so I would stop tagging around the house, and I re-painted that mural over 600 times. Before I went to art school, I would paint on that wall, and when I went to art school I painted on canvases, and when I came back to Hawaiʻi, I started to paint on walls again. It's full circle. If you want to paint murals apprentice with a house painter because painting murals is very close to house painting. Don't ever stop working, draw and paint as much as you can." 
The transformative mural is available for all HPU students to see and experience at Sharky's Cove. In the evening, when the sun sets across the ocean and a warm glow settles at the end of the day, students have the opportunity to experience the vibrant colors of Hawaiʻi's tropical marine life with a towering view Makapuʻu Lighthouse and stunning life-size sharks just at their fingertips.