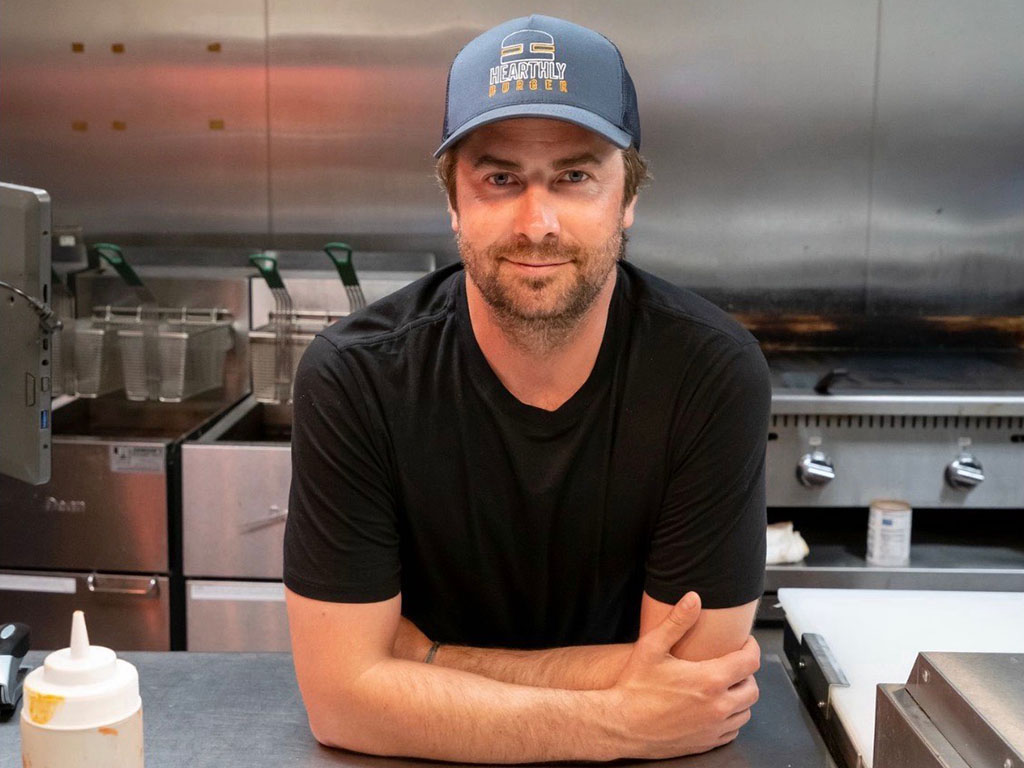 Christopher Gooch at Hearthly Burger..
HPU alumnus Christopher Gooch '12 always wanted to forge his own path. Born and raised in the town of Rumson on the New Jersey Shore, Gooch was drawn to the beach, cooking, and entrepreneurship. His father, Mickey emigrated from England and founded his own brokerage business and his mother, Diane helped raise Gooch and his two brothers Mike and Stefan.  
"My passion for cooking began from my mother, who is a great cook," said Gooch. "I always loved it, making dinner with my mom any chance I got. My entrepreneur spirit most likely sparked from my father. I've always dreamed of being a chef and having my own restaurant one day. I tried to work in my dad's business, but ultimately it was not for me. I wanted to be my own boss with the opportunity to create my own path and legacy."
Gooch had visited Hawai'i several times in his youth. He fell in love with the culture, lifestyle, and the surf. He had some good friends who were students at HPU, so when he visited the University as a young adult, he immediately knew HPU was the university to live and study in paradise.
"I fell in love with HPU and the opportunities the University could provide me," said Gooch. "I can get a degree, learn about business while being able to surf and live in a magical place."
When Gooch began his coursework, it didn't take long to choose entrepreneurial business as a major. It was the perfect fit to match his culinary experience and business interests; and soon, he discovered HPU's Free Enterprise Club and his favorite professor Ken Schoolland.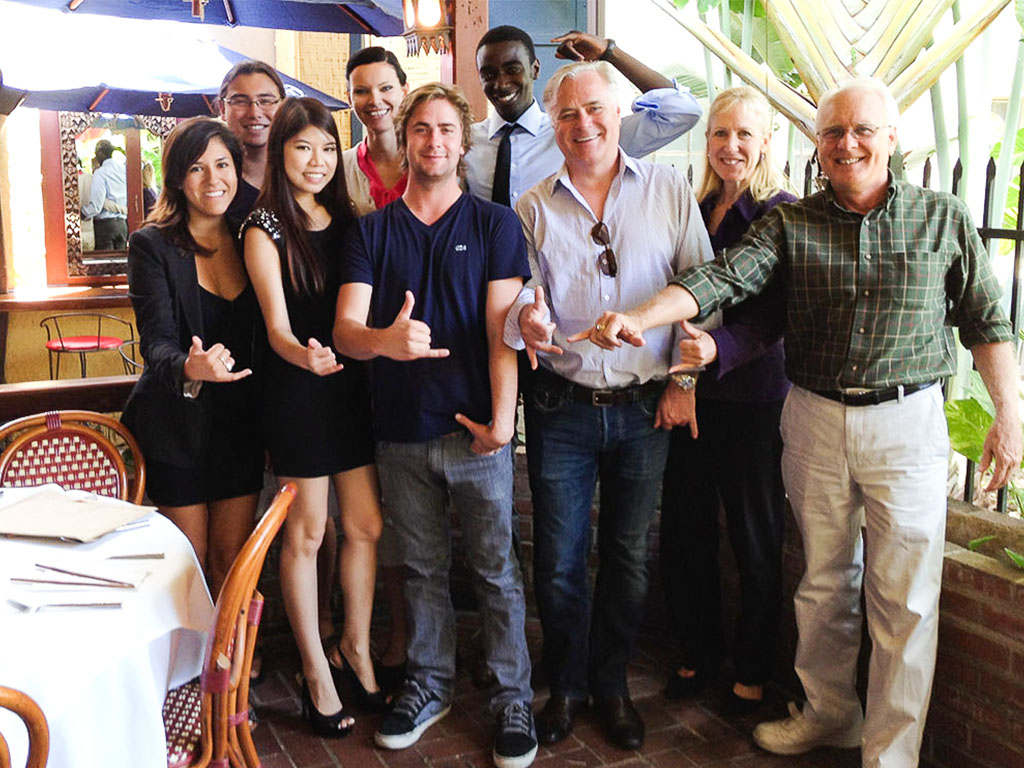 HPU's Free Enterprise Club with Christopher Gooch (center), his father Mickey (right of Christopher), and Ken Schoolland (far right)..
"My economics teacher, Professor Schoolland, really taught me a lot on how the world works," said Gooch. "He is extremely knowledgeable and very kind, which makes him easy to talk to and connect with. His book, The Adventures of Jonathan Gullible is a great economics book and I highly recommend it."   
Gullible was first published in 1989 and has since been published in 57 languages, in 85 editions. Schoolland joined the faculty at HPU in 1979 and for many years he ran the Free Enterprise Club, Reason Club, and the Hawai'i Pacific Entrepreneur Club.
"Chris was a student with high energy, who was always entrepreneurial, and who always thought outside the box," said Schoolland. "That made him the most fun and the most inspiring. He was a blast, and he made the years with our students in the Free Enterprise Club so much fun." 
Gooch was introduced to the book Blue Ocean Strategy by Chan Kim and Renee Mauborgne in one of his business courses. The authors' strategy is defined as "the simultaneous pursuit of differentiation and low cost to open up a new market space and create new demand. It is about creating and capturing uncontested market space, thereby making the competition irrelevant."
"I used the Blue Ocean Strategy with the idea of organic fast food," said Gooch. "I've always been a big fan of places like Shake Shack, and burgers in general, but I found it difficult to get a delicious, fast burger without the sacrifice of eating unfavorable ingredients. That's what sparked the idea to start my restaurant Hearthly Burger." 
Gooch was working in New York City for renowned chef Marc Forgione when he decided to cofound Hearthly Burger with his wife Alexa. They both wanted to create a restaurant that was scalable, where they could open more restaurants in the future. Alexa was instrumental in helping Gooch design Hearthly Burger and create its welcoming and fresh vibe.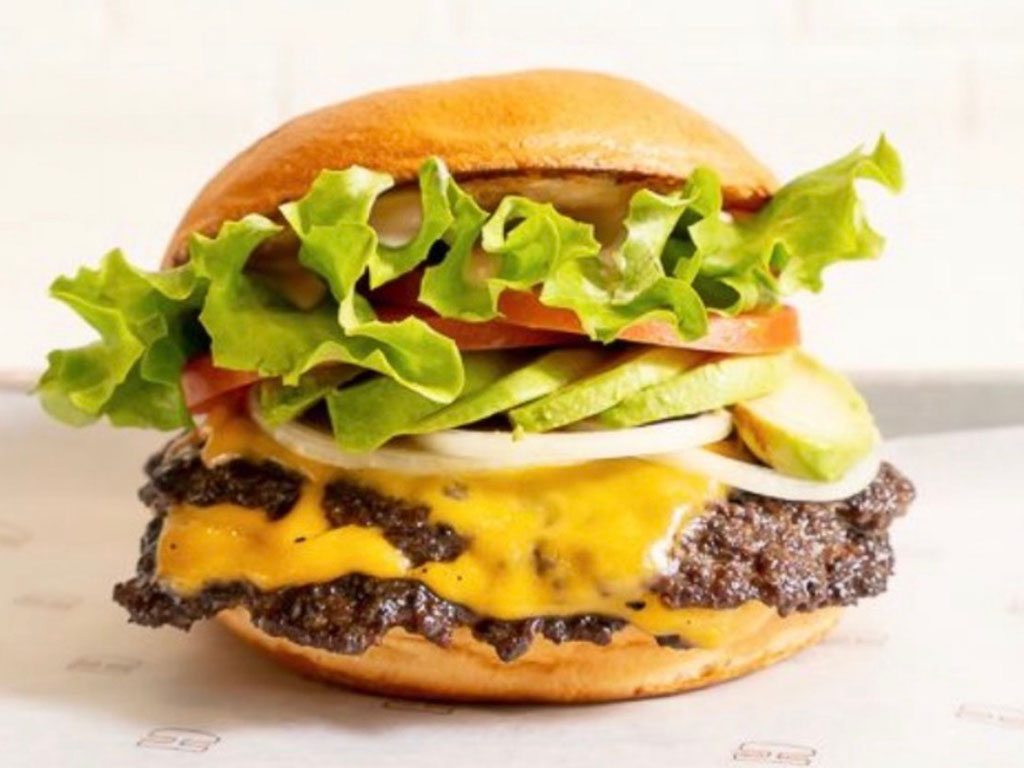 The Hearthly cheeseburger..
"I'm a big dreamer," says Gooch, "so the pursuit of opening a scalable restaurant was key. That's where Hearthly Burger came to mind. Quality chef-curated cheeseburgers made with organic meat, farm-fresh vegetables, all in a quick and casual setting. Our current location in Shrewsbury, New Jersey is the proof-to-concept store and we have proven the success of Hearthly Burger and are now looking to open our second location.
"HPU definitely helped solidify my career path. The food in Hawai'i is a major part of my love for cooking. It opened my eyes to so many new ingredients and cooking styles. What I learned at HPU is what I use every day at Hearthly Burger."
A typical day at the restaurant begins at 9 a.m. with a team meeting, then set-up for service, and cooking those perfect organic burgers while interacting with customers. The menu is inspired by Gooch's connection to Hawai'i, including the kimchi fried burger with sesame soy ginger sauce, the maple shroom burger with maple syrup aioli, the truffle burger with black truffle powder and truffle aioli, and the wild mahi mahi burger with coconut-wasabi aioli.  
"When tuna is in season in the northeast, I'll have fresh poke on the menu too," said Gooch."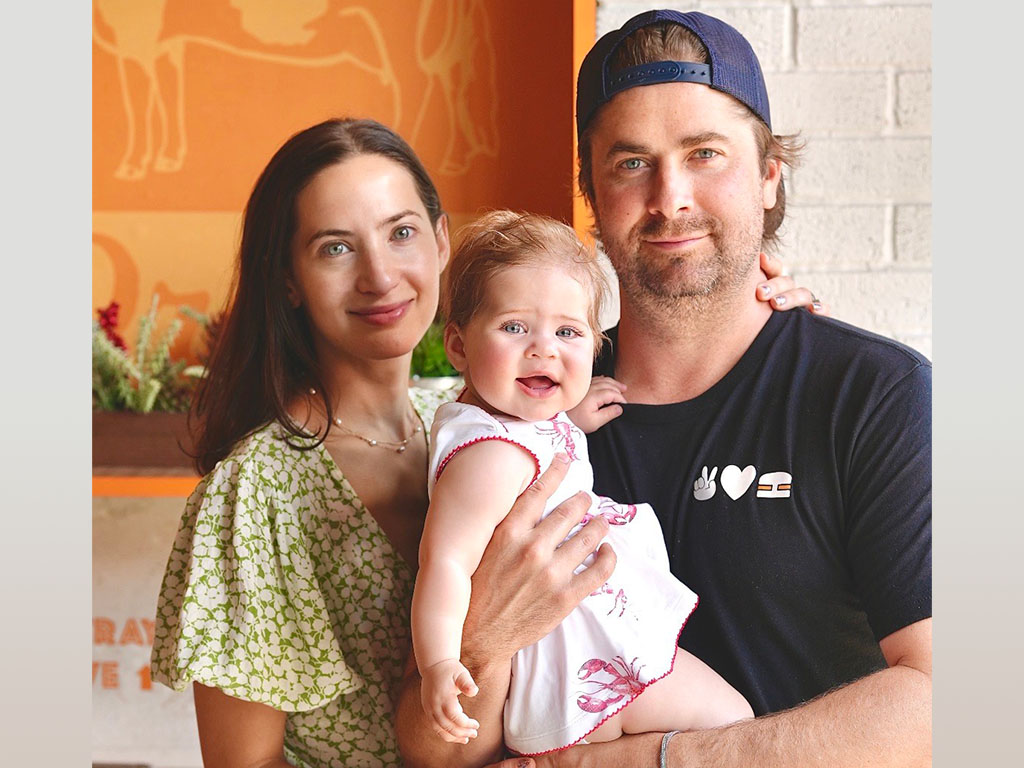 Christopher Gooch with Alexa and Élodie..
Gooch has aspirations is to bring Hearthly Burger to Honolulu where he can serve up burgers and poke on the shore. He always keeps his experiences at HPU top-of-mind while navigating the complex business strategies of owning and operating a restaurant.
"One of my favorite parts of HPU was its international presence," said Gooch. "I've created countless friendships with people from all over the world. Because of HPU, I have very close friends from Bali, Costa Rica, Sweden, and Germany, just to name a few. HPU is a melting pot. You can really learn a great deal from other cultures. Also, the campus is stunning, and the teachers are all amazing and very good at what they do.
"Just ask yourself: do you want to live and learn in Hawai'i… at HPU? Of course you do, who wouldn't? It's a no-brainer!"
At the end of the day, Gooch comes home to his wife Alexa and their one-year-old daughter Élodie. He's been with Alexa for 10 years and married for four. "When I get home, I talk to Alexa about how we can make the restaurant better; how can we expand it and grow? My happiness is here, operating a thriving business that is self-sufficient, so I can spend every day with my family."
Photos courtesy of Christopher Gooch and Ken Schoolland.