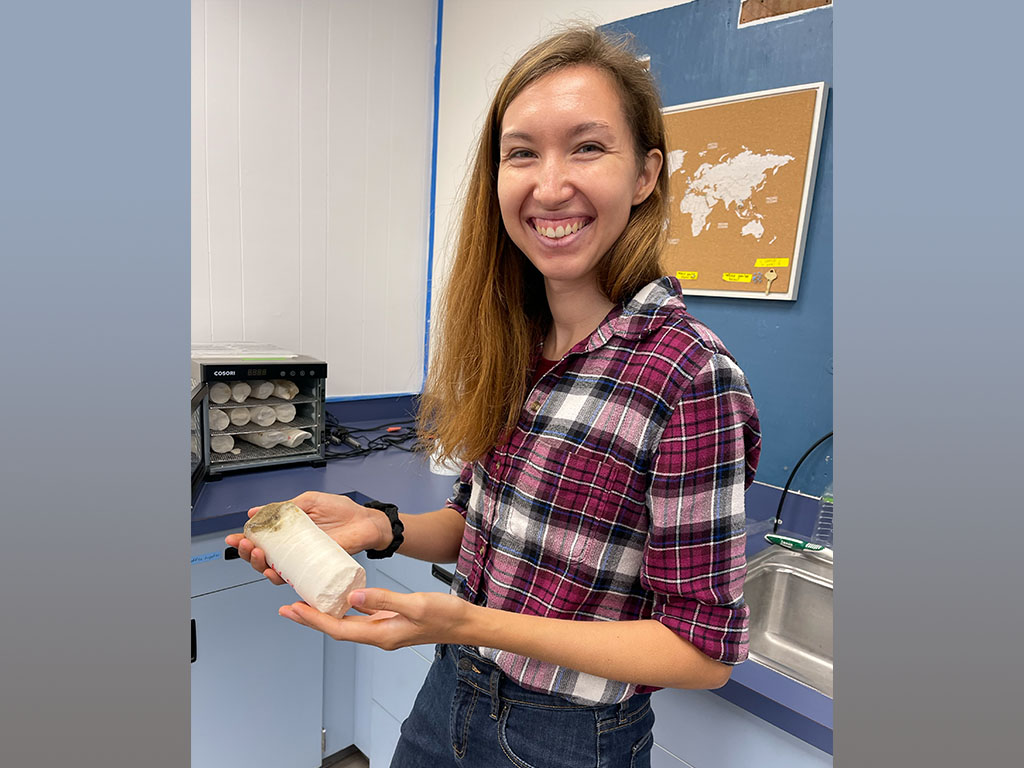 Hannah Whitaker.
Coral reefs cover two percent of the ocean floor around the world, but they support 25% of all marine species. Corals are fragile structures, creating their intricate skeletons to serve as the building blocks of complex coral reefs. They are weakened by runoff, rising ocean temperatures, sedimentation, and human interaction.    
HPU marine science graduate student Hannah Whitaker stands next to a 100-hundred-year-old coral core in the Sclerochronology Lab at HPU's Makapu'u Campus. Whitaker observes the distinct heat stress bands inside the coral's skeleton and notes the years the coral grew at a slower rate, likely due to rising ocean temperatures and acidification.
"We currently measure coral heat stress in degree heat weeks (DHW), which is the sum of positive temperature anomalies over 12 weeks," said Whitaker. "DHW is used as a baseline for the highest temperature a coral reef can tolerate in an area. The National Oceanic and Atmospheric Administration (NOAA) developed the DHW metric in the 1990s and it has been used consistently for coral bleaching forecasts, stress response modeling, monitoring, and more. But it's not always the best coral bleaching predictor, and it doesn't account for regional differences in coral heat tolerance and stress responses."
NOAA's Coral Reef Watch utilized the current DHW metric to forecast the 2019 coral bleaching event that occurred in Hawai'i's waters. But the DHW definition has not changed in 20 years and could benefit from another look.   
"It's important to test our tools from time to time to improve them. My goal here is to modify—and hopefully improve—the DHW equation so that scientists can better predict coral bleaching events," said Whitaker.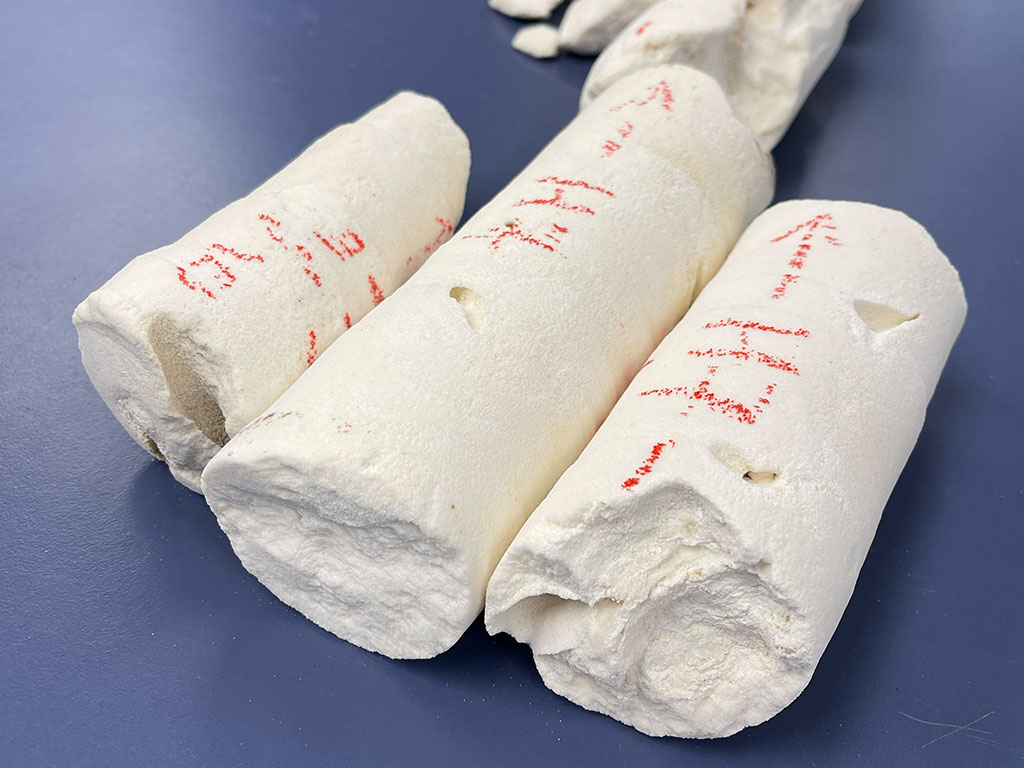 A close-up of coral cores..
Whitaker's research at HPU includes a meta-analysis of coral bleaching events with the hope to update the DHW metric when predicting coral bleaching events. This is no easy feat. Whitaker must work on a dataset that goes back 40 years and include 50,0000 bleaching observations from hundreds of studies around the globe.    
"Basically, I'm creating a set of bleaching hindcasts based on DHW," said Whitaker. "I am predicting events that have already occurred, using 40 years of data. For example, what happens if I sum anomalies of seven, eight, or nine weeks; or 13, 14, or 15 weeks instead of just 12 weeks? I can then compare bleaching hindcasts to coral bleaching events that have occurred to see how modifying the DHW definition changes the performance of my predictions. Then I will know which definition is the best."
Whitaker hopes to determine the optimal DHW definitions on a regional basis, so that each geographic area can use a metric that is tailored to the unique way their corals respond to heat stress. 
Whitaker has been interested in the study of coral reefs since she was a child. After earning her Bachelor of Science from the University of North Carolina at Wilmington she searched for Master of Marine Science programs around the country. It was then that she discovered HPU and the work of HPU Oceanography Professor Thomas DeCarlo, Ph.D.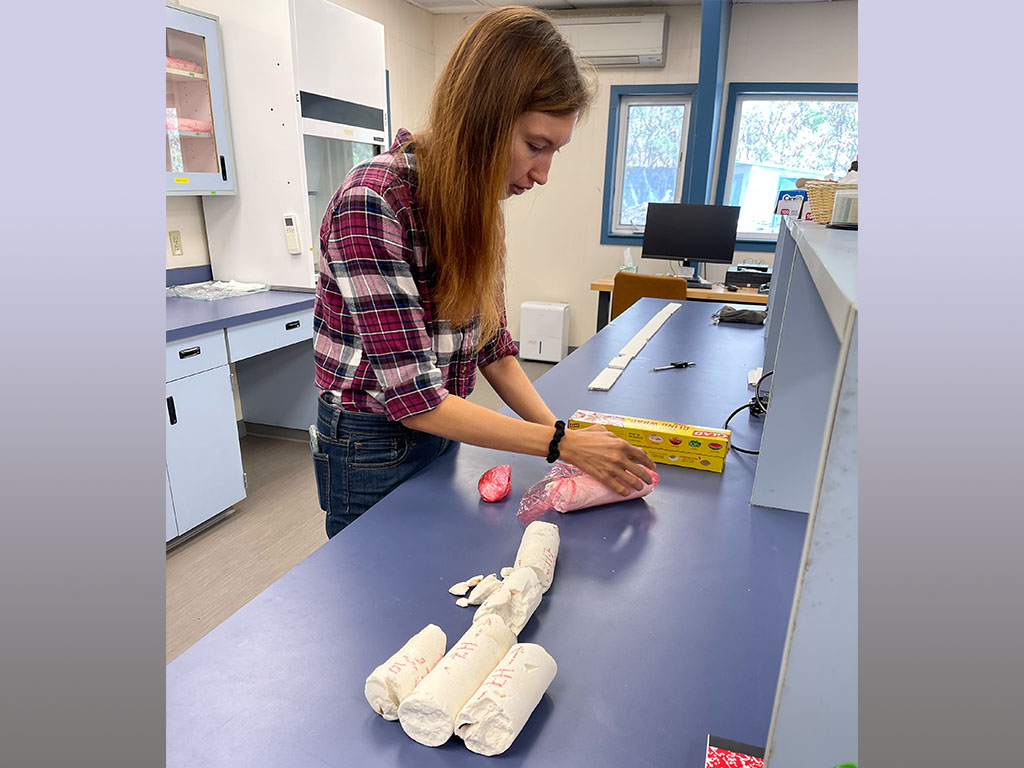 Hannah Whitaker carefully wraps coral cores..
"Professor DeCarlo's work on sclerochronology absolutely fascinated me because of the effects of climate change on tropical reefs," said Whitaker. "This issue is what I want to make my passion in life. The Master of Science in Marine Science (MSMS) at HPU is committed to getting students involved in their own research, especially on the thesis track. Professor DeCarlo always makes room for me to discuss my ideas for my project, and is really open to me making it my own. Getting a chance to be personally involved is important to me. 
"Everyone at HPU talks to each other. When I first started my research, so many people stepped in to help me find the resources I needed to get started. That sense of community is important at HPU. As grad students here, we know we're a key part of the 'ohana.
Whitaker expects to complete her research this fall and publish her results within the next year. She will graduate from HPU in spring 2023 and is already looking at Ph.D. programs that will continue her coral research.  
"I'm looking at a program in French Micronesia that is genetics focused and adaptation focused," said Whitaker. "Coral reef conservation research is what I want to spend my life doing."
For more information on the marine science programs at HPU click here.