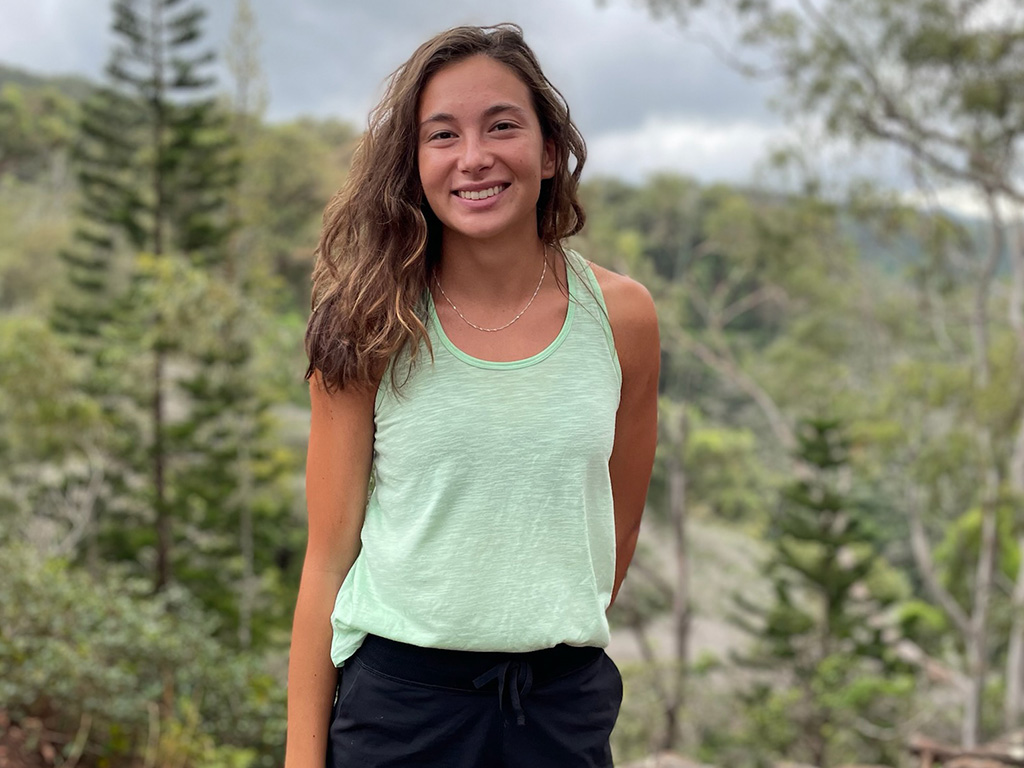 Hanna Odahara.
HPU alumna Hanna Odahara (née Mantanona) has been selected to participate in the prestigious Sea Grant Knauss Fellowship starting in February 2024 for her work in coral biology. Odahara earned her bachelor's in marine biology in 2021 and her master's in marine science in 2023 from HPU.
According to their website, the Knauss Fellowship offers an exceptional educational and professional opportunity to graduate students with a passion for ocean, coastal, and Great Lakes resources, as well as a keen interest in the national policy decisions that shape the fate of these vital ecosystems. The program provides a one-year paid fellowship experience that allows emerging leaders to contribute significantly to the field. 
In June 2023, Odahara co-authored a journal article with HPU Oceanography Professor Thomas DeCarlo, Ph.D., in the journal Limnology and Oceanography Letters, entitled "Coral growth persistence amidst bleaching events."
The article details how mass bleaching events are harming stony coral populations and reducing their ability to produce calcium carbonate, which is crucial for countering rising sea levels. This study using novel Raman spectrometry techniques at HPU found that coral-bleaching survivors surprisingly increase their calcifying fluid's aragonite saturation state, indicating unexpected resilience in their calcification process, even up to two years after recovery.
"Professor DeCarlo has been an immense help in preparing my first publication, as well as guiding me in post-graduation career choices, including the Knauss Fellowship," Odahara said. "He gained funding for the project, aided in writing, and jointly conceived the idea for the study."
Odahara was born in Guam and raised in Kennewick, Washington. She graduated from Kamiakin High School and attended Whitworth University in her first year of university studies. Odahara was always interested in science and nature and initially began her university career as a pre-med student.
"I quickly realized, however, that I was too squeamish and uninterested in that career path, and decided to pursue a career in marine sciences," Odahara said. "I chose HPU because it had small class sizes and more opportunities for hands-on activities and fieldwork than other, larger institutions. I knew I wanted to study in Hawaiʻi."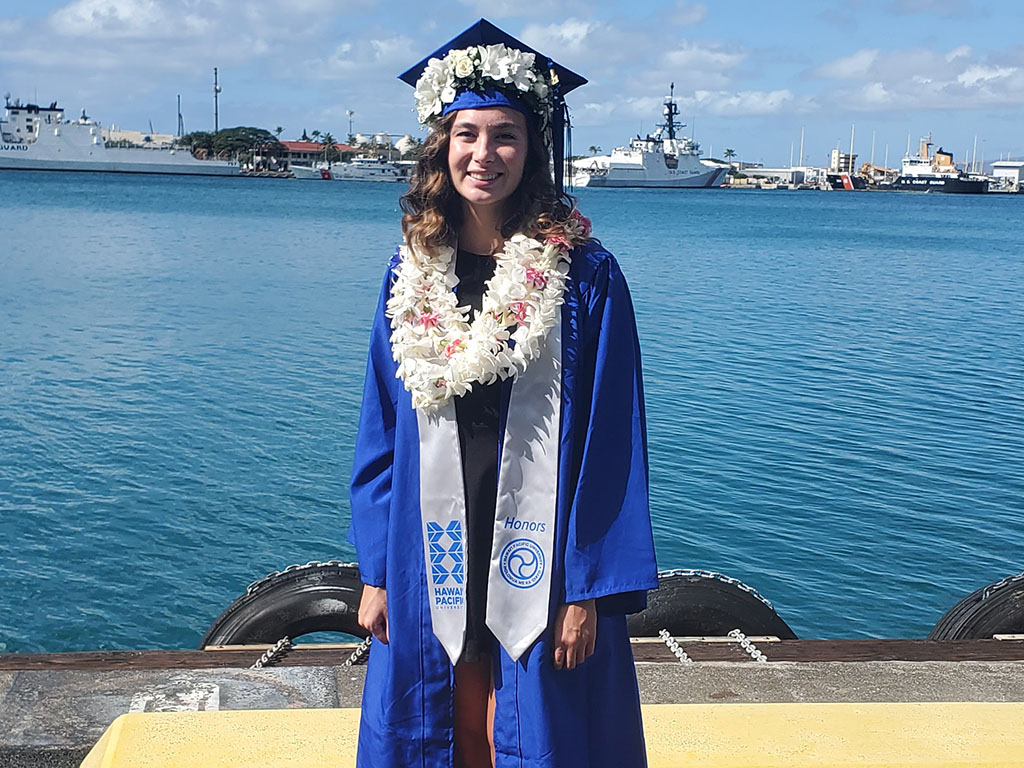 Odahara earned a bachelor's in marine biology and a master's in marine science from HPU.
DeCarlo has been at the center of pioneering research on corals throughout his career. Most recently, he received a prestigious five-year $450,000 grant from the National Science Foundation (NSF) to help revolutionize the field of coral core analysis. The NSF Faculty Early Career Development Program (CAREER) grant is awarded to university faculty members who have shown significant early-career potential to serve as academic role models in research and education.
"I couldn't be prouder of Hanna. Publishing her master's thesis in one of the top journals in our field is a huge accomplishment," DeCarlo said. "Hanna's work will certainly move coral biology forward, and it will put HPU in the spotlight. She  also demonstrated the great opportunity that exists for HPU undergraduates to take advantage of concurrent graduate registration. By beginning research early in her undergraduate degree, and continuing it into the marine science master's program, Hanna was able to grow as a researcher and complete an impressive study."
Concurrent registration at HPU allows eligible undergraduate students to enroll in specific graduate courses and earn both undergraduate and graduate credits concurrently. This initiative helps students expedite their master's degree completion, reduce tuition expenses, select courses relevant to their majors, and receive tailored academic advising. It provides a cost-effective and efficient pathway for motivated undergraduates to progress towards their graduate studies.
Odahara is in the process of determining her post-graduation career path, as her interests span a wide range of areas. Her ideal trajectory includes continued involvement in tropical marine ecosystems and island communities. In pursuit of this objective, Odahara is enthusiastic about seizing the opportunity to explore potential career avenues in marine policy during her tenure as a Knauss Fellow.
To learn more about the programs in the HPU Department of Natural Science, click here.