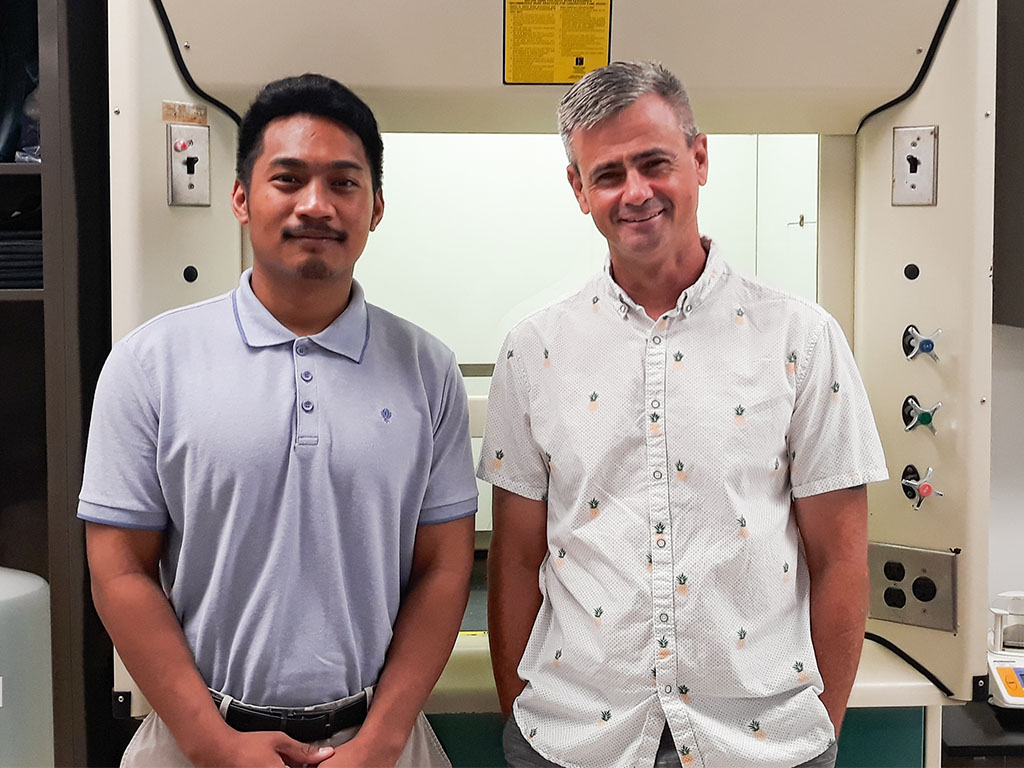 Maxallen Baldovi Ponce, Jr., and Gideon Berger..
HPU Associate Professor of Chemistry Gideon Berger, Ph.D., sits at a table on the grounds of Hawaii Loa Campus with recent B.S. in Biology graduate Maxallen Baldovi Ponce, Jr., with a story to share about chemistry. Berger has a knack for breaking down the complexity of chemistry in a way that makes learning fun and engaging. Always with a smile and the smooth ease of explaining the process of building molecules, Berger demonstrates a love and talent for teaching.  
"What we do in our lab is organic synthesis. We make molecules," said Berger. "In a prior life, I was a carpenter. I like building things. At HPU, we learn what Mother Nature wants a chemical to do and we use that to literally build it up. Synthetically." 
A classic example is paclitaxel.  
"In the 60s and 70s, researchers were looking for cancer medicines and they found the Pacific yew tree," said Berger. "It was completely accidental! The bark from the tree was ground and the molecules were extracted. Scientists isolated paclitaxel and applied it to cancer cells to see if the cells would die.  
"In 1993, paclitaxel ended up being a groundbreaking cancer medication called Taxol, but the problem was there are not enough Pacific yew trees to support the demand. Synthetic chemists set out to build that molecule. Everything is chemicals, and we are in the business of trying to understand and create molecules. We pick a natural product and go after it." 
Ponce has been conducting research and building molecules in Berger's chemistry lab for two years. The difference between the nimble HPU and many other universities is that undergraduate students are almost exclusively the researchers doing the work in the lab.  
"We excel at working with undergraduate students," said Berger. "Typically, an HPU student will have the opportunity to work with a professor during their last two years of undergraduate work. Students can have this experience early on in their educational careers and are ahead of the game when they go on to graduate school, or health-related professional programs like medical school." 
Ponce was born and raised in Ewa Beach on Oahu and enrolled at HPU with the intention of going to nursing school. Two weeks before he started, a lightbulb clicked, and he decided to change his major to biology with a human health science concentration and enter the field of medicine.  
"I started my freshman year at HPU and really got into sciences," said Ponce. "I knew I wanted to pursue a career in health sciences, but I needed the experience of working in a lab, conducting research, so I can get into medical school and become a doctor. Professor Berger gave me the opportunity to work in a lab, building and analyzing chemicals."  
Ponce graduated from HPU in spring 2022. He walked across the stage at Aloha Tower Marketplace and celebrated his achievement with friends and family. Berger and Ponce will carry on with their research through spring 2023 and when there is an overlap of new students in the lab Ponce will help train those students. He plans to take the MCAT in September. 
"I'm so delighted that Max will be taking a gap year because so many students believe they can't waste time," said Berger. "Students need months to study for the MCAT exam. It's not something to rush into! Taking the time needed to get a good score is essential and Max is going to do very well." 
Ponce is currently volunteering at a homeless shelter, and he has worked to shadow a physician in a clinic in Waipahu. In high school, he volunteered at Queen's Medical Center West twice a week. The experience of volunteering and working with people in the community is exactly what medical schools want to see on applications. 
"I want to be either an internist, cardiologist, or pediatrician," said Ponce.  
Berger lit up with excitement at the intention for Ponce to become a pediatrician. "This guy is a perfect pediatrician. He's always smiling! He's a natural." 
Ponce's girlfriend graduated with a degree in nursing and accepted a position in San Diego. His sister, Emily Ponce '21, graduated from HPU with a Bachelor of Science in Nursing (BSN) degree and is currently working in Washington as a nurse.  
"My family is very interested in the healthcare field," said Ponce. "They are extremely supportive and have helped me every step of the way to one day become a doctor."