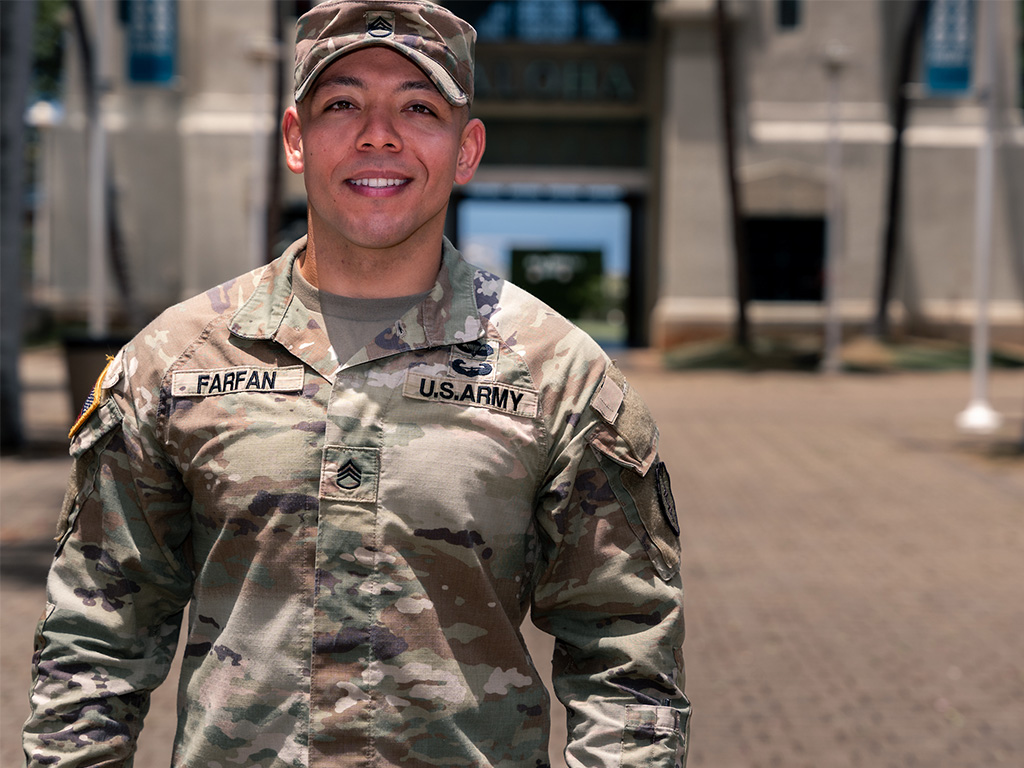 Carlos Farfan at HPU's Aloha Tower Marketplace campus.
Carlos Farfan, a staff sergeant in the United States Army, has been stationed at Schofield Barracks in Hawai'i for three and a half years. While dedicating himself to military service, he is also pursuing a bachelor's degree in criminal justice at HPU.
Carlos Farfan chose HPU due to its reputation as an institution supportive of military service members. Having heard positive feedback from his coworkers, he decided to enroll and has never looked back. "Now that I've been in HPU for over two years, I can confirm that that's true," Farfan said.
Farfan is a criminal justice major studying in a hybrid setting, balancing his academic pursuits between online and on-campus classes. "HPU has been flexible with military students like me, understanding our hectic schedules, deployments, and rotations to the Pacific," he said.
The University's willingness to work with military students has alleviated much of the stress that Farfan and his military peers face, knowing HPU professors and staff understand their commitments and are available to support them.
Adjunct faculty member Kevin Lima, Ph.D., a former assistant chief at the Honolulu Police Department, stands out among the many HPU professors who have made a significant impact on Farfan. Farfan described Lima as one of the best professors he has ever met. His dedication to his students is evident in his willingness to offer one-on-one sessions and provide valuable tools for professional development, even after the course has ended. "He just cares, and that's the kind of person that I really like. I'll never forget that," Farfan said.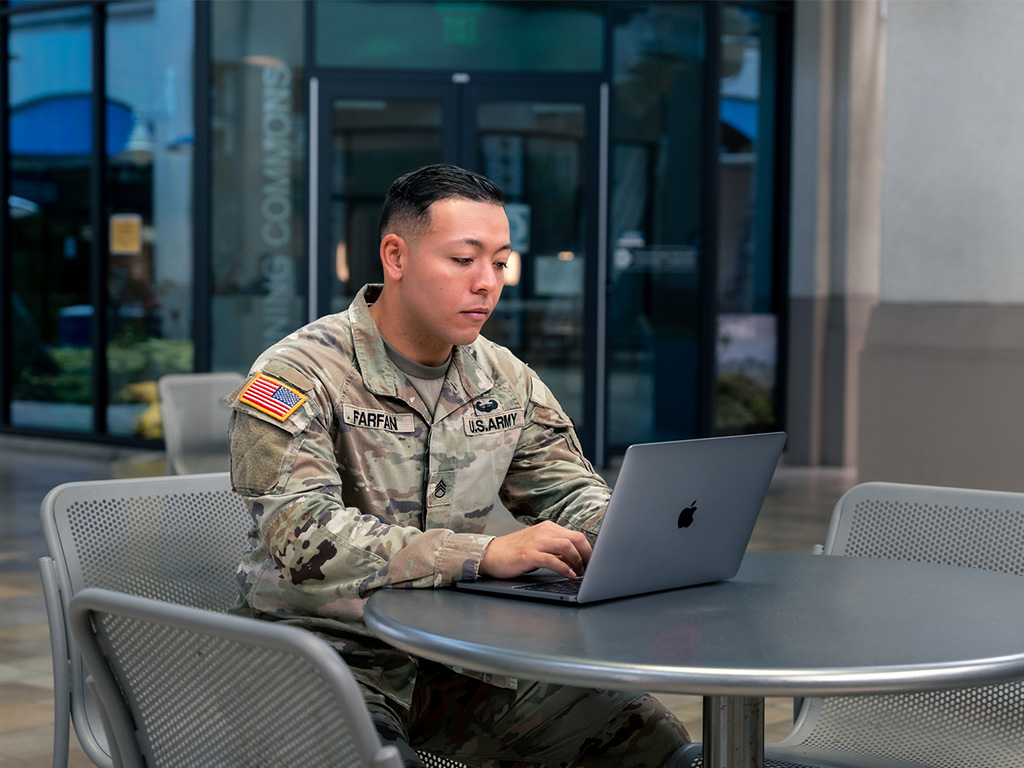 Carlos Farfran studying at the center atrium at HPU's Aloha Tower Marketplace campus.
The Washington state-native also credits the on-post academic advisors, especially David Hull, for his exceptional support. Whenever Farfan has academic questions or concerns, he finds comfort in knowing that Hull is resourceful, knowledgeable, and always ready to assist.
"I always leave his office knowing that he's got my back. And I really appreciate that. It makes my life easier as a student in the military," Farfan said with gratitude.
The opportunity to attend classes both on base and on campus has been invaluable for Farfan, a Religious Affairs NCO. The convenience of a short commute from Schofield Barracks to HPU's campus allows him to manage his busy schedule effectively. Additionally, learning alongside other enlisted members fosters a unique learning environment where military-driven examples and ideas seamlessly intertwine with the course material. "It just helps the class go smoothly," Farfan said, highlighting the ease of communication when students can relate their coursework to their military experiences.
Farfan's educational journey is not solely motivated by academic pursuits. It is intricately connected to his military career and personal aspirations. His dream is to become a commissioned officer in the United States Army, and he recognizes that a bachelor's degree is a crucial step towards achieving that goal. HPU's approach to incorporating real-life problems into the classroom has honed Farfan's critical thinking abilities, a vital skill for leaders in the military who are constantly faced with challenges and problem-solving scenarios.
The University's emphasis on these skills aligns seamlessly with Farfan's ultimate vision of becoming a leader in the Army. "HPU brings in real-life problems into our courses, into our classrooms, and they force us to think critically to solve and prevent problems or bad situations," he said.
Farfan is making excellent progress toward his graduation and commissioning and he feels confident in his choice of attending HPU. The support he receives from the University, its military-friendly approach, and the excellent professors have all played an essential role in his academic and military journey. For these reasons, Farfan encourages other soldiers seeking to pursue higher education to consider HPU.
"If you're a soldier looking to apply to a university, HPU is the right choice," he said. "They are military-friendly and understanding of our schedules and the hectic nature of our lives. They wholeheartedly support us and provide unwavering support. It's clear HPU is 100% committed to our success."