Joel Bauzon.

HPU alumnus Joel Bauzon with his family.
HPU alumnus Joel Bauzon '23 spent most of his early childhood in motion. Being the son of a U.S. Navy sailor, Bauzon traveled with his family along the East Coast from South Carolina to Delaware before heading to the Philippines following his father's retirement from naval service. After graduating high school, Bauzon knew then that he was interested in healthcare, particularly the nursing field. He eventually pursued and earned a Bachelor of Science in Nursing (BSN) degree from the University of Pangasinan in the Philippines. In 1996, he returned to the U.S. and made a life-changing decision by enlisting in the U.S. Navy as a Hospital Corpsman that same year. 
"It was a humble beginning for me as a 20-year-old, but I knew deep in my heart that I always wanted to be like my father, a Navy sailor, and follow in his footsteps," said Bauzon. "The thought of being in the Navy like my father has stuck with me since childhood and I was always fascinated by serving on a ship and seeing the world as well as experiencing what the military has to offer."
While in the Navy, Bauzon served as a Fleet Marine Force hospital corpsman and his primary duty consisted of providing basic healthcare services to the marines and sailors in his unit.
In 1997, he was stationed with the 1st Marine Division, which is headquartered in Camp Pendleton, California, assigned to the 3rd Battalion 5th Marine Regiment. Bauzon was a "Devil Doc," a term Marines use to affectionately refer to their corpsman. He trained consistently alongside the Marines participating in multiple field training exercises involving rotary wing aircraft and amphibious assault ships.
During his Navy enlistment Bauzon earned multiple recognitions, including the Navy Fleet Marine Force Ribbon, Navy Sea Service Deployment Ribbon, Navy Good Conduct Medal, Navy Rifle Expert Ribbon, and Navy Pistol Expert Ribbon. After his time in the Navy, he entered the civilian life and engaged in the nursing profession. He eventually decided to further his nursing education by earning a Master of Science in Nursing (MSN) degree with a family nurse practitioner (FNP) certification.
"It was quite a two-year journey going for my MSN and FNP, while working full-time as a nurse," says Bauzon. "It was a struggle at times to meet the unwavering demands of work, school, and family. That whole timeframe of pursuing my MSN-FNP was full of challenges and obstacles, nonetheless, I was focused and determined to achieve this personal endeavor."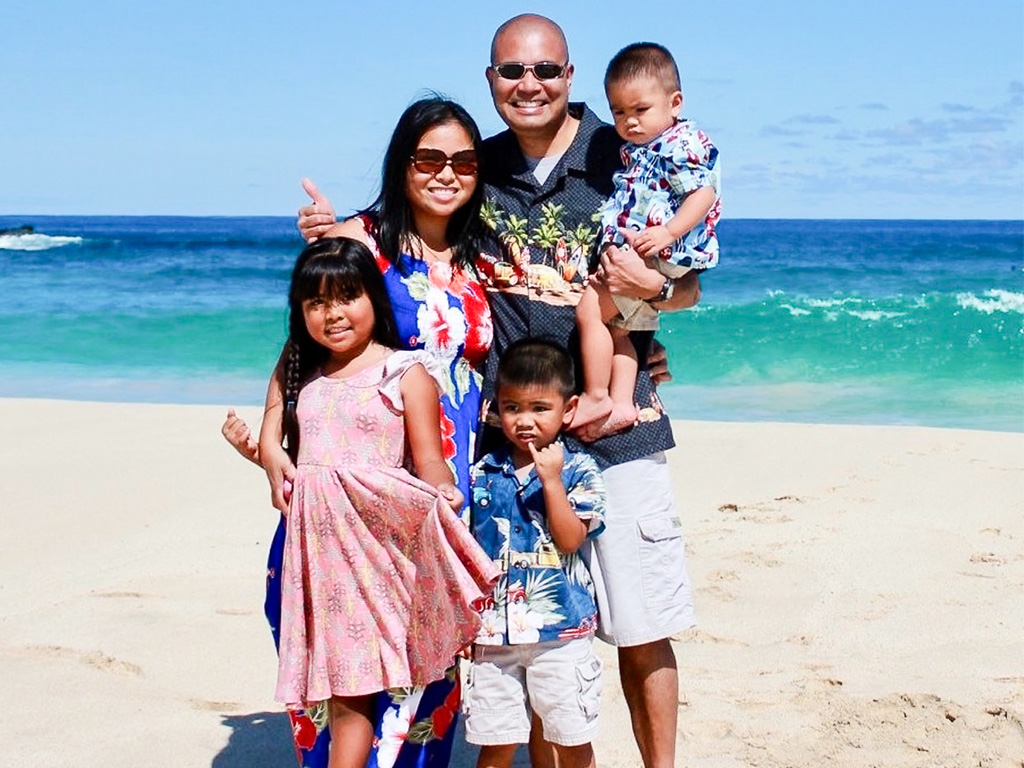 Joel Bauzon with his family in Hawaii.
Bauzon graduated with his MSN-FNP degree in 2009 from the University of Phoenix. It required persistent effort, discipline, and patience to balance work and graduate from school; but Bauzon overcame, soaring high to earn his degree on time and with excellent grades.
"I did all that was asked of me," said Bauzon. "I stayed disciplined. It came naturally because of my military background." 
With a newly earned master's degree in nursing and board certification as an FNP, Bauzon resumed his military service, this time commissioning into the Army as a Nurse Corps Officer. His FNP experience opened many doors and the Army welcomed Bauzon with open arms.
"The Army was in need of family nurse practitioners at the time I commissioned in 2011," he said. "I knew it was big decision to serve again in the military because I was now married and had to move from my home state of California to my first duty station as an Army FNP at Fort Polk, Louisiana."  
Bauzon and his family were in Fort Polk, Louisiana for three years during which they welcomed their first child, a daughter. His following duty station landed them back in California in 2014 at the National Training Center in Fort Irwin. While stationed in Fort Irwin, his family welcomed two more children, both boys. He continued his service as an FNP at this installation until he was due to transfer in 2018.
"In 2018, my family and I got lucky and landed an assignment at Tripler Army Medical Center in Hawai'i," said Bauzon. "I was happy to hear about the upcoming move to Hawai'i, but my wife was even more enthusiastic. I have to say that Hawai'i was hands down our best duty station so far. While serving at Tripler, I learned about HPU through some of my peers who had considered enrolling in the University's Doctor of Nursing Practice program. In 2021, before I left Hawai'i, I seriously felt that I was at that point in my career where it was time to go for my doctorate degree in nursing. It was another a big decision, but I knew that I needed to go for it!"
Bauzon's calendar was demanding and finding the right doctoral program was essential in balancing his home and work life. When he was referred to the HPU Doctoral in Nursing Practice online program, he was excited because it would allow him to work full-time as an active-duty FNP and earn his terminal nursing degree from HPU.  
"That online DNP program from HPU really caught my eye," said Bauzon. "It's 100% online! I talked to one of the admission representatives at HPU and they told me that they have a lot of military students who attend HPU because of the online program. Oh, gosh, I thought, what if this program truly worked with my busy schedule and make earning a DNP degree feasible?"
Bauzon jumped at the opportunity and started to gather his initial paperwork and references. Everyone he contacted at HPU expressed their excitement for him, but he was a bit apprehensive of taking on too much too fast.
"Do I have the discipline and perseverance to balance the big things in my life such as the demands of the Army, my family, and school?" he wondered. "I had not been in a formal academic nursing program for 12 years since graduating with my MSN-FNP degree. It was going to be quite an adjustment and that really worried me. Can I write a good essay, construct presentation slides, or even effectively deliver presentations? What do the courses that comprise the Doctor of Nursing Practice program entail? I knew I liked to research and read up on various healthcare topics. I also like to write, so it became obvious quickly that this DNP program would be a natural fit for me. I figured that my abilities to successfully complete the academic tasks required for my MSN-FNP degree would later come back for this challenge to earn a DNP degree through HPU."
Bauzon started his coursework at HPU and studied with the belief that he could do the work even if he had not taken a course in higher education in over a decade. His cohort worked together, sharing their thoughts and emotions on the journey ahead.
"Through effective collaboration with my fellow DNP classmates and professors, I realized that everything was going to be OK," he said. "Once I started this DNP journey, my goal was to finish it. HPU's Doctor of Nursing Practice is a 20-month program. So, I stayed on course for 20 months. My dad always instilled in me the mentality to never quit, to keep on going no matter what. Don't look back and to go forward. Don't delay what you originally planned to do."
Bauzon believes his success in life did not result from being lucky or outstanding on every level, but truly from his mistakes and failures.
He possesses a "dare to fail" mentality. 
"Those who dare to fail miserably can achieve greatly," said Bauzon, quoting President John F. Kennedy. "Take chances when the opportunities arise because you will never know what can happen. I became a better person overall because of my past mistakes and failures. I think I discovered much about my personal character going through the Doctor of Nursing Practice program. I advanced professionally because of my fellow classmates, my professors, my peers, and especially my family, all of whom had a big influence on me and my success. I know I can do more because these people encouraged me to get out of my comfort zone and just go for it."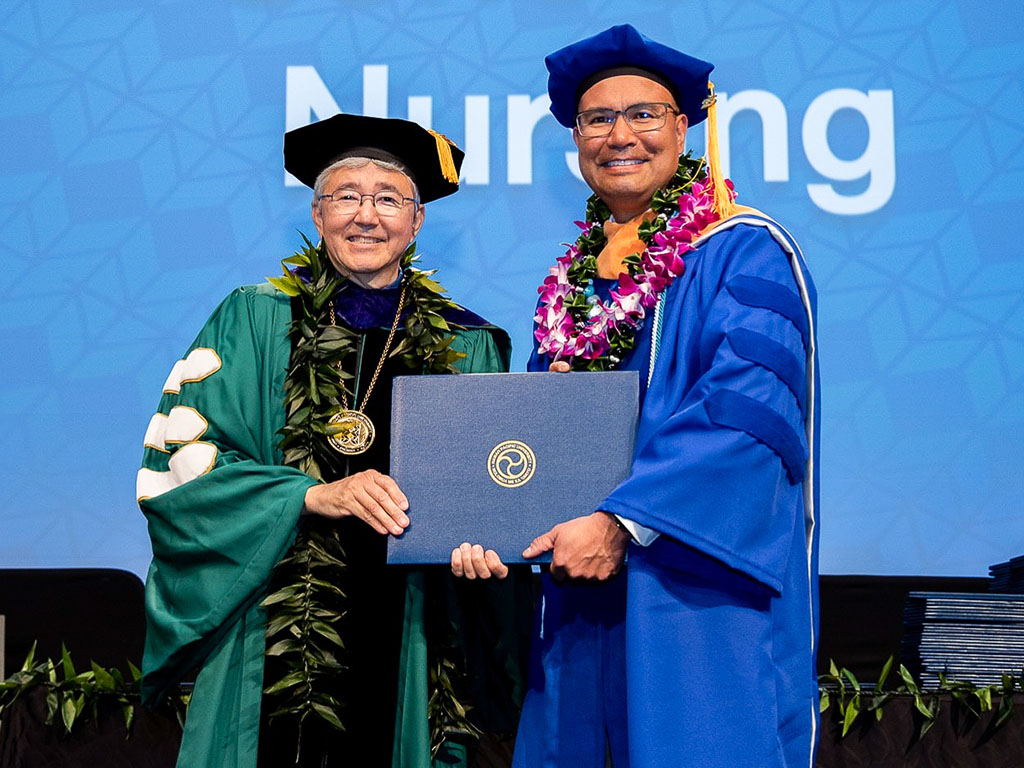 President John Gotanda and Joel Bauzon at the HPU spring 2023 graduation ceremony.
Bauzon graduated from HPU with his Doctor of Nursing Practice degree in spring 2023. He flew to Honolulu with his family, and he walked across the stage to receive his degree. He intends to assume a nursing leadership role at the administrative level of his organization that will influence nursing management and healthcare policies.
"As a Doctor of Nursing Practice-prepared nurse leader, I feel confident in making those complex decisions that enhance patient outcomes and improve population health," he said. "I also hope to use my degree along with my years of experience as a family nurse practitioner in the Army to serve in an academic institution as a nurse educator for America's future nurses."
The thought of teaching the next generation of nurses at the university level interests Bauzon as well. With a calm, empathic demeanor and a wealth of experience in the nursing field it has become obvious that one day Bauzon may become a professor at a university.
"I have given it a lot of thought, and maybe I'll teach at HPU's School of Nursing sometime in the future," said Bauzon. "Maybe when I retire from the Army in a few years. I believe I have the experience that would benefit the new generation of nurses who are interested in patient care and healthcare policies. It would be such an honor to mentor and teach America's future nurses considering my humble beginnings in this noble profession. I have come across seasoned nurses who were not good mentors when I made mistakes and failed during my early years as a nurse. With these experiences, I hope to be an outstanding mentor to new nurses who experience multiple failures." 
Bauzon stops and looks into the sky. A poised expression of hope washes across his face.
"I believe a failure can do one of three things to you," he said. "One. A failure can label you if you do nothing. In other words, people will remember you for that failure. Two. A failure can break you, and make you feel like you're nothing. But that's if you let it. Three. A failure can empower you and inspire you to do better. It can motivate you to go beyond what you think you are capable of achieving.
"I have failed many times and made many mistakes in my life. Who hasn't? We cannot be afraid of mistakes and failures. Look ahead. We must learn and grow from them. And you know what, we will get better and improve from our mistakes and failures. As an active-duty Army FNP, I know I have a purpose in this life. As a nurse, seeing the smiles on my patients' faces is the best feeling in the world."
To learn more about the HPU Doctor of Nursing Practice degree, click here.