Katarina Lage.
Studying abroad will transform your life. You find yourself in a different country, surrounded by history, language, a whole new set of friends from around the world. It may seem overwhelming at first, but soon, you embrace the change and suddenly this new country you're living in becomes home.
HPU alumna Katarina Lage loved studying abroad so much she went three times while earning her international studies bachelor's degree in 2017. Lage was born and raised in Rapid City, South Dakota. She knew at an early age she wanted to see and experience the world, and HPU was the ideal place to begin her journey as a career foreign service officer.
"I was searching for a university with diversity," says Lage, "and honestly HPU was the only school that I wanted to go to because of the study abroad and the international studies opportunities. I wanted to go where it felt like an international setting. HPU was fantastic, in every possible way."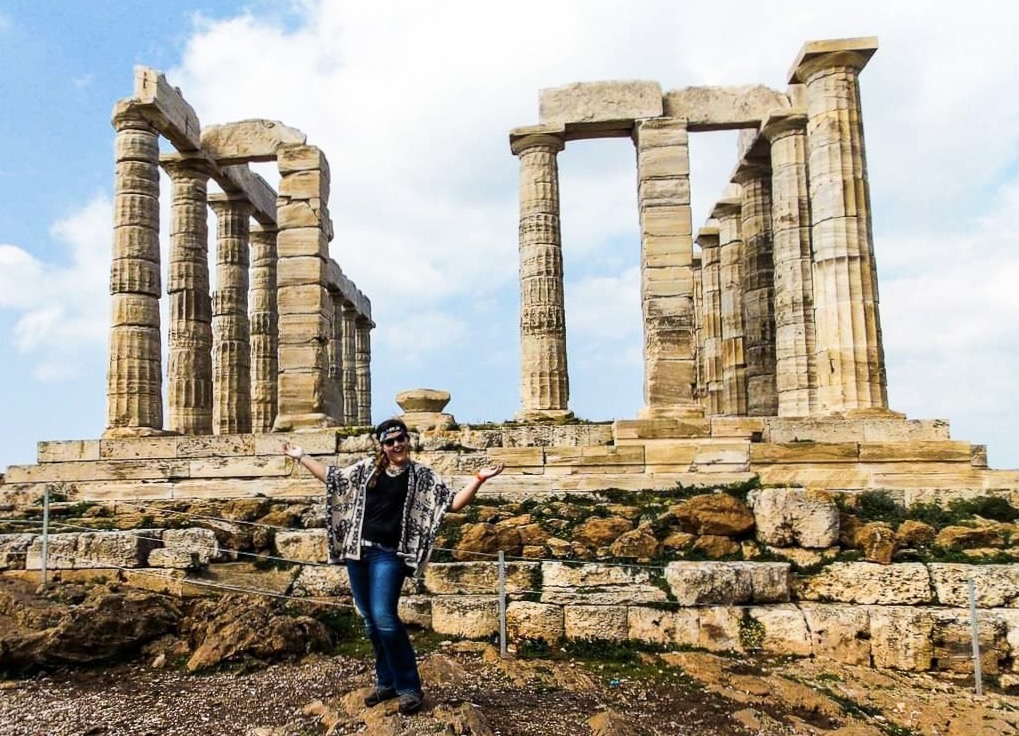 Katarina Lage in Greece.
Lage studied abroad in Greece for one semester. She wanted to walk through history, see the ancient sites, learn Greek, meet new friends, and visit the coastal pass of Thermopylae. The Battle of Thermopylae took place along the narrow pass on the shore of the Malian Gulf, where legend has it that the Persian army of one million soldiers fought 300 Spartans and 700 Thespians in an epic three-day battle during the Persian invasion of Greece in 480 BC.   
"Greece was incredible," said Lage. "I'm of Greek descent, so I felt a strong pull to see where my mother's side hails from. It was the perfect place to study abroad and to experience my ancestry."
Lage planned her trip with AIFS at HPU, which closely partners with HPU to assist in obtaining visas, travel arrangements, and in setting up a local resident director in foreign countries to support students if they are ever in need while living abroad. Scholarships for students are available; many students receive at least one scholarship to help make the study abroad experience at HPU more accessible.    
"The partnership with AIFS and HPU made me more comfortable and my family more comfortable when I went abroad for the first time," said Lage.
After Greece, Lage studied abroad in Ecuador for one semester at Universidad San Francisco de Quito USFQ, one of HPU's exchange partner universities. She immediately fell in love with the country, its people, the customs and language.   
"My Ecuadorian host mom is like my second mom," said Lage. "She helped me learn Spanish, and she prepared the best home cooked meals. I talk to her almost every day. She met my mom, my grandmother, and my aunt. I now have real family in Ecuador."
Lage's last study abroad trip was to Thailand for a summer faculty-led program with HPU professor James Primm, Ph.D., and a cohort of HPU students. Just like her first experience in Greece and her second trip to Ecuador, Thailand was an experience of a lifetime.   
"When you are abroad and studying, living, and speaking a foreign language in another country," says Lage," everything feels like a situation you may never have again. It feels like suspended reality at times. It's just that wonderful."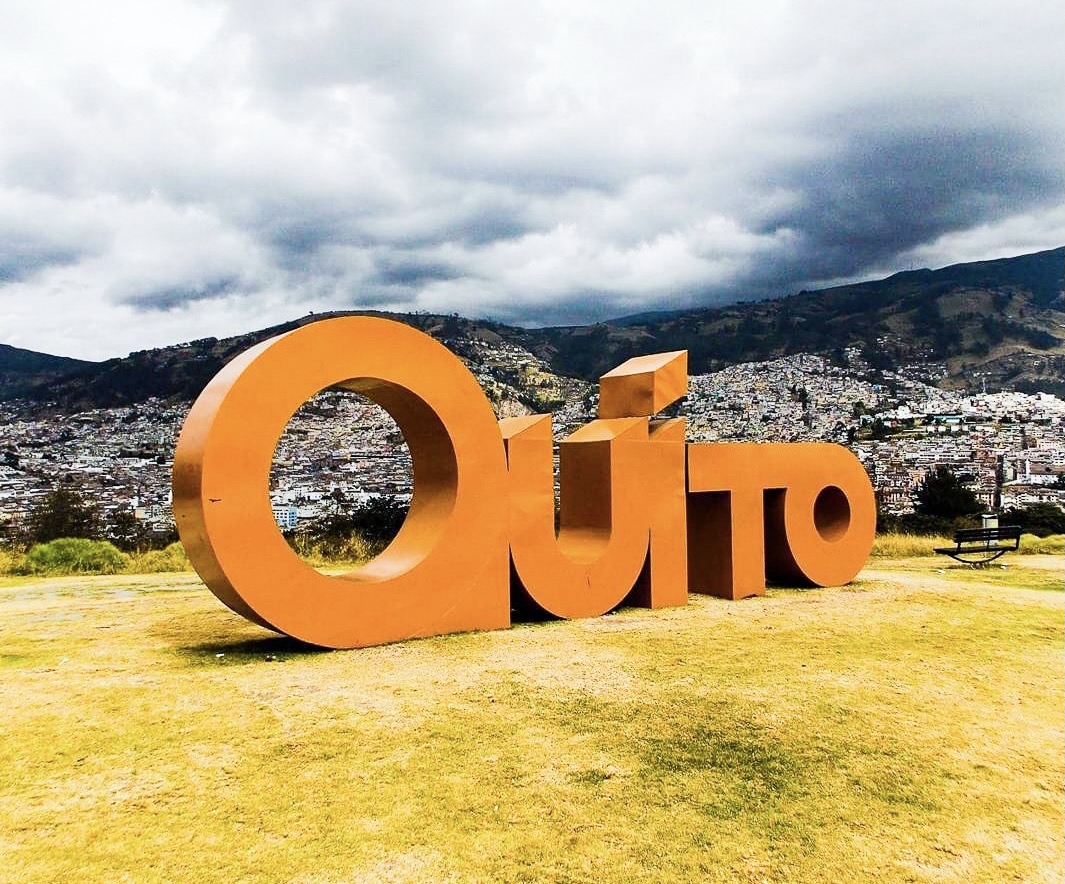 A perfect spot for a photo in Quito, Ecuador.
Shortly after graduating from HPU, Lage enrolled at Tallinn University in Estonia to earn her master's degree in international relations. When she graduated in 2019, Lage knew that she wanted to continue the adventure of living abroad, traveling to new countries and meeting people from every walk and creed of life. In 2020, Lage accepted a position as a foreign service officer in the Dominican Republic, where her work helps facilitate legitimate immigration between the Dominican Republic and the United States.   
"My passion is diplomacy with students, helping to provide opportunities that help bridge the gap between the U.S. and other countries," said Lage.
The study abroad programs at HPU are designed to be available to students who wish to see the world, study in a new environment, and obtain real world experiences that will help advance careers once they graduate and enter the workforce. Studying abroad also widens the appreciation of different cultures and ideologies. There is nothing quite like it, and students often say that it was the greatest experience of their lives.
"To eliminate xenophobia and the fear of foreign ideologies and people, society needs to encourage students around the world to travel and study abroad," said Lage. "Seeing and experiencing other cultures firsthand will help in a collective understanding that we are all the same. We all want the same things for our parents, our partners, our children, our friends. We all deserve equal human rights and compassion."
Study abroad. The message is simple, but powerful.   
"One-hundred percent do it," said Lage. "Study abroad! If you're already thinking about it – maybe you're on the fence – then you really want to go. So go on. Have the experience of a lifetime."
The study abroad and international exchange programs office at HPU is in the Student Services Center at Waterfront Plaza. The vision of the program is to create memorable and transforming global learning opportunities that enrich career preparation and foster commitments to global citizenship. The Program builds upon the University's international context and challenging learning opportunities to support and inform students and faculty engaged in study and learning abroad.   
"I'm actively working with students interested in studying abroad," said Melissa Matsubara, Director of HPU's International Exchange and Study Abroad Programs. "The HPU study abroad application for Spring 2022 is Oct. 14, 2021, but it's never too early to start the process. The sooner you can meet with me the more options and scholarship opportunities you'll have for when you're ready to go abroad. There is a lot of funding available for studying abroad, making it much more affordable than most students realize."
Interested students can email Matsubara at mmatsubara@hpu.edu. To learn more about the 400 study abroad and international exchange program options at HPU click here.  
To make an appointment, or join the HPU Study Abroad mailing list click here.