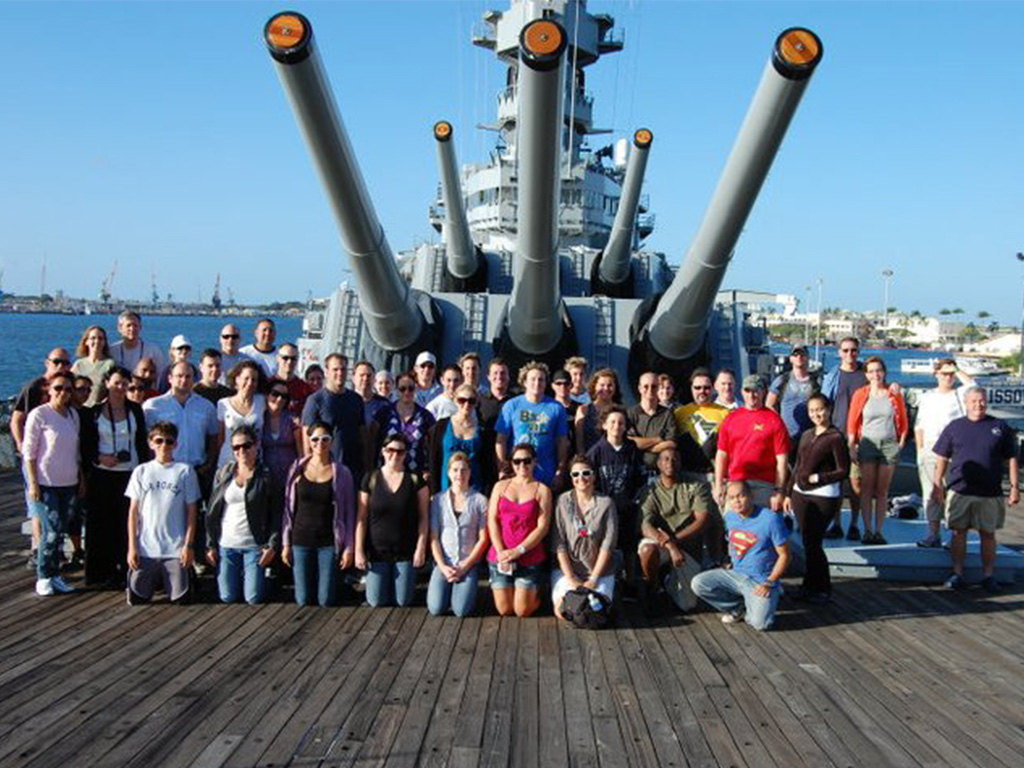 Diplomacy and military studies students, faculty, staff, family, community supporters tour the 'Mighty Mo' at Pearl Harbor.
HPU's Diplomacy and Military Studies (DMS) pathways were established over 20 years ago, and to date the master's and bachelor's degree programs are the only programs of their kind in Hawai'i. There are very few universities in the country that offer an interdisciplinary program in diplomacy and military studies, making the HPU degree pathways highly unique and in-demand.
"The diplomacy and military studies programs are a genuine interdisciplinary offering," said Professor of History and Director for Diplomacy and Military Studies Russell Hart, Ph.D." Both the bachelor's and the master's degrees are purpose-built around humanistic and social science disciplines. History, international relations, and political science contribute substantially to both degrees."
HPU students who major in the diplomacy and military studies pathways are often passionate about journalism, education, management, law, military, and government roles.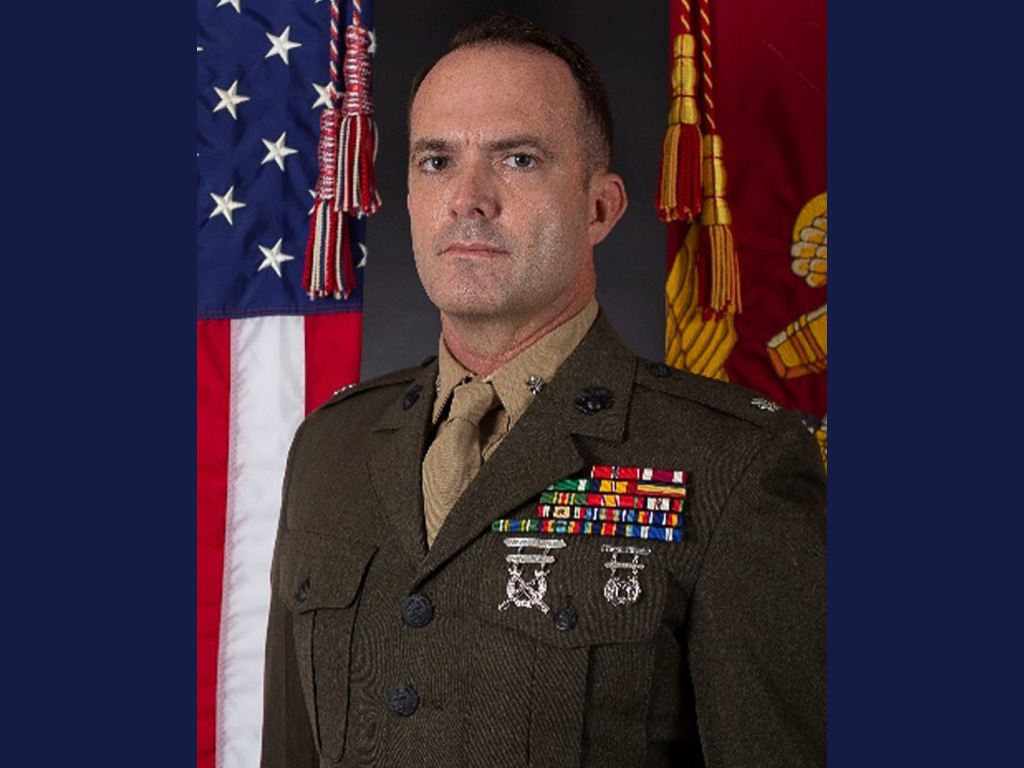 Joshua Bates.
Joshua Bates is a student in the Master of Arts in Diplomacy and Military Studies (MADMS) program. Bates has served for more than 20 years in the U.S. Marine Corps and retired as a Lieutenant Colonel in 2022. His career as a counterintelligence/human intelligence officer (CI/HUMINT) comprises service in CI/HUMINT billets throughout the world, including combat deployments to Iraq and Afghanistan.
Bates shared that his experience in the MADMS program aligns well with Hart's objectives to ensure the MADMS is interdisciplinary and distinctive.
"The MADMS provides an interdisciplinary approach to history, political science, and security studies that remains unique among U.S. graduate programs," said Bates. "More importantly, beyond the exposure to advanced technical methods and the diverse scope of thematic coursework, MADMS trains students in how to 'sell' their intellectual capabilities to the employers that comprise the contemporary knowledge economy."
Hart notes that graduates from the DMS majors often work for the FBI, CIA, Homeland Security, the TSA, and various fields that require a strong background in leadership, communications careers, and supervisory roles.
"If you want to know how the world operates these degree options are a good option for you," said Hart.
Bachelor of Science in Diplomacy and Military Studies (BSDMS) students have the option to take ROTC as a degree track at HPU where the coursework will count towards the undergraduate degree.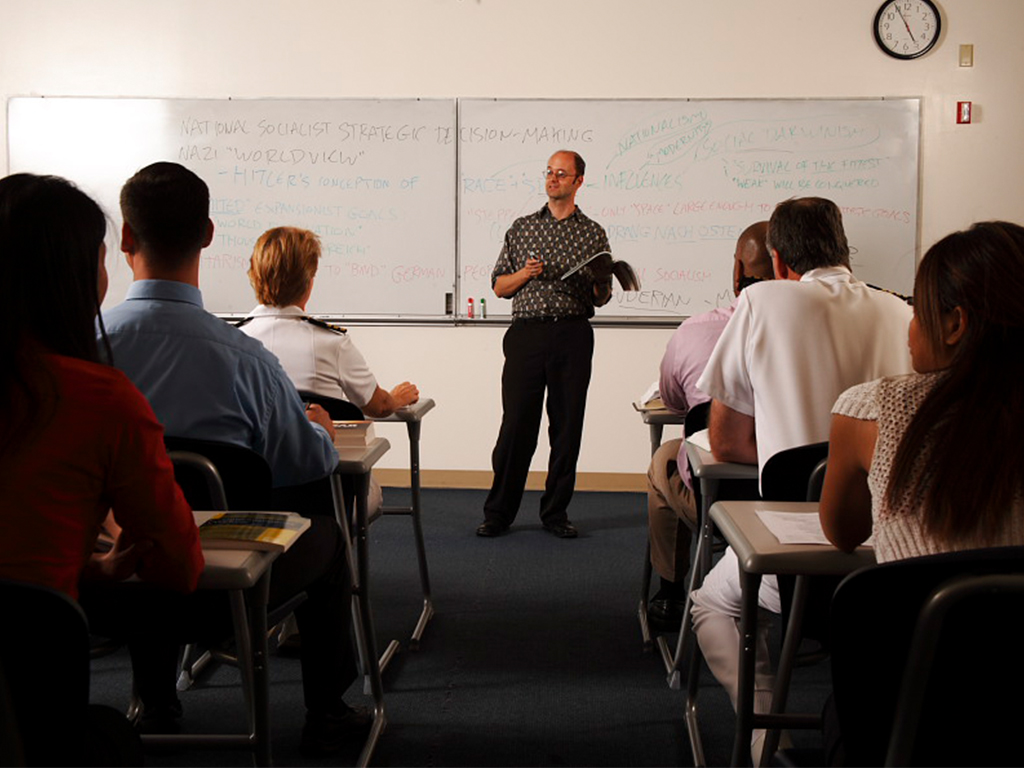 Russell Hart teaching a course at HPU.
"We have many students in the military," said Hart. "Students can earn an undergraduate degree and have academic coursework counted for their ROTC work. Undergraduates are more often interested in the military for their first career, and our graduate students are keen to enhance their careers after serving as an officer."
HPU's small class sizes are a significant reason why students find success in their academic careers. When students are part of the HPU community they are part of the discussion with professors and fellow classmates. And because HPU has many international students the wealth of experience in classroom discussions is unmatched.
"When a student is taking a course with peers from around the world it allows them to gain multiple viewpoints because our students are literally from everywhere," said Hart. "HPU students get firsthand knowledge from other students in the class, who are often from all walks of life. For our prospective students from Hawai'i, come and get an international college experience right here at home."
HPU's Diplomacy and Military studies program is a nationally and internationally recognized program. The University was the first civilian MA program to sign an articulation agreement with the U.S. Naval War College where they recognize HPU's MADMS program as analogous with their MA program in national strategic studies. Students have the option to transfer coursework between the two programs.
"Our program is a designated center for strategic studies excellence for the U.S Army," said Hart. "Officers are sent to study at HPU, and we have partnerships with various universities around the world, including in China, Vietnam, and the United Kingdom. Our program has been around for over two decades and will set for you for success in the military and diplomacy career arenas."
To get more information about the HPU diplomacy and military studies programs at HPU click here.