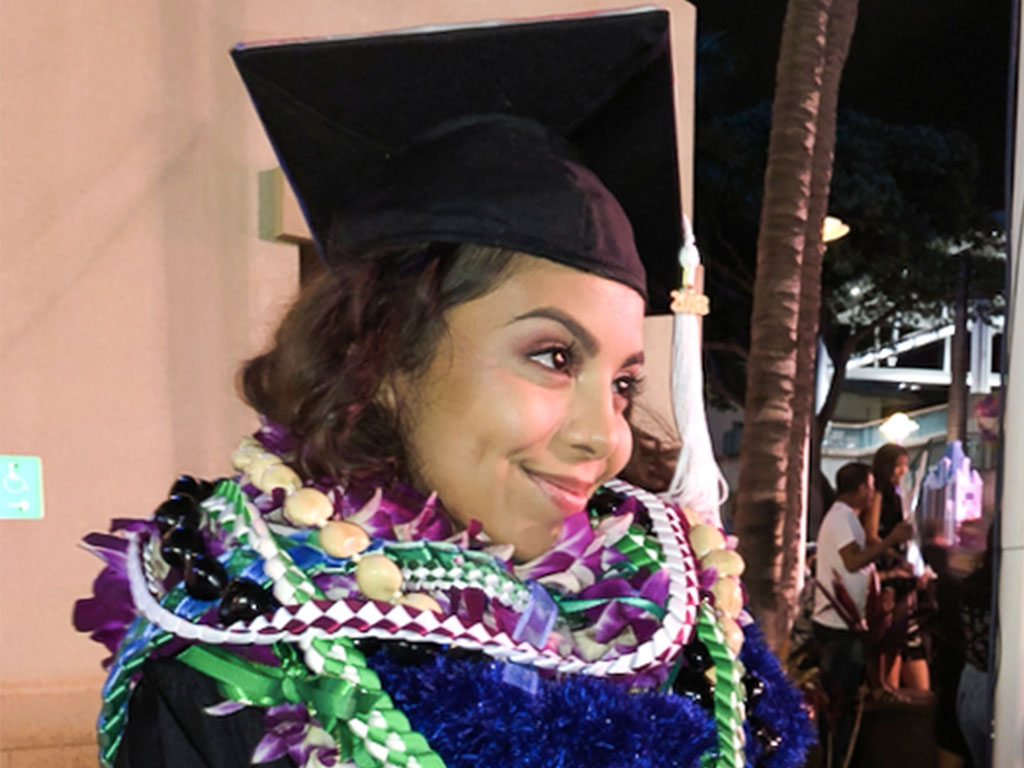 Alexandra Perez on graduation day..
Alexandra Perez '18 had traveled extensively around the world before enrolling at HPU. She visited Brazil, Peru, Vietnam, Sri Lanka, and Portugal, just to name a few, all in thanks to her mother who has worked for United Airlines for 35 years. The study of language has always been at the top of Perez's list when it comes to career interests. Perez graduated in 2018 with a Teaching English to Students of Other Language (TESOL) degree, and 2022, Perez was awarded a prestigious Fulbright scholarship to Nepal. To date, 60 Fulbright alumni have won the Nobel Prize, and 88 have gone on to win the Pulitzer Prize.  
"The Fulbright process is a rollercoaster," said Perez. "The process took me about a year. The application took six months, and the waiting period was another six months. It was a stressful, emotional period, waiting for a response. HPU Professors Hanh Thi Nguyen, Ph.D., and Jean Kirschenmann in the TESOL department are the best. They always helped me with my endeavors post-grad and are a huge part of my Fulbright success."
Perez was awarded a Fulbright to Nepal for 10 months, where she will be studying how performance-based teaching techniques, along with decolonizing pedagogies can help address the idea of under-resourced schools and teachers struggling with English as a medium of instruction.
"I've never been to Nepal, but many things about the country have always interested me," said Perez. "The first is its connection to Puerto Rico. Both countries have suffered calamities in recent years, drastically affecting already low-income schools and communities. The threat of language colonization also links these very two different places together."
Perez began her journey at HPU because she was in search of an educational experience that inspired her, and she wanted to live in one of the most beautiful places in the world. "As a Puerto Rican, something about Hawaiian culture has always spoken to my own heritage," said Perez. "And I chose HPU because I wanted to go as far away from home as possible."
A TESOL degree from HPU opens many doors to potential employers around the world. Add a Fulbright scholarship to her CV and Perez will be one of the more sought-after graduates working in language preservation. "I do not have definite plans for graduate school just yet," says Perez, "but I believe my Fulbright experience may help me decide whether or not I want to pursue that path."
Perez moved back to Miami after graduating from HPU. There are many aspects to the island life that she misses, but near the top would be, "I miss the lifelong friends that I made at HPU; and I really miss the beaches on the west side, too."