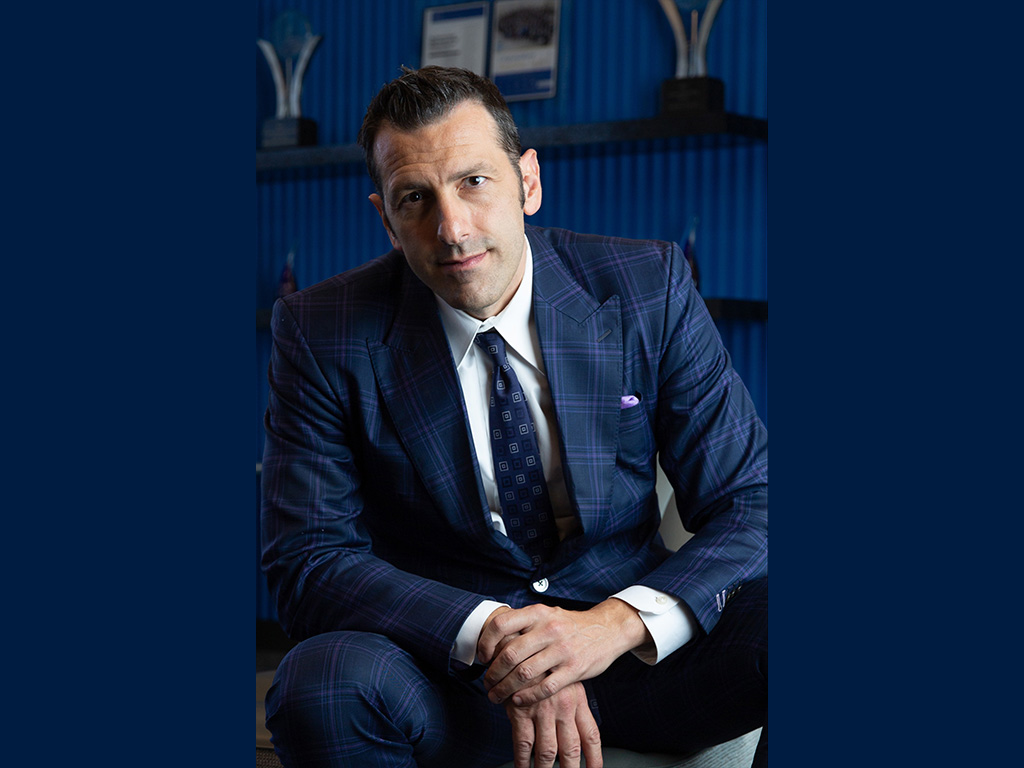 Nash Subotic.
HPU double-alumnus Nash Subotic '02, '03 was born and raised in Sarajevo, Bosnia. A country known for its vast coastline in the south, breathtaking mountains to the east, warm summers and chilly winters, and a long history of human civilization dating back to the Paleolithic period. It is a country with a profound history that includes a devastating civil war.
At the age of 13, Subotic witnessed the Bosnian War rip through his country. Subotic's parents packed everything they could and fled to Serbia where they settled and started over. This experience of war pushed Subotic to mature faster and work harder, leading him to become a successful business owner who controls his own financial destiny. 
When the time came for Subotic to enroll in college he knew that he wanted to attend a university with a strong business program. To him, everything in life is business, so it was logical to attend a nimble, diverse university that places an emphasis on business and finance education.
"To me, HPU is a business school," said Subotic. "Students are going to get more life experience here than anywhere else. It is a school where students will be able to meet people from all over the world with different backgrounds. HPU is a great community." 
Subotic played basketball for HPU for two seasons where he was the leading scorer in 2001 and an integral part of the team's success. He was part of coach Tony Sellitto's team where they played in the Thanksgiving Classic in 2001, beating Liberty University.
"We were one of the few HPU teams to ever beat a Division I program," said Subotic. "I had a phenomenal experience playing at HPU. We had a great group of people. Coach Sellitto was an amazing leader, and mentor of mine and the entire team. I had a great time, met a lot of friends and the complete experience at HPU was amazing."
It was written in the stars that HPU and the islands of Hawai'i are a perfect fit for Subotic. When he graduated with his undergraduate degree in international business he decided to immediately pursue his MBA in finance. Once he knew that he wanted to stay in Hawai'i the decision to earn his MBA in paradise was an easy next step.
"The professors at HPU are amazing," said Subotic. "They were executives in their own fields, teaching us real-world experiences. They all had a background working in the field for years, running their own company or working at companies and teaching at night. It was a great experience for me and that is how they helped me get a real business education."
After graduating from HPU with a wealth of financial and business expertise, Subotic worked for John Hancock Financial Services in Honolulu for about five years, quickly moving into a leadership position. Just as the financial crisis was developing on Wall Street in 2007, he saw the opportunity to create a wealth management company called WestPac Wealth Partners where he began to acquire clients that were unsatisfied with the performance of their previous advisors. 
He began with just three representatives, but with the drive and motivation to succeed as CEO he oversaw a tremendous growth in his company to more than 150 financial representatives in California, Nevada, Washington, Oregon, Montana, Arizona, and Hawai'i.
"Working as CEO of WestPac is exciting because every day is very different and new," said Subotic. "I travel a lot, visiting all our locations, visiting clients, advisors, recruits. It's so wonderful for me to make an impact on people's lives."
Today, WestPac has over $2.5 billion in assets under management, and $170 million of in-force recurring insurance premium making it one of the fastest growing financial services companies in the U.S. He oversees the strategic direction of the firm, talent acquisition, and advises high-net worth clients.
"In order to continue the success of a company it needs to grow; or you die as a company," said Subotic. "We have been growing at least 20% every year, and we have been doubling the company every four years. As long as we grow our business and our people I will be happy. 
"For me, happiness is about three things. Health. The people you are with, and the relationships you form. The quality of your life depends on the quality of your relationships. If you have a bad relationship, you will be very unhappy. And always maximize your own potential. Be the best version of yourself."