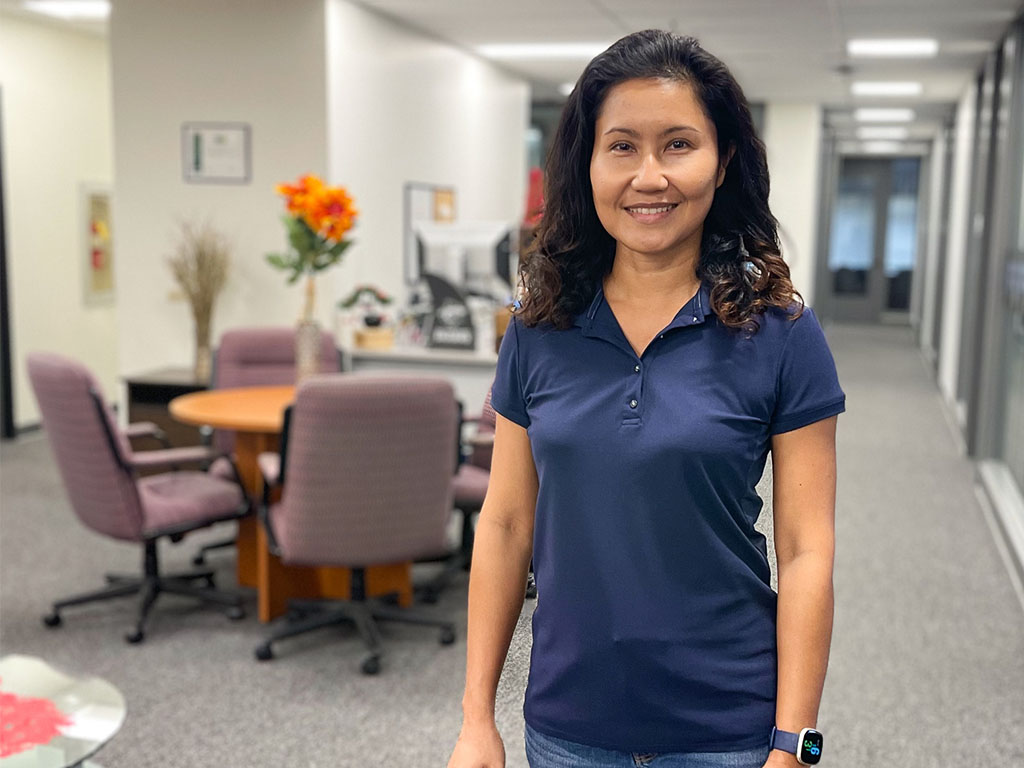 Wipawee Promprasit.. Image By Gregory Fischbach.
HPU graduate student Wipawee Promprasit has participated in four Telanto experiential learning projects with international organizations from Spain, Switzerland, and Germany. Promprasit is a Master of Science in Business Analytics and Information Security student and is anticipated to graduate in May 2022. Born and raised in Thailand, Promprasit has worked in the UK and Australia and has identified her experience of working on project-based learning at HPU as a highly effective way to prepare for a career.
"I've learned a breadth of knowledge from these projects," says Promprasit, "that include breakthrough technologies, and the legal, marketing, social, economic, and political aspects relating to these technologies."
HPU recently partnered with Telanto, a Spain-based global technology company, to provide its students with more opportunities in worldwide experiential learning. Telanto provides a digital platform connecting HPU students with industry partners to work on real-world projects online. This project-based partnership is another opportunity for HPU students to work with companies on projects, now on a global scale. HPU also offers students guaranteed internships. 
Promprasit's first project with Telanto was with the startup company Basement DNA, based in Barcelona. Her group was tasked with the development of a digital wallet mobile application that can be used to facilitate banking and ticketing transactions. The application uses biometric (fingerprint) technology to authorize the intended transactions.   
"We researched the existing tools, providers, technologies, as well as laws and regulations with respect to identity authentication and data privacy already in practice," said Promprasit. "We presented our research to the Basement DNA team, providing options for consideration in their further development of the product." 
Promprasit also worked with HOPR, a Swiss-based organization that was founded by a team of blockchain experts. HOPR's mission is to protect users' data and privacy when accessing the internet. 
"HOPR launched a privacy-preserving network-level infrastructure, utilizing blockchain technology," said Promprasit. "We carried out an online questionnaire survey and received 244 responses from countries around the world. Combined with secondary research from academic literature, we provided HOPR with a summarized report that can assist them in their decision making in future project direction."
Promprasit's experience in project-based learning has provided the opportunity for her to work with classmates and project partners in a similar working environment that collogues and clients experience in the professional world.
"Students have the chance to step outside of the classroom when working on a real-world project," said Promprasit.
"I find project-based learning more fun and challenging. Simultaneously, students can build relationships with professional people for potential lifelong learning. I would encourage students to communicate with the project partner at the onset of the project to understand the challenge. Never hesitate to ask questions to clarify points along the way. It will help the team to produce deliverables that meet the project requirements or even exceed expectations. With all having been said, project-based learning will effectively prepare students for professional careers."