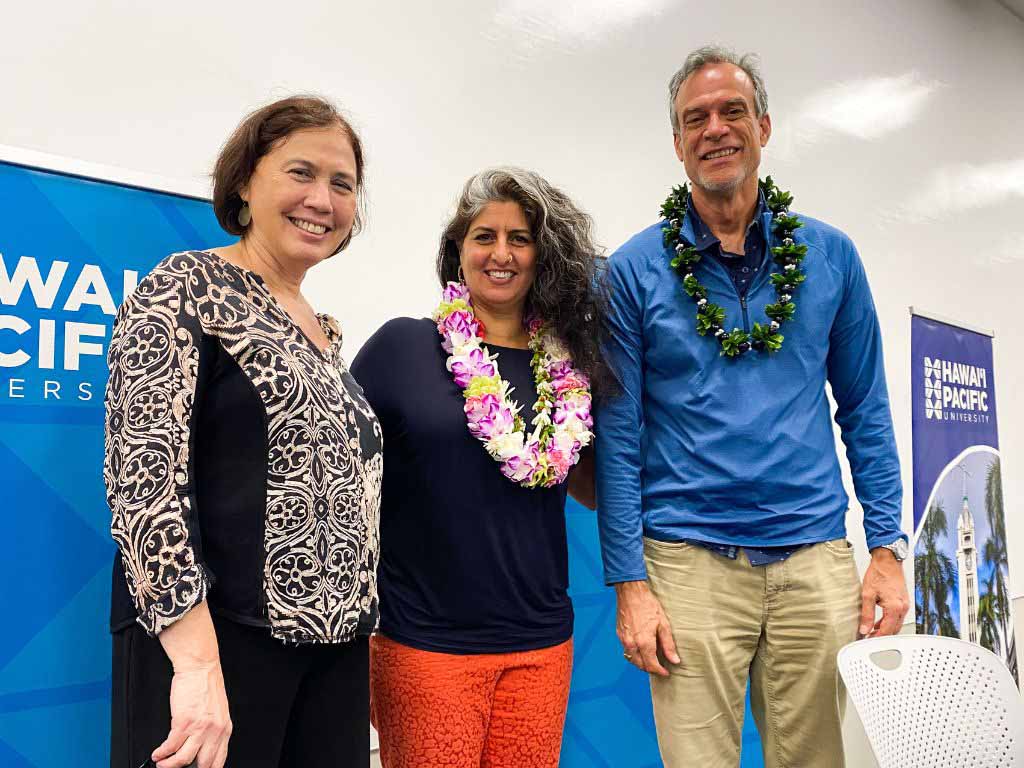 .
What have been, historically, the possibilities for Black lives in Hawai'i?
Nitasha Tamar Sharma explores this in her book, "Hawai'i is My Haven." Life in paradise and the chance to breathe become a paradox when coupled with historic and systemic racism, some ways with nuanced differences when compared with the rest of the nation. Sharma grew up in Manoa and is a professor at Northwestern University. Her recent discussion here on campus was sponsored by the College of Liberal Arts and moderated by Professor Jon Davidann.
Throughout her research into the Black experience in the Islands, she's focused on her conversations with local people, but not so much those who are members of the military or recent transplants. Instead, she's gathered stories of people of mixed heritage, like Black Okinawan, Black Japanese, Black Samoan, and Black Hawaiian. These are the people she says are current representatives of the African Diaspora that reached the Islands almost 250 years ago.
Sharma's work shows what she calls Hawai'i's more expansive view of Blackness; one that contests a more common mainland viewpoint that if one is part Black, she or he is only Black. In Hawai'i, one is more readily described as being Black-and, rather than Black-only.
Sharma explores what she calls a through line of anti-black racism in Hawai'i that today is often first perpetrated by non-white, non-black family and community members and is then continued by transplanted mainland professionals who fill institutional leadership roles. The mainland tie to institutional racism toward Black people is traced to the American business and government representatives in the years preceding the overthrowing of the Hawaiian monarchy.
Sharma describes present-day disconnects between the local and mainland Black cultures, viewpoints shared by several HPU students who attended Sharma's talk. One of her takeaways is that while Hawai'i's Black experience differs in some positive ways from the rest of the nation, racism is real here.  
HPU is frequently ranked among the most diverse campus communities in the nation. In Hawai'i and on campus alike, there is no racial majority. But at the university and across the state, the percentage of Black people is very small compared with the mainland. Further, Black history isn't taught in Hawaiian schools as it is, increasingly, on the mainland.
Sharma's presentation helped advance the discussion, and to make the case, for greater understanding of the Black experience here in Hawai'i, and opportunities for change that can be fostered amid the broad perspective of the HPU 'ohana.