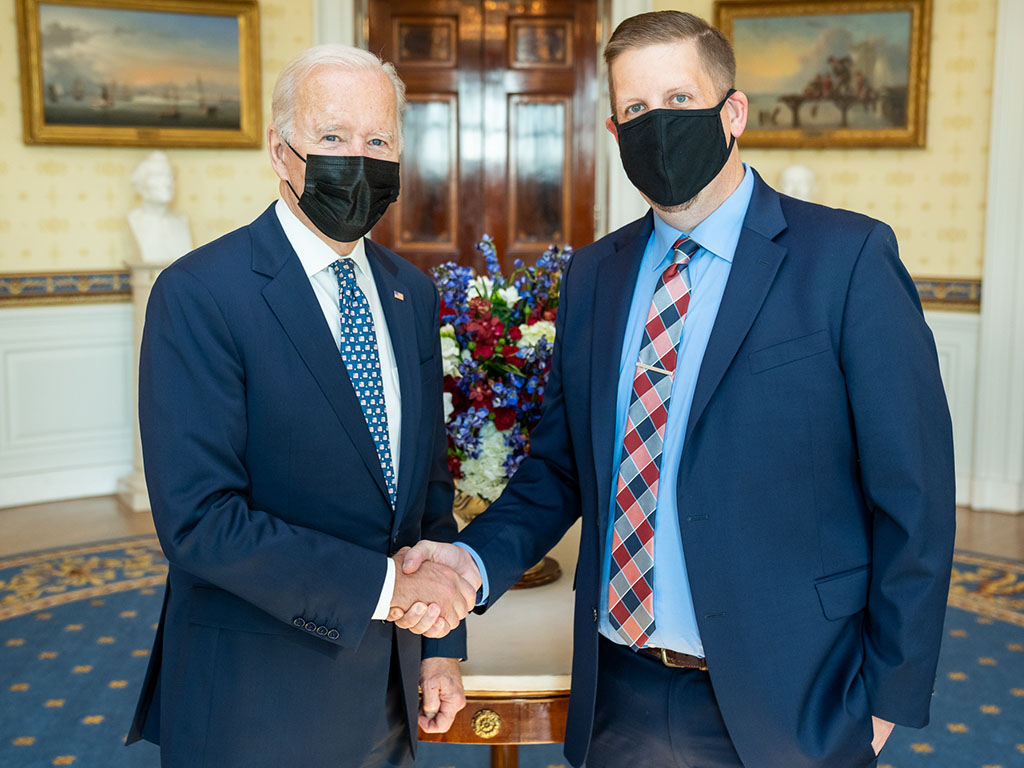 Ron Haskell with President Biden at the White House..
Ron Haskell was born and raised on a dead-end dirt road in the village of Eagle, Michigan, population 133. Eagle is the second least populated village in Michigan after Turner. Haskell went to high school a few miles down the road, in Grand Ledge, where the population is about 8,000.He joined the Navy after 9/11 and deployed to the Eastern Mediterranean and Persian Gulf in 2003. An Operation Iraqi Freedom (OIF) veteran, Haskell was honorably discharged in 2005. He worked for the fire department for two years in Virginia and enrolled at Northern Virginia Community College (NVCC) on the post 9/11 GI Bill®.
"I shared the hallways with Jill Biden when she was an English professor at NVCC," said Haskell. "I thought it was the most amazing thing to be at a community college and seeing the Second Lady teaching English. For that, I have long admired the Bidens." 
While Haskell was studying at NVCC his wife, Kim, was offered a position to help open an office for the Department of Defense Inspector General in Hawaiʻi. Haskell knew he could study anywhere on the GI Bill®, so he and his wife jumped at the chance to move to Hawaiʻi.  
"At the time, the big school in Hawaiʻi did not take the full GI Bill® from veterans if they were out-of-state," said Haskell. "So, I spent one semester at Windward Community College where I met an amazing recruiter from HPU. She spent a great amount of time with me, convinced me that HPU was the perfect fit. She was right!" 
Haskell enrolled at HPU in 2011 with the plan to become a high school history teacher. He majored in history and his HPU professors always extended time to provide mentorship and guidance.  
"Professor Doug Askman was certainly one of my favorites," said Haskell. "His Hawaiian history course was a highlight of my time at HPU. The best class I had at any level of my education was the history of oil in the modern world by Professor Jon Davidann. I still go back and read the books we studied.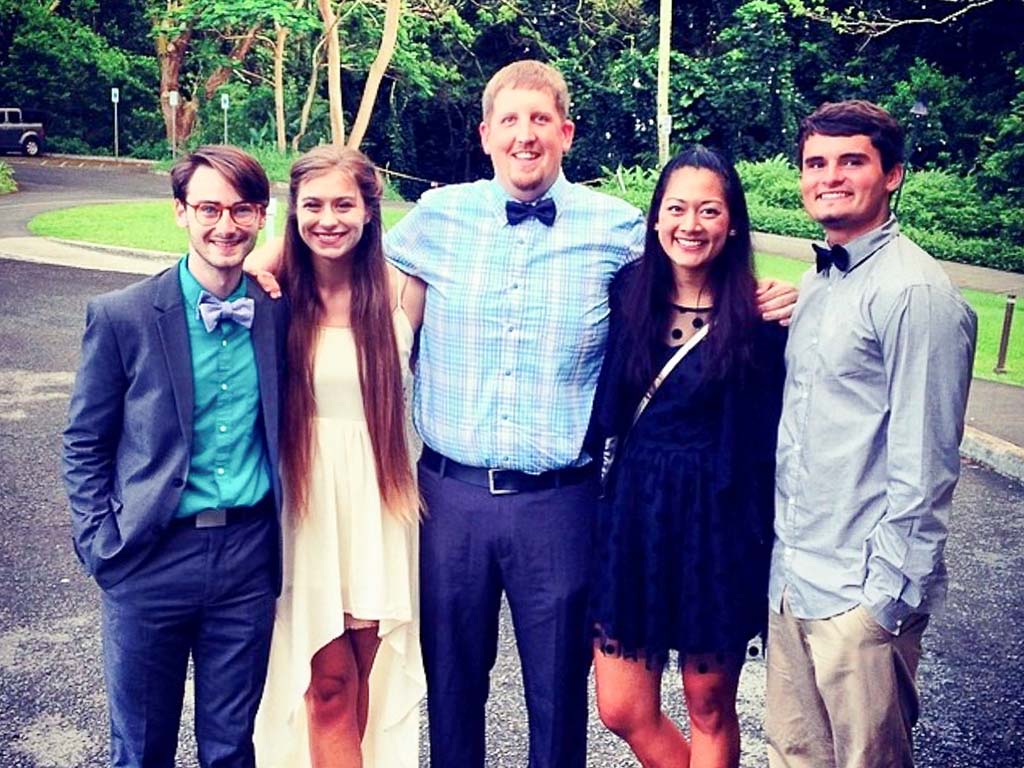 Ron Haskell with HPU classmates..
"In graduate school, the late John Windrow was an amazing person and professor. His mentorship and easy demeanor were what I remember most. In the final semester of graduate school, I was working long hours in HPU athletics as a broadcaster; I had a baby on the way; I was taking comprehensive exams; I was in the process of accepting a job in Washington D.C. I'm not someone who cracks under pressure. But I was really struggling to get a grasp of it all. Just sitting in Professor Windrow's office and walking through things, talking about life, was truly what got me through." 
Haskell graduated from HPU with a B.A in history in 2012 and a M.A. in communication in 2014. Soon after graduating, he joined the U.S. Department of Labor as a communication specialist, and in 2017 he became senior public affairs specialist at the U.S. Department of Veterans Affairs (VA). In 2019, he accepted a position as the communications project manager for VA's broadcast studio, and in 2020, he was promoted to director of communication for VA's Office of Patient Care Services. 
"My team at VA oversees communications for 22 program offices with a combined budget of around 7 billion dollars," said Haskell. "Supporting senior executives in the government means a lot of speechwriting and other executive communications. Having a strong foundation in history and the world is essential to anyone doing speechwriting and communications."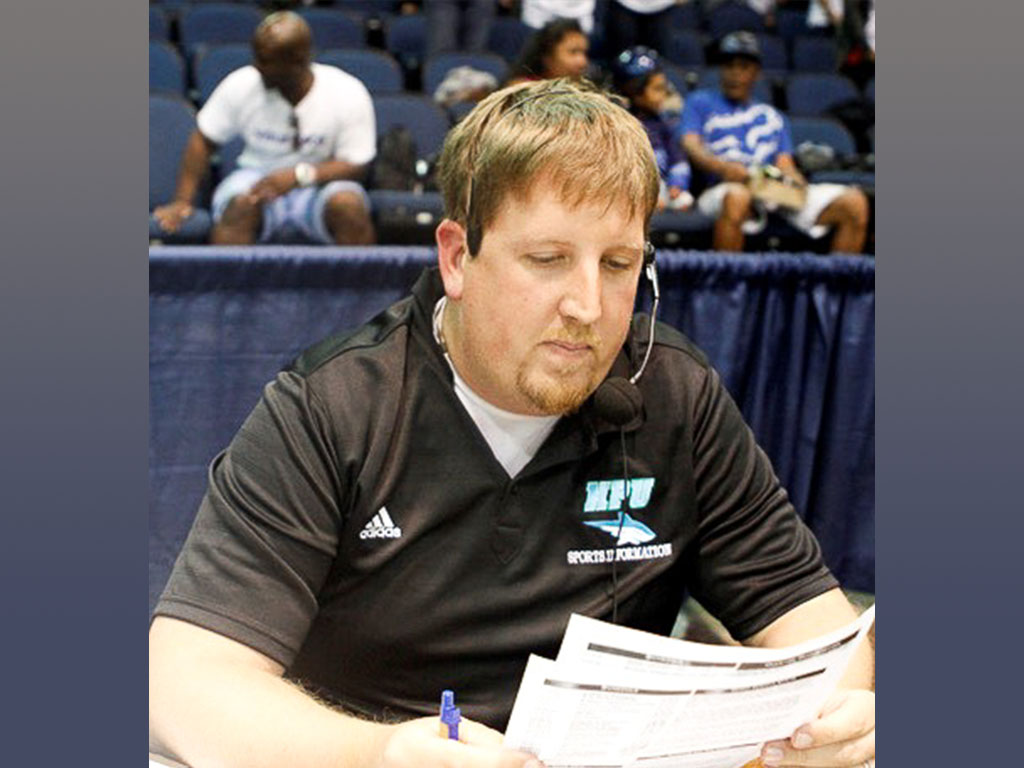 Ron Haskell broadcasting an HPU game..
In 2021, Haskell met President Biden. He was selected by VA leadership to go to the White House to staff a reception prior to the annual Veterans Day ceremony held at Arlington National Cemetery.
"I've been to the White House a handful of times previously," said Haskell. "I went to the West Wing when President Bush George W. Bush was in office, and I went to the East Wing a handful of times when President Obama was in office. Anytime you get to go to the White House is a real honor. 
"President Biden was in the Blue Room receiving guests and preparing for the speech at Arlington National Cemetery. They announced my name and title to the room. The President waved me in. While I was meeting with President Biden, I told him about the work our team does at VA. Caregivers, toxic exposure, LGBTQ+. Things like this.  
"While chatting, President Biden took out a challenge coin, which is a very big deal in military culture. He placed the coin between our hands before shaking. That presidential challenge coin, that picture of our meeting will be something that I cherish for my entire life." 
HPU has played a pivotal role in Haskell's life. Attending a smaller university where students work closely with professors is what makes HPU a perfect fit for students seeking an exceptional education with experiential learning opportunities.   
"A strong academic understanding of how to frame issues and communicate are skills that I learned at HPU," said Haskell. "This has been critical to any success I've had professionally." 
For Haskell, the pursuit of happiness is a balance and not so much a destination. There is a triad between satisfaction, fulfillment, and drive. The more balanced these objectives are the happier you feel.  
"If you root yourself in improving the lives of others, and bringing light to the world," says Haskell, "I'm convinced that when your time ends here you will be somewhere close to perfect happiness." 
GI Bill® is a registered trademark of the U.S. Department of Veterans Affairs (VA). More information about education benefits offered by VA is available at the official U.S. government Web site at https://www.benefits.va.gov/gibill