HPU alumnus Pierre Tafelski.

HPU alumnus Pierre Tafelski at Rideau Sports Center, Ottawa .
Tennis is one of the most popular sports in the world where elite athletes take center stage in some of the largest arenas on earth. It takes years of dedication and training to become a competitive tennis player and often a background in business is invaluable because later in life tennis players may operate and own tennis clubs to train future stars of the game.
HPU alumnus Pierre Tafelski was born and raised in Nantes, France and grew up playing tennis at a young age, attending a high school for athletes who follow a disciplined sports and study program. He would go to school in the morning, train mid-day, head back to school for coursework, and then on the courts again until sunset. It is not uncommon for tennis players to spend 12 hours a day on the court, for years, working on footwork, serves, volleys, groundstrokes just to have a chance to become a professional athlete.
In France, Tafelski was ranked in the top 10 as a junior, and when he was 16 years old he defeated Nikola Mektic who later went on to become the number one doubles player in the world.  
Tafelski earned a tennis scholarship in the U.S. to study business at Ouachita Baptist University where he was a top 40 NCAA division II singles player. He later transferred to Mercer University and graduated with his Bachelor of Business Administration (BBA) degree in 2012.
"I've always been interested in business," said Tafelski. "My parents ran a small enterprise while growing up in France. In high school, I specialized in management and took a couple business courses that led me to earn my BBA in business management."
The opportunity to live in Hawaiʻi, coach tennis, and most importantly earn an MBA was something that Tafelski grew more and more interested in pursuing. So, in January 2013, he decided to enroll HPU's MBA program. While studying, Tafelski worked as a graduate assistant men's and women's tennis coach, and he also taught physical education classes in tennis.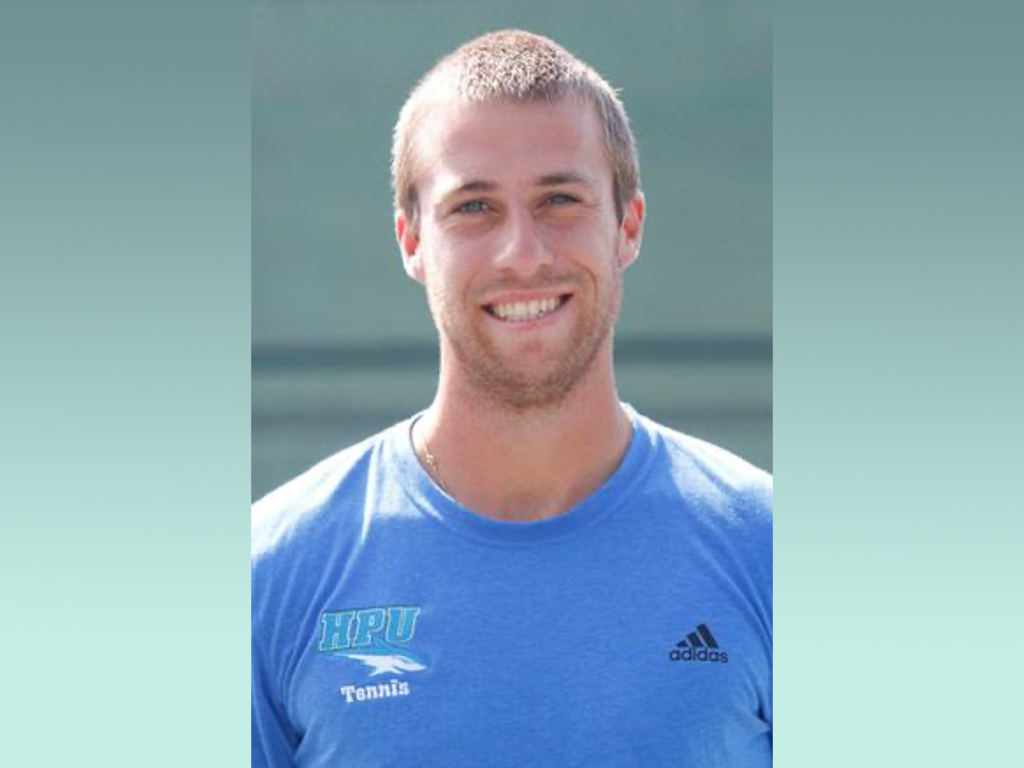 Pierre Tafelski while a graduate assistant men's and women's tennis coach at HPU.
"I thoroughly enjoyed the experience at HPU and all around it was an incredible opportunity to coach tennis, pursue my MBA, have classes in downtown Honolulu, relocate to an island, and experience a different culture," said Tafelski. "I met incredible people at HPU, including the men's and women's tennis head coaches who taught me a lot in the beginning of my career." 
In his 2013-14 season as graduate assistant coach at HPU, Tafelski was named the ITA Division II and ITA West Region National Assistant Coach of the Year for women's tennis. His graduation date was fast approaching, and he was well on his way to earning his MBA in just one year.  
"The professors at HPU are all great, and the quality of their coursework is incredible," said Tafelski. "They have been working in the business world and bring a wealth of experience to the classroom. The HPU professors' ability to apply the educational concepts to scenarios made learning very interactive and realistic. The MBA program was challenging, and it gave me the tools to succeed in business."
Tafelski graduated from HPU in 2014 with his MBA. Soon thereafter, he became the head men's tennis coach at Longwood University and later the men's tennis assistant coach at Boise State University, a Division I program that has a long history and several notable alumni. In 2019, Tafelski accepted a position as high performance director at Sporthèque in Quebec. 
In 2022, Tafelski became the tennis director of Rideau Sports Centre in Ottawa, Canada. He oversees the tennis program and a team of 10 club professionals and over 15 instructors. The tennis department covers all adults and juniors programs (instructional, match play, cardio, etc.), competitive programs, high performance, after school, junior camps, and tournaments.
"My MBA from HPU gave me all the knowledge to be able to strategize our marketing, human resources, finances, and overall operation," said Tafelski. "It helped to have earned my MBA to fully understand financial projects, budget reconciliation, operational analysis, and to evaluate a customer's journey at the club.
"HPU really gave me a thorough comprehension of working in a business environment, as well as to be able to apply the concepts that I learned in my coursework."
When not coaching or playing tennis he enjoys playing soccer and traveling. "I'm happiest when I am able to do something I am passionate about," said Tafelski. "This always includes being surrounded by loved ones and to enjoy the simple things in life."
To learn more about the business degree programs offered at HPU click here.