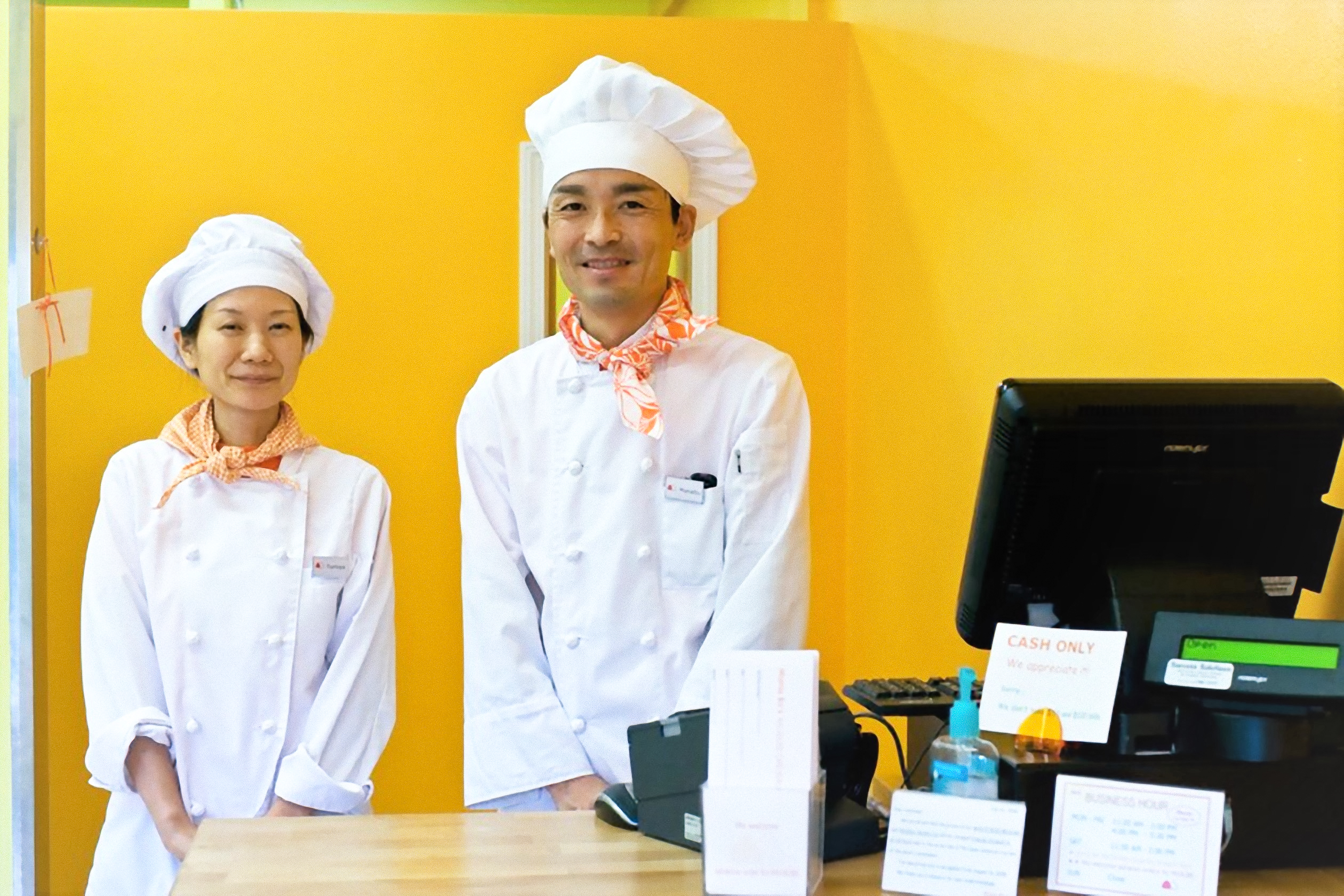 Fumiyo and Manabu Asaoka.
HPU alumnus Manabu Asaoka believes in the ability for reinvention – in his own life, and in musubi. Asaoka was born and raised in Shizuoka, Japan, a bucolic town nestled just below Mount Fuji. He earned his undergraduate degree in Korean language and culture from Tokyo University of Foreign Studies. He took a traditional route after graduation, working in hull insurance for 16 years at the Tokio Marine.
Then a realization.    
"Counting from 22 years old when I started working," says Asaoka, "I guessed that I would work for 45 years, until I was 67. I had been at the insurance company for 16 years! I realized that I had spent one-third of my working life in one job. I decided, OK, what's next?"
That question of what's next? while working as a "salaryman" in Japan was highly unusual. It is common in Japan for a person to work for 45 years at one company; and at the age of 67, retirement begins, a life of comfort and contemplation settles in.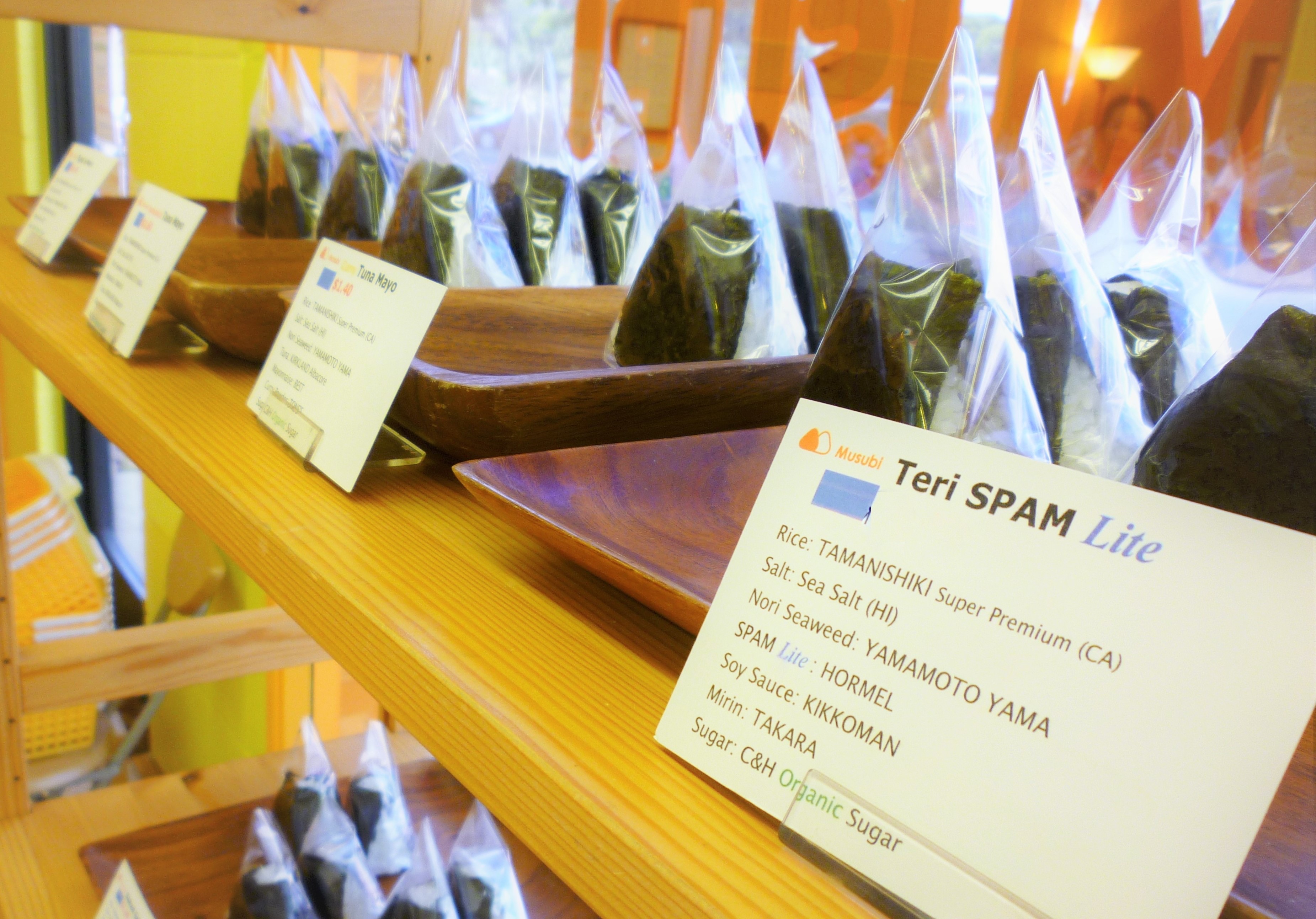 Over two dozen musubi varieties are available daily at Mana Musubi.
"It was required that I move from location to location when I worked in hull insurance," said Asaoka. "No one knew exactly where I would be living from month-to-month. It was irregular timing, to move from place to place. I could not settle down. It was fun at first, but I was ready to settle down." All told, Asaoka had uprooted his life, with his wife, Fumiyo Asaoka, four times in 16 years.
Asaoka knew he wanted to start his own business in a foreign country. It was his dream since childhood to open a food establishment. His wife loves to cook. Her degree at Japan Women's University was nutrition so the path ahead was well on its way to being established. Asaoka began his new journey by researching foreign countries that fascinated him and his wife. Out of interest for the land, culture, and language, they decided on either Australia, Canada, U.S., England, or Ireland. They chose the U.S. after some deliberation between England and the U.S. After reading up on states in America, Asaoka knew that Hawai'i was ideal.
"Before starting my business, I knew that I wanted to go back to school," said Asaoka. "School is very important to me. I looked for the courage to go to school in Hawai'i."
After careful consideration of each university in Hawai'i, Asaoka decided that HPU would be the perfect fit. It was more accommodating for international students, and he wanted to complete a master's degree in two years.
"HPU was much better than the other schools I researched," said Asaoka. " And they had a good number of international students. I applied to HPU from Japan while working in hull insurance."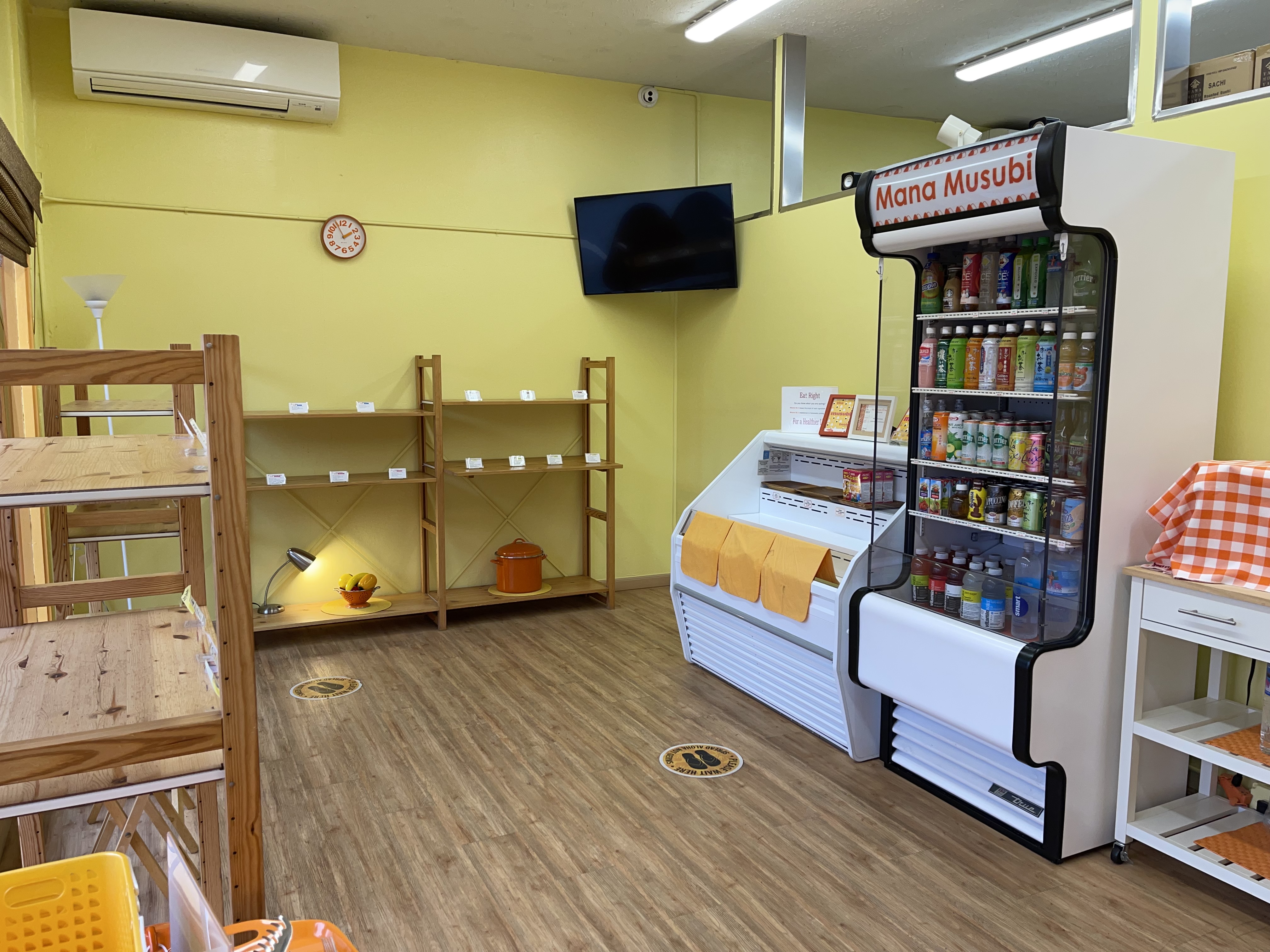 At the end of each day, it is common for all musubi to be sold out at Mana Musubi. Image By Gregory Fischbach.
Asaoka chose the master's in communication at HPU because he had a great amount of experience in business from working at the insurance company for 16 years. " A CEO should find a good team that communicates well. Interpersonal communication is vital for success in any business. I wanted to focus on how to communicate effectively, and it was a particularly good time for me to refresh my way of thinking with people from around the world."
"At HPU, I experienced myriad cultures, a strong sense of values with my classmates. There were many opportunities to work with classmates and faculty members. The smaller classrooms were important for me to learn. The professors have practical experience for the students and HPU's students are very experienced and professional." Asaoka excelled at HPU, earning his M.A. in 2007.
Musubi. Why musubi?
"When I came to Hawai'i to study, I was amazed that there were so many bentos everywhere," said Asaoka. " It was surprising to see musubi, too. But in Japan, musubi must be a triangle. When I saw the spam musubi in Hawai'i it was very interesting and tasty. But I wanted to present the proper Japanese-style musubi in Hawai'i. The filling should be inside the musubi." Asaoka combined the traditional Japanese elements and the newer Hawai'i elements of musubi and created something unique and remarkable.
"There is one study that I read at HPU that compared several foreign people from around the world," said Asaoka. "It measured anxiety when a person sees and hears a foreign language. The study found that Americans are more sensitive to unknown, or foreign languages. The Japanese are the most fascinated and open to unknown languages. So, it was very interesting to know this information."
"I knew that the musubi store we created in Hawai'i had to feel like Japan. Contemporary Japan. The shop would resemble a bakery, where the customer has the option to choose what they want. No Japanese characters, language; it must be all in English. A hybrid of Japan and Hawai'i. The customer must feel comfortable to shop and communicate. I learned all of this knowledge from HPU."
Mana Musubi opened in 2007 at its current location, 1618 S. King Street. Each of the roughly two dozen musubi varieties are handmade with many local ingredients. It takes a good amount of time to make each of the musubi. An additional store would be required to produce more product each day, but quality control is vital for Asaoka, and he is torn on whether another location is necessary.
"Expansion may result in compromise on quality," said Asaoka. "The more stores we open, the quality may decrease because I cannot personally monitor and ensure quality for each store. The location we have is ideal. We love our neighbors; our customers are mostly local, and we have many repeat customers."
Mana Musubi's bestsellers are salmon, spam, and spicy tuna mayo. They open at 6:30 a.m., Monday to Saturday, and close at 12:30pm. The store typically sells out before 11 a.m., but they offer advance ordering as well. Asaoka starts his day at 2:30 a.m. when working at the store, but he is physically in Japan most of the year to care for his parents. To run Mana Musubi from Japan, Asaoka has a total of 16 employees and each employee has a specific role to ensure quality of the product.
"I know life moves fast. We may pass away at any time," said Asaoka. "When I pass, I want to know that I enjoyed my life with no regrets. I gave it my all. I do not want to limit myself; and I seek to open myself to new challenges and new experiences. This is my true happiness."