HPU celebrated the achievements of its fall class of 2022 with a graduation ceremony held on December 15 at the Hawai'i Convention Center. Parents, friends, and family members from near and far attended the ceremony to cheer on their graduates, and later snapped photos and gave leis under the stars at the picturesque convention center at the entrance to Waikiki.
To see a recording of the fall graduation click here.  
HPU conferred associate's, bachelor's, and master's degrees to over 225 students. Bachelor's graduates included students across 35 majors. 
Graduates are represented from Hawai'i and the continental U.S., and from countries around the world, including Bahrain, Burma, China, Denmark, Germany, Japan, Kenya, Korea, Norway, Philippines, Singapore, Sweden, Taiwan, Thailand, and United Kingdom.
HPU President John Gotanda, J.D., delivered remarks and conferred degrees and HPU Senior Vice President and Provost Walsh, Ph.D., served as Master of Ceremonies.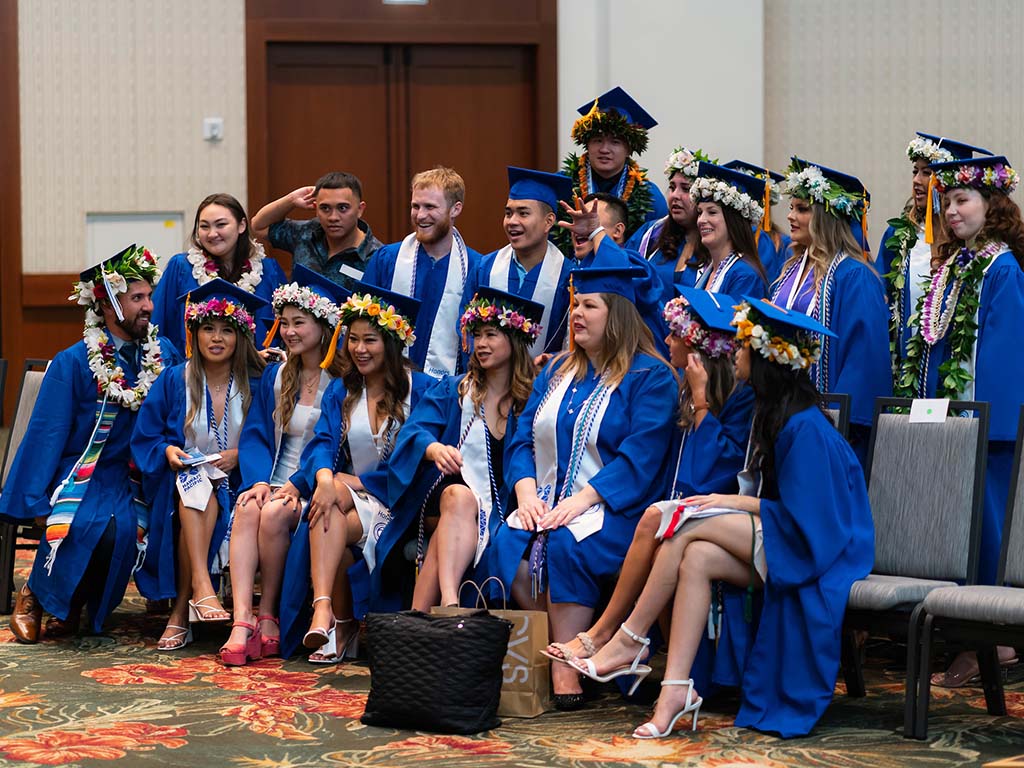 HPU graduates at the Hawai'i Convention Center on graduation day. Image By Michael Matsushita.
The  valedictory  speakers who spoke are Cody Lee and Megan Ashley McCarthy.
Lee is a Bachelor of Science in Nursing student from Kāneʻohe. He is a member of the Sigma Theta Tau International Honor Society, Alpha Lambda Delta National Honor Society, and Alpha Chi National Honor Society, and has been on the Dean's List since 2019. Lee is a student nurse at Pali Momi Medical Center through the Hawai'i Pacific Health Academy Innovations program. 
McCarthy is a Master of Business Administration student from Portsmouth, New Hampshire. She earned her Bachelor of Science in Business Administration in spring 2022 and is graduating with her MBA through concurrent registration in two semesters. She received an internship with Raytheon as a freshman at HPU, leading to her current full-time financial analyst position. McCarthy was on the Dean's List for seven consecutive semesters.
Congratulations to all graduates and go Sharks!