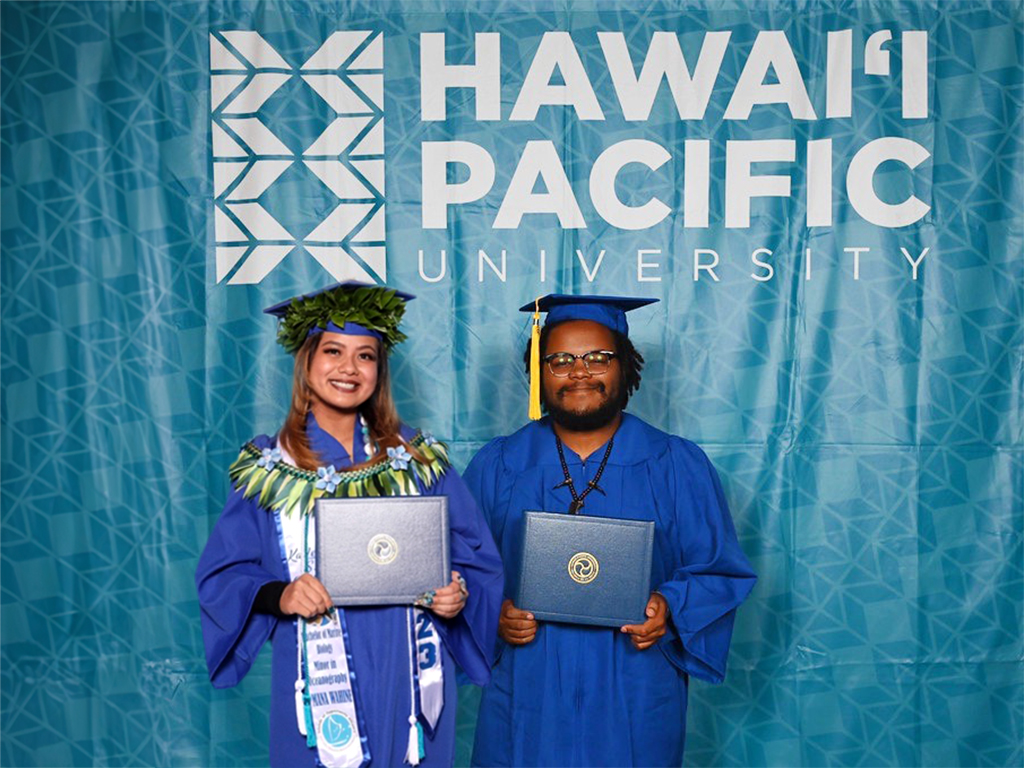 HPU alumni Kailei'a Duriano and Collin Aldridge.
HPU alumni Kailei'a Duriano and Collin Aldridge recently received the prestigious Hawai'i Marine Fellowship, established by The Nature Conservancy (TNC). The achievement reflects the ability of HPU alumni and highlights the opportunities and support available within HPU's academic community. Duriano and Aldridge both graduated from HPU in 2023, and Aldridge is currently pursuing his Master of Science in Marine Science (MSMS) at HPU.
Duriano and Aldridge embarked on their journey toward becoming marine fellows through their participation in the Islands of Opportunity Alliance (IOA-LSAMP) program. This collaboration has been instrumental in introducing them to the marine fellowship program.
"I'm honored and overjoyed to have been presented this surreal and incredible opportunity to be a marine fellow at The Nature Conservancy," Aldridge shared. "In my few weeks here, I'm already so happy to be surrounded by likeminded scientists and people who believe in indigenous science and hold similar values to myself that conservation, restoration, and preservation work best when science and community work together for the well-being of people and nature. I'm forever grateful to all my mentors and peers who helped me to get here and will strive to make the HPU ʻohana proud and to hold HPU's values of aloha, kuleana, and pono at the front of my mind in all of my travel, work, and interactions over the next two years."
Duriano shared that it's a fantastic feeling to receive the marine fellowship, stating that she is, "Beyond grateful for all my mentors who have helped me pave my way to The Nature Conservancy as a marine fellow. I'm excited to see what awaits in these next two years as I will be working alongside indigenous communities and scientists to create a world where culture and science can not only coexist but thrive together in the battle against climate change for our oceans. It's humbling to know that my hard work during my time at HPU set a foundation where I can start to give back to my community and begin my career as a Native Hawaiian Marine Scientist. Kūlia I Ka Nu'u (strive for the summit)!"
TNC's Hawai'i-based Marine Fellowship Conservation Program has been carefully designed to cultivate a pool of well-qualified local marine resource managers by bridging the gap between traditional and western science-based resource management and community-based conservation.
The Marine Fellowship offers a two-year, full-time position aimed at cultivating proficient marine resource managers for the sustainable management of Hawai'i's lands and waters. The program focuses on equipping marine fellows with a diverse set of professional and leadership skills through hands-on conservation work, collaborative efforts with TNC staff and partners, and comprehensive training in natural sciences, project management, strategic planning, community capacity building, public policy, outreach, communications, and leadership.
The first year emphasizes skill development, while the second year centers around completing a capstone project aligned with the Fellow's professional goals and contributing to priority marine conservation initiatives across the main Hawaiian Islands. The overarching objective is to ensure a promising future for the region's natural resources.
To learn more about HPU's department of natural science, click here.