HPU's College of Business in Pioneer Plaza.

HPU students participate in a business course.

HPU students in the College of Business at Pioneer Plaza.
HPU's new Dean of the College of Business (COB) Mark Rosenbaum, Ph.D., joined HPU this year with the aim to pivot the COB to a skills-based learning experience. With HPU's popular one-year MBA and concurrent registration already in place and popular choices for students, Rosenbaum developed new partnerships to begin the COB's transition to skills-based learning.
Rosenbaum's first initiative was to cultivate a partnership with Coursera Career Academy that permits HPU business students to access job-relevant, online certificates from global organizations that include Google, Salesforce, IBM, Meta, and Intuit. Students can currently select from 22 different career certificates, and the number is expected to grow to 28 by early-2023. 
"I set out to enhance the COB by following HPU's mission of being practical, innovative, and experiential," said Rosenbaum. "HPU is the only university in the world to offer skills, sun, and surf, all while students earn their business degrees in paradise. Our students receive first-class, skills-based education with career certifications from Coursera that include guided projects, entry-level job training from industry experts, and an overview of common job titles, skill requirements, and salary information to help students explore potential career paths."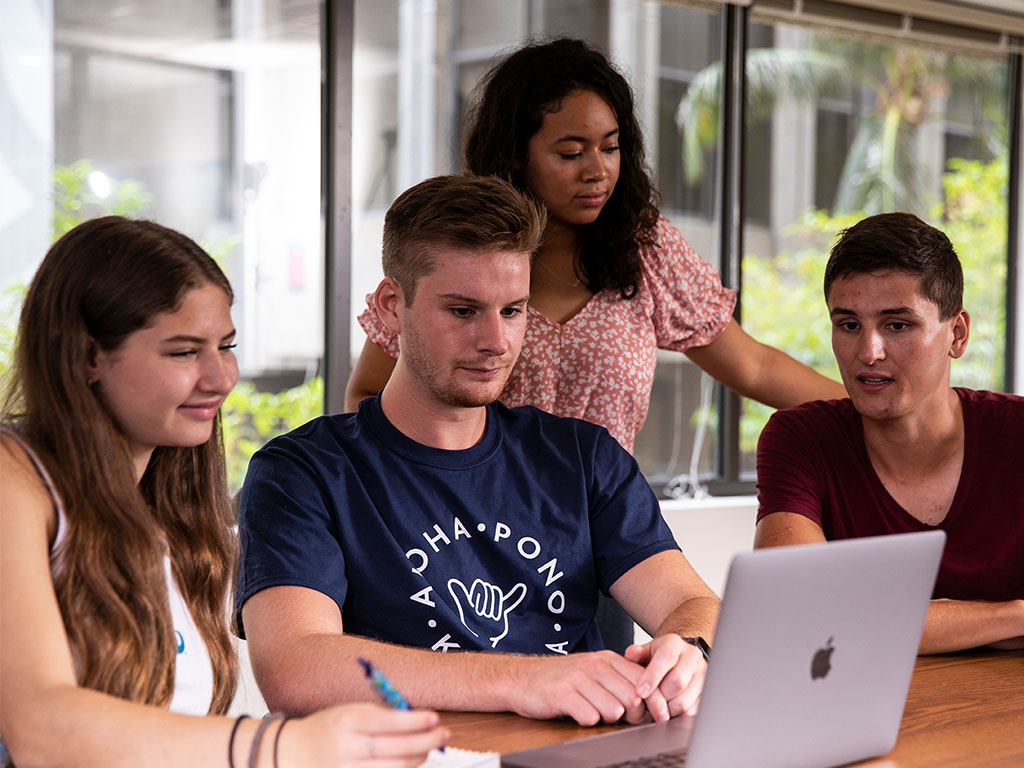 HPU business students collaborating in class.
HPU instructor for the COB internship program Leslie Blood, JD, MBA, uses Coursera in the classroom and has received very positive results from her students.
"The role of Coursera in our internship program has been an excellent alternative for students or athletes with limited time, international students, or anyone who cannot secure a traditional internship in an area they are interested in," said Blood. "Internship students have found opportunities to learn a new skill in Coursera, which offers them the ability to earn college credit, learn new skills that result in industry-recognized certificates, and assist them to be career ready."
The Coursera partnership is just one of several partnerships that Rosenbaum has developed. In April 2021, he introduced the Grow with Google collaboration where business students can enroll for certificates in various areas like data analytics, project management, user experience design, and IT support.
In August 2021, Rosenbaum introduced a partnership with MindEdge to offer continuing education certificates and courses for leaners looking to upscale their skills or engage in lifelong learning. The current COB continuing education program offers learners a total of 323 courses and 40 certificates in 33 career categories, including project management, human resources, and sustainability.  
In fall 2023, HPU will offer the new MBA+ where students can earn their MBA in one year, earn certificates from other HPU programs, and earn at least two Coursera certificates during their coursework. All MBA students are given the choice to choose their enrollment schedule.
"We are very excited about the new MBA+ option," said Rosenbaum. "The MBA+ will prepare our students for meaningful employment the moment they graduate. We want students to enter and exit our MBA program by focusing on their careers. Our MBA students will begin their new career journey from day one. We are here to help students choose their careers with individualized pathways." 
Megan McCarthy.
HPU's concurrent registration is an option for students who are interested in earning their undergraduate degrees and getting a head start in earning their master's degree at the same time. Students may enroll in certain graduate courses and earn both graduate and undergraduate credit for the same course. This allows a student to significantly shorten the time it takes to earn a master's degree and save money on tuition.
HPU's fall 2022 graduate valedictory speaker Megan McCarthy earned her Bachelor of Science in Business Administration in spring 2022 and is graduating with her MBA this fall through concurrent registration. She received an internship with Raytheon and was recently offered a permanent position with the company. 
"A major factor that played a role in my decision to attend HPU to pursue a bachelor's degree in Business Administration with a concentration in finance and economics was the concurrent degree program offered within the College of Business," said McCarthy. "Not only did I get the opportunity to take an entire semester of graduate courses while still in my undergraduate program, but I got a jumpstart into the MBA program at HPU as well.
"I always knew that I would want to pursue my MBA directly after graduation, so the concurrent degree program was the best decision I could have made. I was able to discuss my future plans to receive a master's degree while applying for post-graduate jobs, and the shocking truth is that employers love this kind of strive from potential employees! I was hired by Raytheon Technologies to start right after my undergraduate graduation, and they offered to pay for my MBA program if I worked for them full-time as a financial analyst. In the end, I truly got the best of both worlds while advancing my education and developing real world work experience. I wouldn't have done anything differently."
To learn more about the HPU COB click here. To learn more about concurrent registration click here.