Jennifer Lynch (center) with HPU Master of Science in Marine Science students Cara Megill (right) and Sydney Binette (left) at the Fort Weaver re-pavement construction site. Image By Jennifer Lynch.

Construction of the plastic road pilot. Image By Jennifer Lynch.
A new sustainable transportation initiative in Hawai'i has begun with the testing of an innovative asphalt road that was mixed with recycled plastic. The plastic road pilot project took place October 2022 on Fort Weaver Road in Ewa Beach. In a statement released by the Hawai'i Department of Transportation (HDOT) it was reported that 1,950 tons of modified asphalt was used in the road, the equivalent of 195,000 plastic bottles. The weight of plastic in the road pilot was 0.05% of the final pavement weight.
HPU and UH Manoa have been contracted to evaluate the performance of the plastic road pilot and the potential of the material to release microplastics into its surroundings. HDOT stated that the evaluation period will take place over a year and a half; HDOT will share the results of the evaluation with the public and legislature.
"It is important to place any environmental leaching in context of other concerns for stormwater runoff," said Jennifer Lynch, Ph.D., the co-­director of the HPU Center for Marine Debris Research (CMDR) and employee of the National Institute of Standards and Technology. "Tires, wearing on any pavement are the largest source of microplastics into the environment. Tire wear particles will be measured by CMDR, as well as particles that may leach from the road pavement. They are different polymers so they can be distinguished from each other using the sophisticated chemistry instruments at CMDR."
Projects that Lynch is working on at HPU's CMDR include the removal of derelict fishing gear or "ghost nets" from the marine environment; the investigation of chemical, physical, and biological changes during weathering of plastic pollution; development of methods to measure micro and nanoplastics in the environment; and quantification of plastic ingested by sea birds, sea turtles, and fish.
The plastic road pilot includes plastic supplied from the mainland. HDOT will verify the studies from the manufacturer out of an abundance of caution to ensure that the road test shows no sign of escaping microplastics or chemical additives so future roads will be built with plastic supplied from Hawaii's consumers and from the ocean.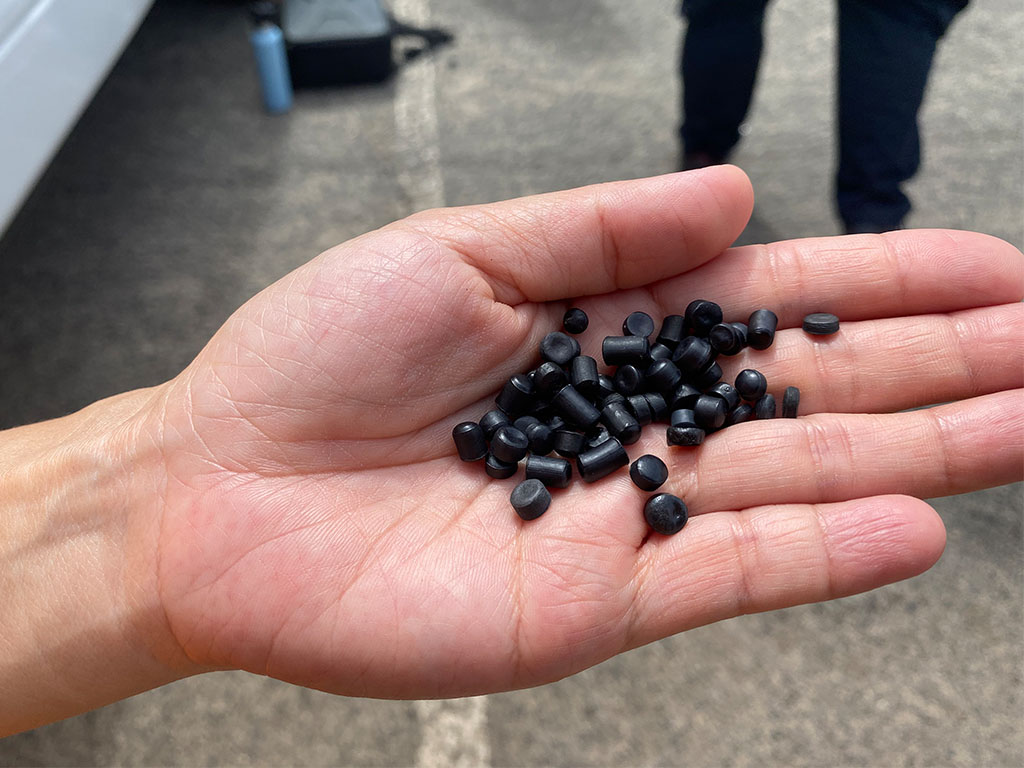 Plastic pieces used in the road pilot. Image By HDOT .
"We want to make sure we get this technology to be usable by anybody else moving forward with infrastructure of this kind," said HDOT Deputy Director for Highways Ed Sniffen at a news conference.
Plastic that was used in the road pilot was postindustrial that was shredded and turned into small black pellets and shipped to Hawai'i. "The whole intent is to ensure that we test this out, make sure it works, then start using our own plastics here, own trash here to produce this material," said Sniffen. 
Mechanical recycling is the process of converting plastic waste into a different shape, through shredding and extruding. "Of all the ways to dispose of plastic waste, mechanical recycling is the best in terms of greenhouse gas emissions," said Lynch. "It is better than landfilling, incinerating, even when burning for power and other ways like chemical recycling."
For additional information on CMDR click here.