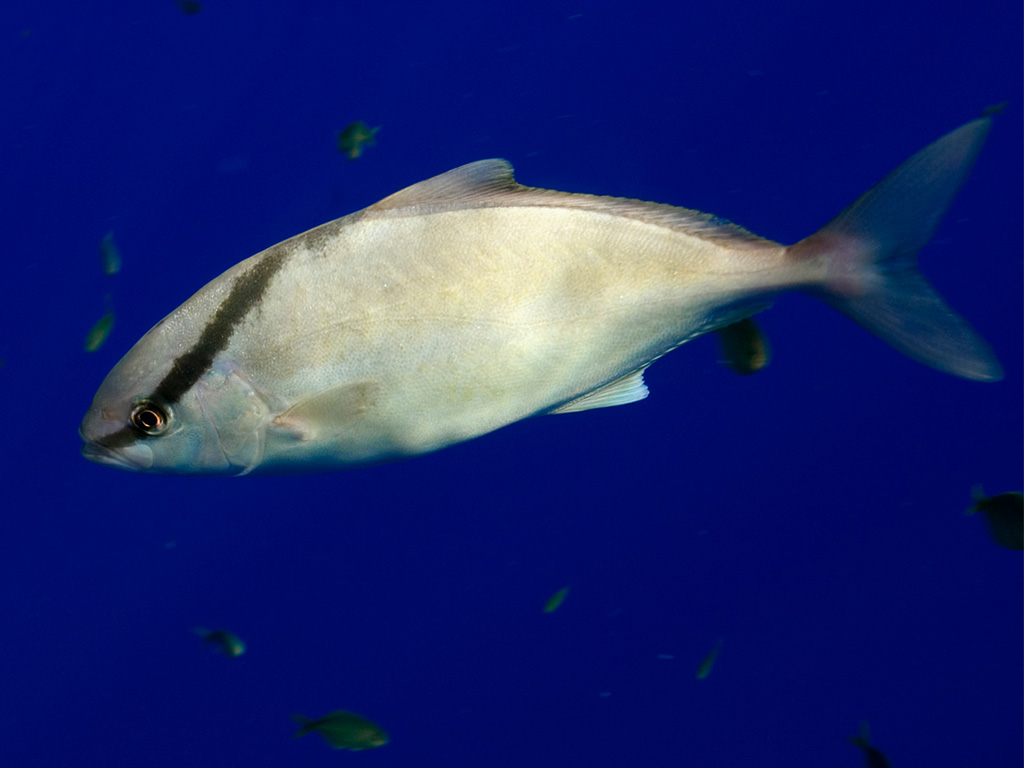 Kampachi (almaco jack) in the Pacific Ocean. Image By Andre Seale .
Oceanic Institute (OI) of HPU, the University of Hawaiʻi at Mānoa College of Tropical Agriculture and Human Resources (CTAHR), and Hawaiʻi Sea Grant received two grants totaling nearly $1.25 million from NOAA Sea Grant to improve the reproduction of kampachi (almaco jack) and Pacific white shrimp in Hawaiʻi. The kampachi grant is for nearly $1 million and the Pacific white shrimp grant is for nearly $250,000. 
The funding is part of a nearly $14 million federal funding investment by NOAA Sea Grant to select Sea Grant programs around the country, including the University of Hawai'i Sea Grant College Program (Hawai'i Sea Grant), to strengthen U.S. aquaculture.  
"This grant will facilitate a much better understanding of the current challenges facing expansion of marine finfish aquaculture," said HPU co-investigator of the grant and OI Director of the Finfish Department Chatham Callan, Ph.D. "Seriolids are currently cultured in Hawaiʻi but efforts to scale-up production has been limited by reproductive challenges in captive stocks. This grant will help improve our understanding of this limitation, ultimately paving the way for significantly increased culture potential. Increased local production of marine fish will decrease our need for importation of seafood, ultimately increasing and improving Hawaiʻi's food security." 
Kampachi are among the most valuable finfish groups for offshore aquaculture development and are difficult to rear and harvest commercially on a large scale. This award comes at a key moment for aquaculture development in Hawaiʻi, as it integrates research and extension thrusts through the leveraging of CTAHR and Hawai'i Sea Grant expertise.
"We plan to address key barriers of production of kampachi by focusing on improving egg quality, fecundity, and juvenile development," said principal investigator of the grant and UH Associate Research Professor Andre P. Seale, Ph.D. "Through an integrated collaboration among university research, extension, and industry partners, the results obtained through this proposed work will result in the facilitation and expansion of commercial development of this and related species. By addressing production constraints, this combined HPU and UH Mānoa effort will contribute to increasing commercial production of kampachi in Hawaiʻi."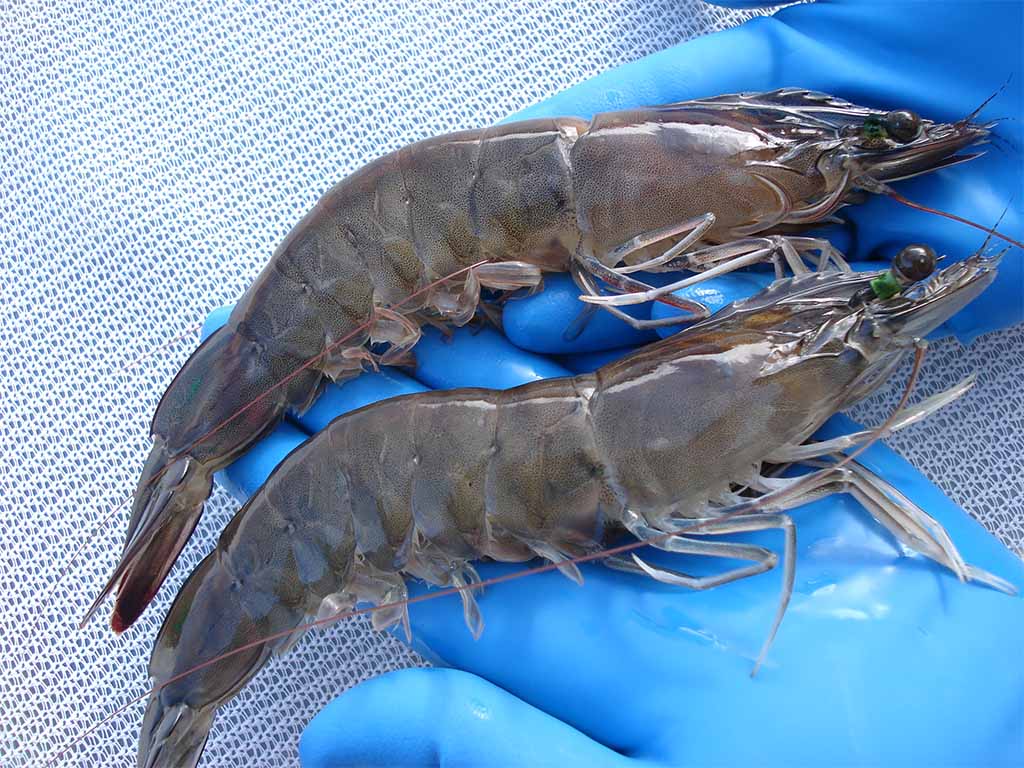 Pacific white shrimp. Image By Dustin Moss .
The Pacific white shrimp grant aims to use a genomic approach to improve the reproduction performance of the shrimp. Activities include laboratory experiments focused on assessing and improving the shrimp's genetic traits.
"The U.S. is a leader in shrimp genetics research, with several genetic improvement companies located in Hawaiʻi," said co-investigator of the grant and Director of the Shrimp Department of OI Dustin Moss, Ph.D. "In 2021, approximately 500,000 selectively bred shrimp broodstock, with a value of around $15 million, were exported from Hawaiʻi to shrimp hatcheries around the world. High reproductive output of shrimp broodstock (i.e., the number of eggs and larvae produced) is vitally important to hatchery operations, but these traits have received little attention from genetic improvement programs due to critical knowledge gaps. Our project with Hawaiʻi Sea Grant aims to use new advances in shrimp genomics to better understand the genetics of shrimp reproduction and, ultimately, develop effective genetic improvement strategies for these traits. Knowledge gained from this project will allow US shrimp genetic improvement companies, including those in Hawaiʻi, to develop new shrimp lines and maintain a competitive advantage in the global shrimp broodstock market."      
Scientists at OI have an international reputation for research on selective breeding of Pacific white shrimp; and in 1990, OI developed the world's first captive population of specific pathogen free Pacific white shrimp and was the first organization in the world to develop a family-based breeding program for the species.  
Bradley (Kai) Fox, Ph.D., Hawai'i Sea Grant aquaculture extension specialist and principal investigator of the grant, noted "This is a critical time for aquaculture, food security, and our ability to feed humans sustainability around the world. We are very fortunate to be able to collaborate with researchers at OI to push cutting edge technologies with global relevance forward, while at the same time recognizing, appreciating, and learning from our host culture here in Hawaiʻi where aquaculture has been practiced and refined for a thousand years."
To learn more about OI of HPU click here. To learn more about CTAHR click here. To learn more about Hawai'i Sea Grant click here.