Captain and crew, who are members of the Hawai'i Longline Association, offloading a 2,550 pound net at Pier 38. To date, this is the heaviest derelict fishing gear that has been removed by fishers in the program.

Crew, who are members of the Hawai'i Longline Association, offloading a 313 pound burrito drifting fish aggregation device (dFAD) with the help of Hank Lynch, a commercial fisherman.

Crew, who are members of the Hawai'i Longline Association, removing a 698 pound derelict fishing gear out of the ocean while at sea. Image courtesy of Seeker II.
In January 2023, HPU Center for Marine Debris Research (CMDR) announced an ambitious bounty project partially supported by the National Oceanic and Atmospheric Administration's (NOAA) Marine Debris Program to remove tons of derelict fishing gear from the ocean.
In partnership with the Hawaiʻi Longline Association (HLA) and the Department of Land and Natural Resources' Division of Aquatic Resources, HPU's preliminary results from the project saw 12,189 pounds (6.09 tons) of debris, from 41 fishing nets, removed from the ocean in less than one year.  
"Removing 100 tons of derelict fishing gear from our oceans in just two years is an inspiring goal, and we've made great progress so far," said Research Manager of HPU's Center for Marine Debris Research Raquel Corniuk. "Our program rewards dedicated commercial fishers for their essential role in protecting Hawai'i's coral reefs, offering them $1 to $3 per dry pound for retrieving derelict gear at sea. I believe this initiative is a win-win for both our fishermen and the preservation of our stunning ocean environments."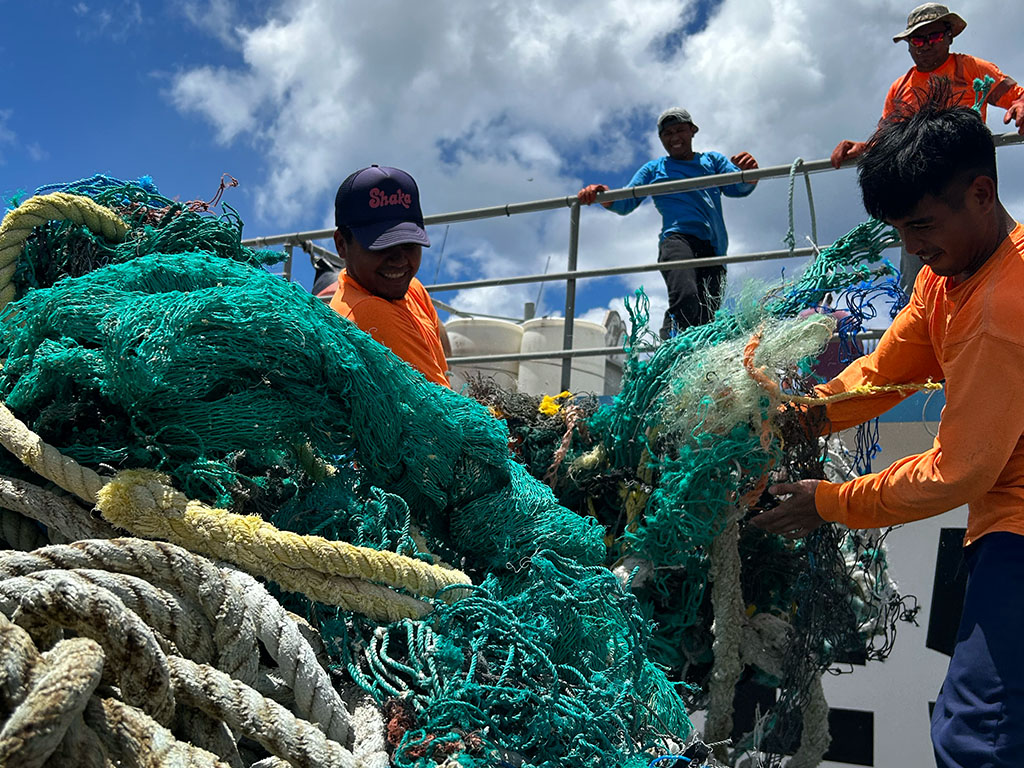 Crew, who are members of the Hawai'i Longline Association, offloading a 689 pound derelict fishing gear conglomerate. The captain of this vessel has removed three different derelict fishing gear events.
CMDR reported that 22 commercial fishers have participated in the bounty program by hauling in debris from around Oahu. Twenty-one of these fishers are members of the HLA and remove debris from areas near the Great Pacific Garbage Patch. HLA was established in 2000 and represents the interests of fishermen in Hawaiʻi's longline fisheries, advocating for science-based conservation and management measures. With around 150 active vessels, the HLA plays a vital role in advancing the interests of these fisheries in both domestic and international settings.
"I believe HPU's bounty program is commendable, and as the program continues to develop we are witnessing a growing level of engagement from longline fishermen in Hawaiʻi, particularly with El Niño upon us," said Executive Director of the Hawaiʻi Longline Association Eric Kingma, Ph.D. "We expect Hawaiʻi longline vessels to encounter derelict fishing gear at greater rates than during the last few years of La Niña conditions.
"Even without incentives, Hawaiʻi longline fishermen have brought back debris for decades because they also do not want to see the derelict fishing gear end up on our reefs. Since 2009 or so, Hawaiʻi longline fishermen have been participating in the Nets to Energy program and disposing of derelict fishing gear at a dedicated bin at Honolulu Harbor Pier 38 fishing village. Therefore, the bounty program has received positive feedback as the fishers appreciate the monetary reward for a good deed."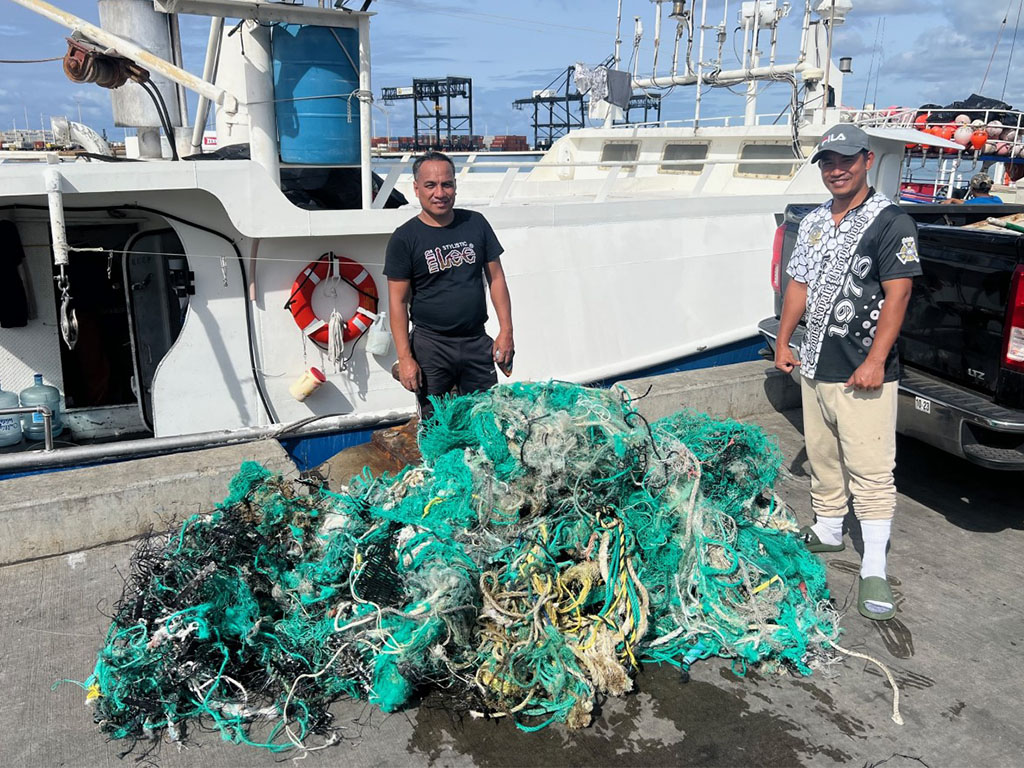 Crew, who are members of the Hawai'i Longline Association, with their derelict fishing gear that they removed while at sea. This gear weighed 169 pounds.
Derelict fishing gear is one of the most harmful forms of marine debris to marine animals and habitats. It is comprised of lost and abandoned fishing gear, commonly called "ghost nets," and is a significant contributor to plastic pollution on Hawaiʻi's beaches. Ocean currents intertwine this gear into sizable plastic masses before it reaches the shoreline. Drifting plastic masses pose a severe threat to marine life, entangling and drowning animals while also smothering and damaging Hawaiʻi's coral reefs. Derelict fishing gear stands as one of the most destructive forms of marine debris, jeopardizing both marine animals and their habitats in Hawaiʻi.
Commercial fishermen that are not in the longline fleet are also rewarded by the bounty project. Hank Lynch, a licensed commercial fisherman and commercial diver noted that he has been removing large derelict fishing gear, mostly net conglomerates, from Hawaiian waters for years on his own because it's the right thing to do.
"The new bounty project is exciting because it's making more people aware of the issue and incentivizing more fishermen to work towards protecting our reefs." said Lynch.
HPU staff, students, and volunteers are collecting debris from fishers at the dock, documenting, measuring, and weighing it in the net shed. Samples of the fishing gear are taken to try to trace it back to its origins in hopes of future prevention strategies. Then the debris is made available to repurposing by artists, educators, and recycling researchers.
The remaining debris is then transformed into electricity for the City and County of Honolulu, thanks to the Nets-to-Energy Program, with valuable support from Schnitzer Steel Hawai'i Corporation and H-Power (Covanta).
How To Get Involved:
Commercial fishers can register in the bounty program by clicking here.
Learn more on DAR's website.
Community members on Oʻahu interested in volunteering are welcome to sign up on CMDR's online volunteer form.