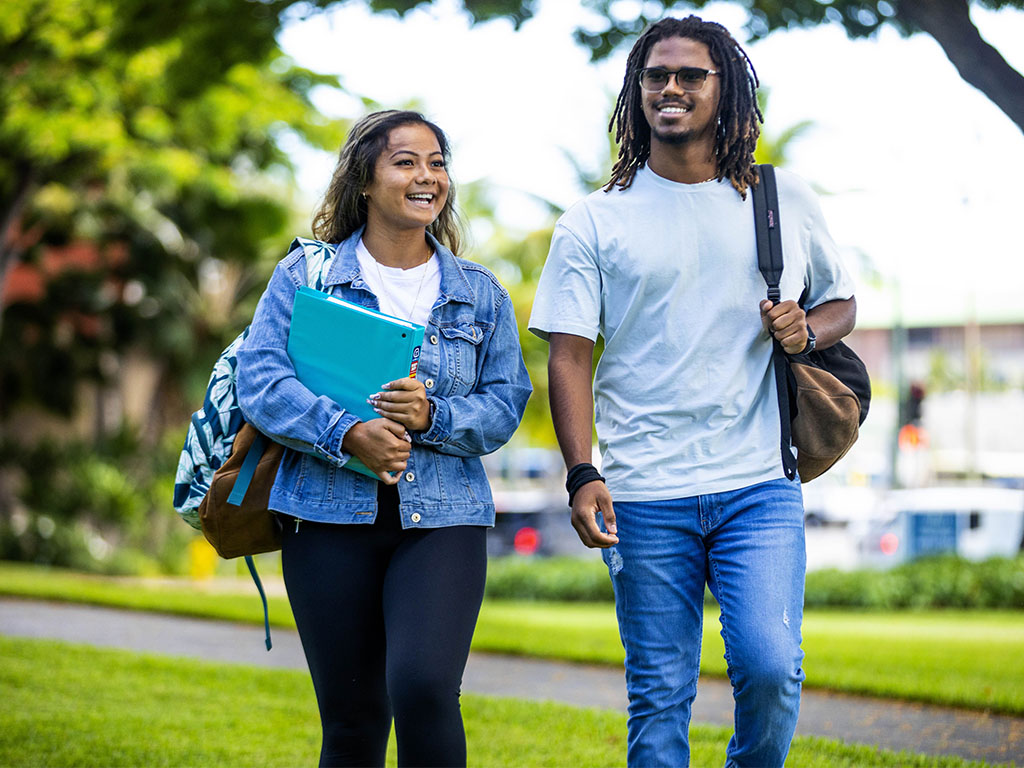 HPU students at Waterfront Plaza campus..
HPU has received a grant for $278,855 from the National Institute of Health (NIH) and National Institute of General Medical Sciences to establish a new Faculty Mentorship Training Program (FMTP) to enhance the ability for HPU faculty to effectively mentor students in their independent research (particularly students from underrepresented communities), prepare them for graduate school and connect them to diverse career opportunities.
"There is an urgent need to recruit and train university faculty members around the U.S., from diverse and cultural backgrounds, who can in turn mentor and train future scientists in the biomedical and health sciences fields," said HPU Dean of the College of Health and Society Halaevalu Vakalahi, Ph.D. "In the U.S., just 10% of faculty research positions are occupied by African Americans, Hispanics, Native Americans, or Native Hawaiian and Pacific Islanders, collectively. This deficit presents a major challenge to increase the faculty mentor pipeline for those who are from underrepresented communities."
The NIH grant builds upon the goals of HPU's Undergraduate Infrastructure Student Research Center (HUI SRC) to improve and create a greater Native Hawaiian and Pacific Islander representation in the fields of biomedical and health research. The FMTP will cultivate student-engaged faculty research and the technical and relational skills required by faculty to effectively mentor undergraduate students in the HUI SRC.
In September 2020, the HUI SRC was established at HPU with a $750,000 grant from  the National Institutes of Health and the National Institute of General Medical Sciences with the objectives to leverage entrepreneurial research, preparing students for graduate school and linking them into the scientific workforce.
HUI SRC awards students who are members of the organization with annual grants of up to $3,000 per health-related project through the Health Research Concept Competition. HUI is open to all HPU students, in all academic majors, to join and be part of a growing, inclusive community. The HUI SRC executive team includes Vakalahi, Blaize Soakai, Ngoc Phan, Ph.D., Scott Okamoto, Ph.D., David Horgen, Ph.D.
To learn more about HUI SRC click here.