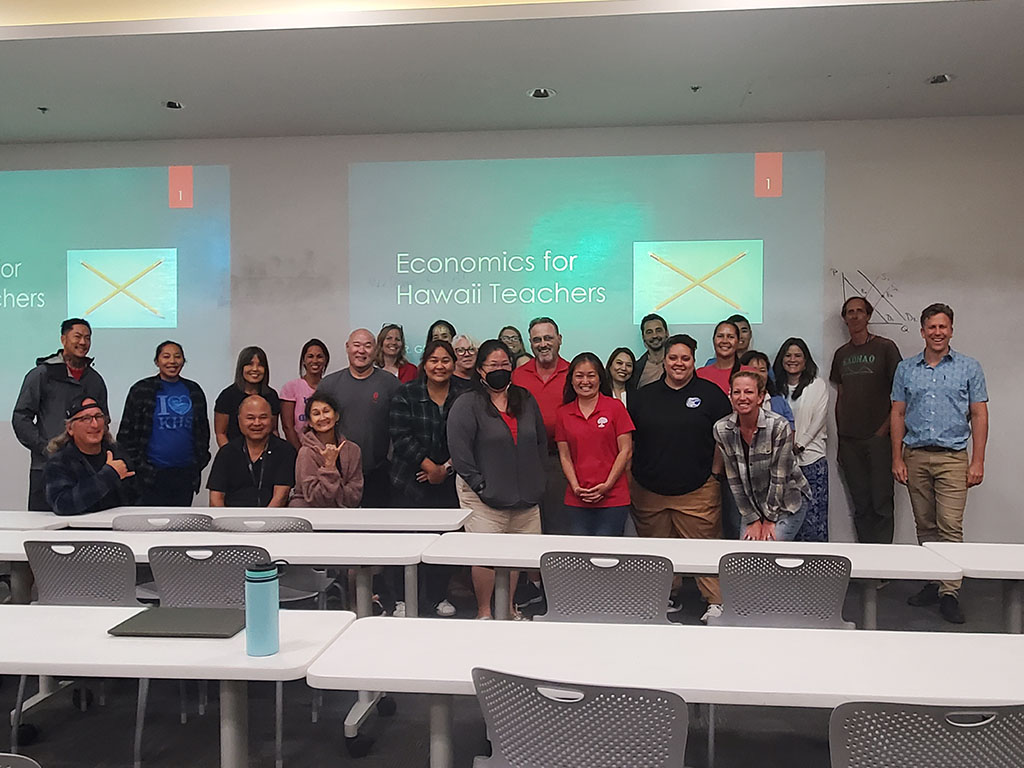 The summer 2023 cohort of Hawai'i teachers pictured with Gerard Dericks, Ph.D. (seen far-right).
HPU's "Economics for Hawaiʻi Teachers" course has seen a significant increase in enrollment for fall 2023, with 82 high school teachers currently registered in the free course. HPU Director of the Center for Economic Education Gerard Dericks, Ph.D., teaches the course that he introduced in 2022. The course was initially designed to be taken in-person, but with increased enrollment from 30 students in summer 2023 to 82 students in fall 2023, Dericks has adapted the curriculum to be taken online.
 "HPU's economics education course has experienced a remarkable journey of success over the past year, attracting an enthusiastic cohort of over 80 students this fall," said Dericks. "This overwhelming response underscores the significance of empowering Hawaiʻi teachers with a solid understanding of core economic principles. Looking forward, our trajectory is very strong, with the outlook to enroll over 100 students in spring 2024. Together, we are helping shape a future where economics education flourishes and enlightens generations."
The HPU three-credit course was designed by Dericks to provide Hawaiʻi high school teachers with the opportunity to strengthen their economic understanding and impart effective pedagogy to integrate economic principles into their lesson plans. The course equips educators with an array of valuable teaching resources, encompassing videos, lesson plans, podcasts, and continuous teacher assistance. This comprehensive toolkit harmonizes seamlessly with the Hawaiʻi core standards in social studies. Furthermore, the course offers professional development credit and is also open to teachers across all subject areas and grade levels, spanning K-12. No previous knowledge of economics is required to take the course.
There is also a new online resource created by Dericks to provide teachers with free lesson plans and various tools to use in their classrooms. The website, the Hawaiʻi Teachers Economics Library, can be accessed at www.hieconlib.org. 
Those interested in enrolling for the spring 2024 session can learn more about the course and the process to apply at this link.