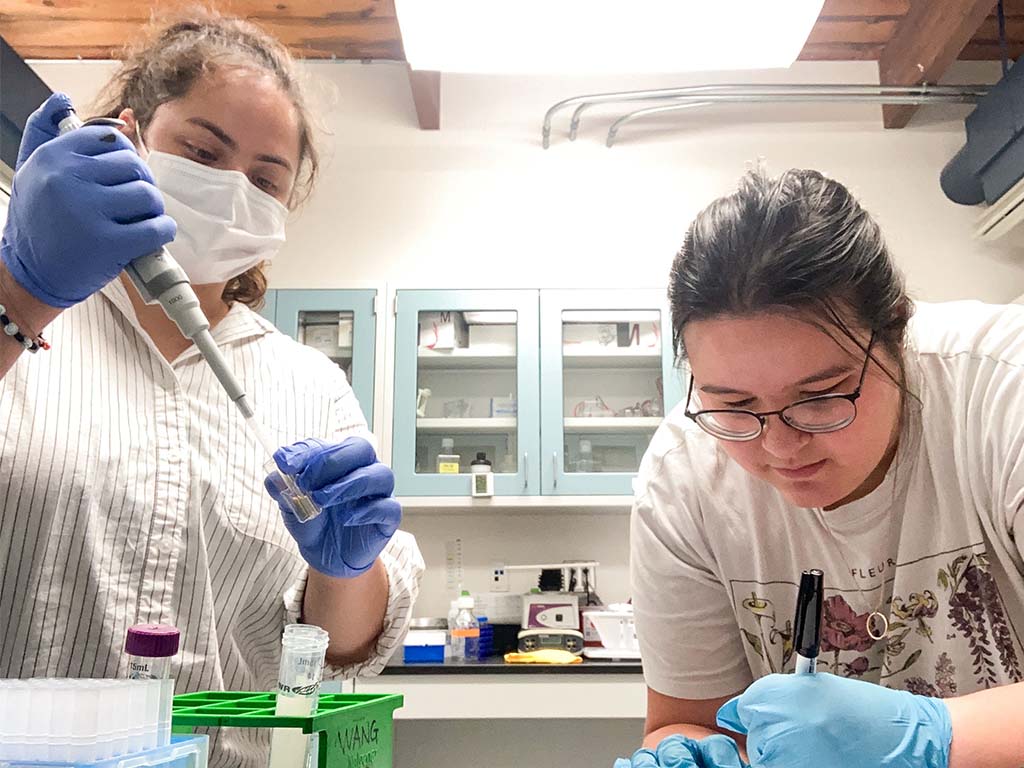 Sarah Nunez working with an HPU student culturing cells in an HPU lab.. Image By Sarah Nunez .
Hawaiʻi Pacific University alumna Sarah Nunez graduated in May 2022 with Bachelor of Science degrees in biomedical engineering, and chemistry with a concentration in pre-health sciences. Her passion for research flourished while studying at HPU where she was mentored by Associate Professor of Chemistry Lei Wang, Ph.D., in purifying different segments of the Arc protein. Nunez and Wang's work proved to be a significant step in the advancement of understanding the role of the Arc protein in the body.  
Nunez was awarded a $3,000 grant from HPU's Undergraduate Infrastructure Student Research Center (HUI SRC) in June 2022 to continue her novel research at the University that could one day lead to discovering the root cause of several neurological diseases, including Alzheimer's Disease.  
"I plan to conduct research this summer and have results within one year," said Nunez. "My goal is to have samples sent out to collaborators at the University of Colorado and then analyze the results remotely in New Jersey, and then write up the analysis." 
The Arc protein is found in the synapses, or the space that nerve cells use to communicate. The associate Arc gene is then activated in response to learning behaviors. A certain mutation in this gene has been shown to disrupt long-term learning by preventing a process known as oligomerization (to join a number of molecules together to form an oligomer), by which the Arc protein forms complexes and facilitates memory consolidation.  
"The Arc protein tends to form different units of itself, and that mechanism forms our memories. If the mechanism is not allowed to oligomerize those complexes than that protein function is lost," said Nunez. "When the Arc protein function is allowed to oligomerize it then plays an important role in learning behaviors and forming long-term memories. The more we understand how Arc interacts with itself we might understand the mechanism that forms these complexes, and we may be able to develop an intervention in memory loss, or to know if one is needed. I suspect this segment of the protein physically changes another segment of the protein."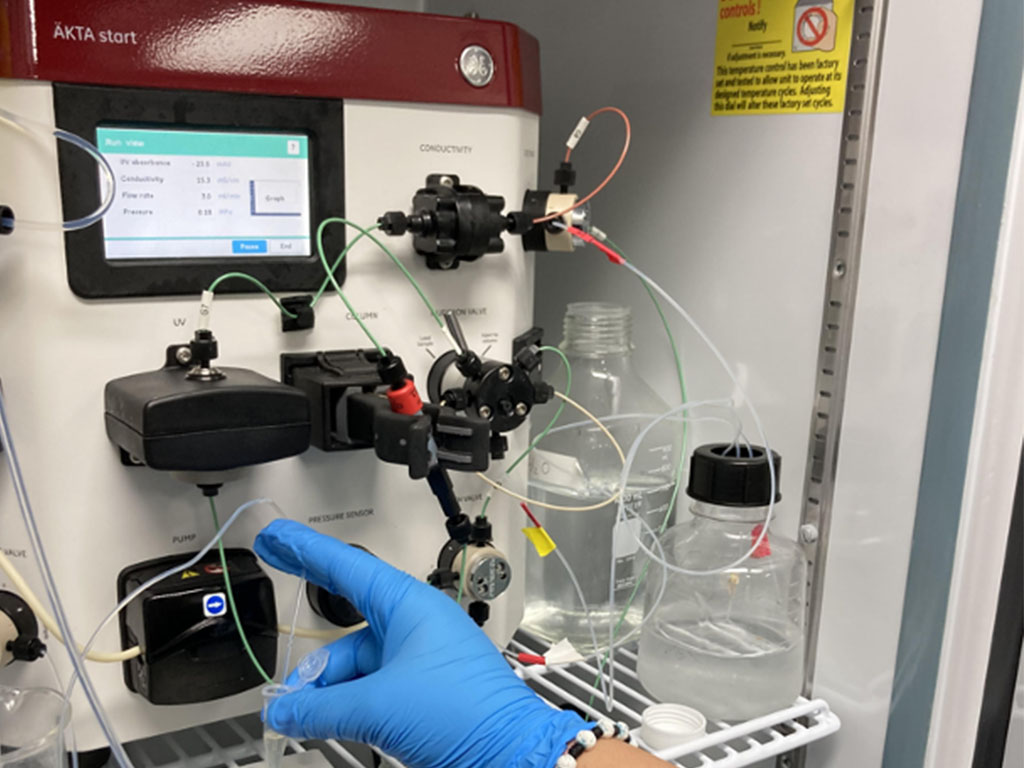 Sarah Nunez using a FPLC instrument to purify enzymes..
Nunez originally chose the marine biology major at HPU. Born and raised in Middlesex County, New Jersey, Nunez moved to Hawaiʻi to study in one of the most diverse ecosystems in the world. "I quickly found that I liked the computational aspect of natural sciences," said Nunez. So, she switched from marine biology to dual-majors biomedical engineering and chemistry, graduating in five years from HPU.  
Nunez recently moved back to New Jersey to be close to family and to pursue a future in pre-health and biomedical research.  
"My engineering degree is perfect because I enjoy knowing the mechanism of why things happen," said Nunez. "If I do not know the root of the problem I cannot come up with a solution. I love taking the aspect of engineering and chemistry and trying to see where my future will land. Clinical research. Coordinating. I want to know every aspect of the research field. How it looks from policy and political health." 
The HUI SRC was founded by the National Institute of Health and the National Institute on General Medical Sciences.  HPU students interested in biomedical research receive mentorship and training. To learn more about HUI SRC and how to join the Center click here.  
To learn more about the engineering programs offered at HPU click here, and for more information on the chemistry and biochemistry degrees offered at HPU click here.