Kawaii Kon - Hawaii Convention Center.

KHON and Hawaii News at HPU Esports.
It has been a busy season at HPU Esports and the Arena. We began hosting monthly VR (Virtual Reality) Meetup Nights and open house events at the Arena, creating a regular gathering place for virtual reality and gaming enthusiasts within our community and a place to learn about new tech, esports and the Arena. 
In April, the Arena was the proud host of the two-day State Championships for the Hawaiʻi Esports League. This event featured finals for middle and high schools in various games, including Smash Bros., League of Legends, and Valorant. With over 60 local schools competing, it was a testament to the growing enthusiasm for esports in our educational institutions. Local news was onsite and an estimated 400 people attended the event.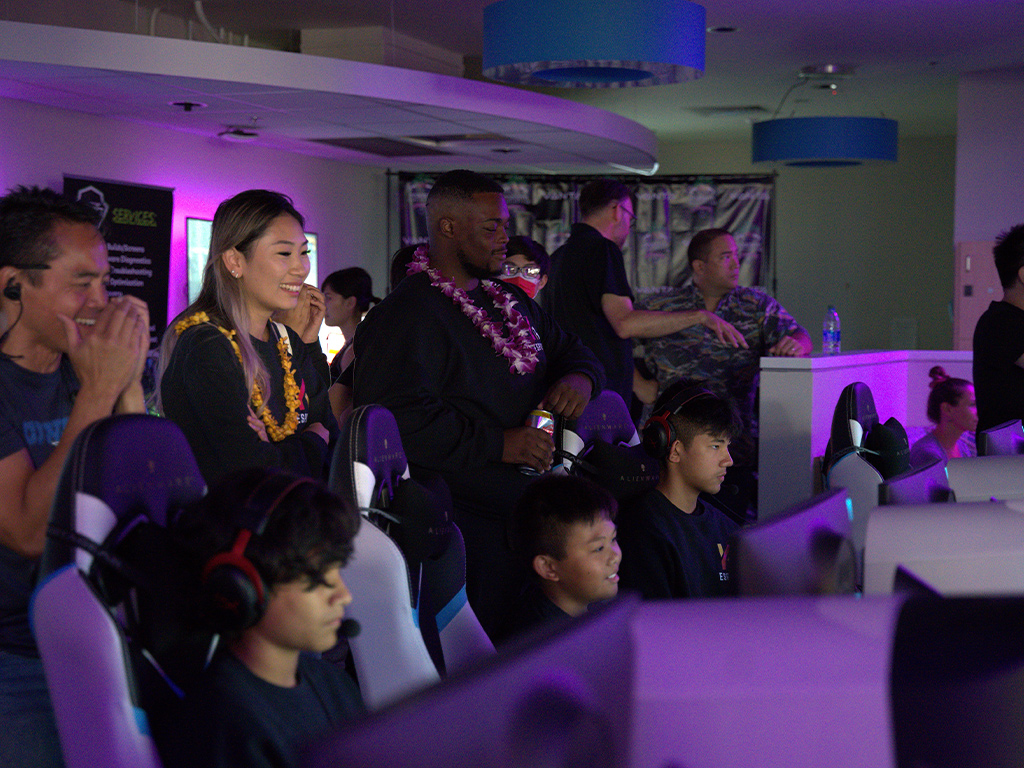 Parents and Coaches watch and cheer their students at the Hawaii Esports League Finals at HPU.
May was also a significant month. HPU Esports supported the record-breaking Esports and gaming rooms at Kawaii Kon 2023, which attracted an estimated 20,000 attendees. It was three days of gaming and gaming culture. The HPU Esports team has become an integral part of making large esports events like K-Kon possible on-island. HPU students helped organize and take part in the event. 
June and July were also busy months for HPU Esports. We hosted the Super Saturday Esports event at the Convention Center, awarding over $10,000 in scholarships and prizes to local student gamers. Additionally, we participated in and hosted an esports panel at the East Meets West Conference at Aloha Tower, featuring notable industry figures from Tetris, CrunchyRoll, RottenTomatoes, and more. The panel provided valuable insights into the esports career pipelines and community development, particularly in the Hawaiʻi esports scene. 
Our HPU Esports varsity team has been collaborating with HPU Marketing to establish a new esports logo for competition. We are excited to welcome two strong Valorant recruits who have been offered scholarships and will be starting in the fall 2023 season. These new team members are poised to make a significant impact, and we can't wait to see them in action at the RedBull Campus Clutch event. 
Looking ahead, HPU Esports will be hosting the Fall Finals for middle and high Schools in the state, as well as an Esports Invitational sponsored by Zippy's. This Invitational will see teams from Michigan State, Boise State, and UH Manoa competing with our Sharks at Aloha Tower. We are eagerly anticipating this friendly competition and the opportunity to showcase our talented players on a larger stage. 
Throughout both the Spring and Summer, the HPU Esports Arena hosted a variety of community events. Notably, we held Summer Camps, Military Appreciation Nights, Grad Nights, YMCA takeovers, and corporate Hackathons with partners such as HawaiianTelcom and Fortinet. These events have been a wonderful way to engage with different segments of our community and to use esports as a platform for connection and collaboration. 
It has been a productive and engaging few months for HPU Esports and the Arena. We are committed to fostering a vibrant and inclusive esports community here at HPU, and we are looking forward to the exciting events and competitions we have lined up for the future.
Edited by Sandra Meyer.