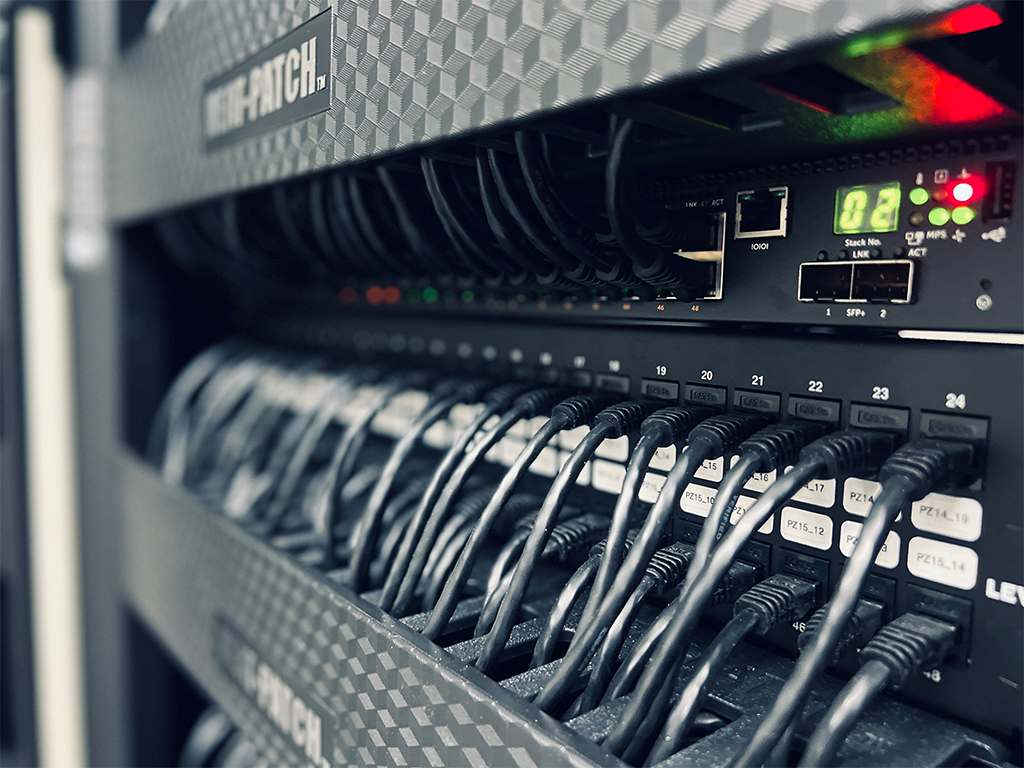 Patch panel underneath a network switch. Image By Chriss Alavazo .
The networking team at HPU has been focused on modernizing our data center networking infrastructure to enhance performance, security, and connectivity across our campuses. We are excited to share some key developments in this area:
Datacenter switch infrastructure: We are in the process of deploying state-of-the-art Aruba CX 10000 and Aruba 8325 fiber optic high-capacity switches, which will replace our existing switch infrastructure at DRFortress. These upgrades will significantly improve our network's capacity and reliability, enabling smoother data transmission and communication. 
WAN upgrades: Our network backbone is receiving a boost with the implementation of new Fortigate NGFWs (Next-Generation Firewalls) across our main and military campuses. These upgrades will provide advanced network security features including Intrusion Prevention Systems (IPS) and Intrusion Detection Systems (IDS), enhancing the protection of our valuable data and information. 
Oceanic Institute network infrastructure: We continue to transform our Oceanic Institute network infrastructure with the deployment of Aruba 6200F access switches and Aruba 6300 Fiber core switches. These enhancements will elevate the performance and maintenance capabilities of each building's network. Moreover, these upgrades will pave the way for improved indoor and outdoor wireless connectivity, ensuring seamless internet access across the campus.
Teams Deployment Updates
Our Client Services and Networking teams have been working hard throughout the summer to ensure a smooth transition to Microsoft Teams for all HPU faculty and staff members. We are on track to complete the conversion for all staff members by the fall of 2023. We understand the significance of this transition in enhancing collaboration and communication across the University, and we remain dedicated to minimizing any disruptions during the process. As we continue with the conversion to Teams, we will prioritize faculty and all remaining departments throughout the fall semester, working diligently to ensure a seamless transition to the new phone system.
Edited by Sandra Meyer.