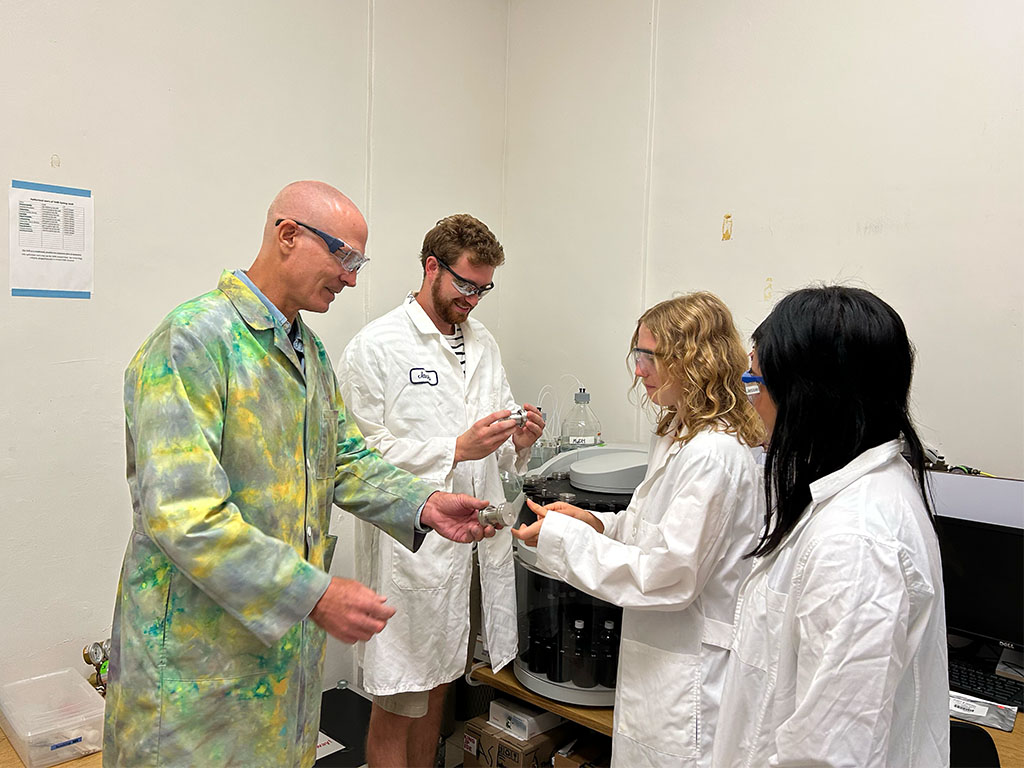 David Horgen (left) works with the lab team members (left to right) Stanley Harms, Elizabeth Milner, Jessie Nguyen.
HPU Professor of Chemistry David Horgen, Ph.D., in collaboration with University of Hawai'i's Professor Saguna Verma, Ph.D., has been awarded a significant $100,000 research grant to advance their groundbreaking work in the fight against COVID-19. The grant, which marks the second consecutive year of funding for their research, aims to identify novel inhibitors and potential drugs against viral diseases, particularly COVID-19, and other coronaviruses. The grant was awarded by the IDeA Networks of Biomedical Research Excellence (INBRE), which is funded by the National Institutes of Health.
"COVID-19 is not going away anytime soon. It's going to be endemic, and there's a high likelihood that new coronavirus diseases will emerge in the future," said Horgen. "We urgently need innovative drugs and inhibitors to fight COVID-19 and that can be repurposed for other viral diseases as they emerge."
Horgen, a natural products chemist, is leveraging the biodiversity of Hawai'i's marine environment to find potential drug candidates. He, Professor Verma, and their teams, including undergraduate student researchers, have been screening over a thousand extracts from marine organisms, such as soft corals, marine algae, and microorganisms, to discover molecules that can inhibit the virus's entry into human cells and its replication process.
Working in collaboration with Professor Verma from the University of Hawai'i Department of Tropical Medicine, Medical Microbiology, and Pharmacology, an expert virologist, Horgen's team has identified approximately ten extracts with significant anti-viral activity. The next crucial step is to isolate and purify active components from these extracts, aiming to identify a single molecule that can effectively inhibit the virus.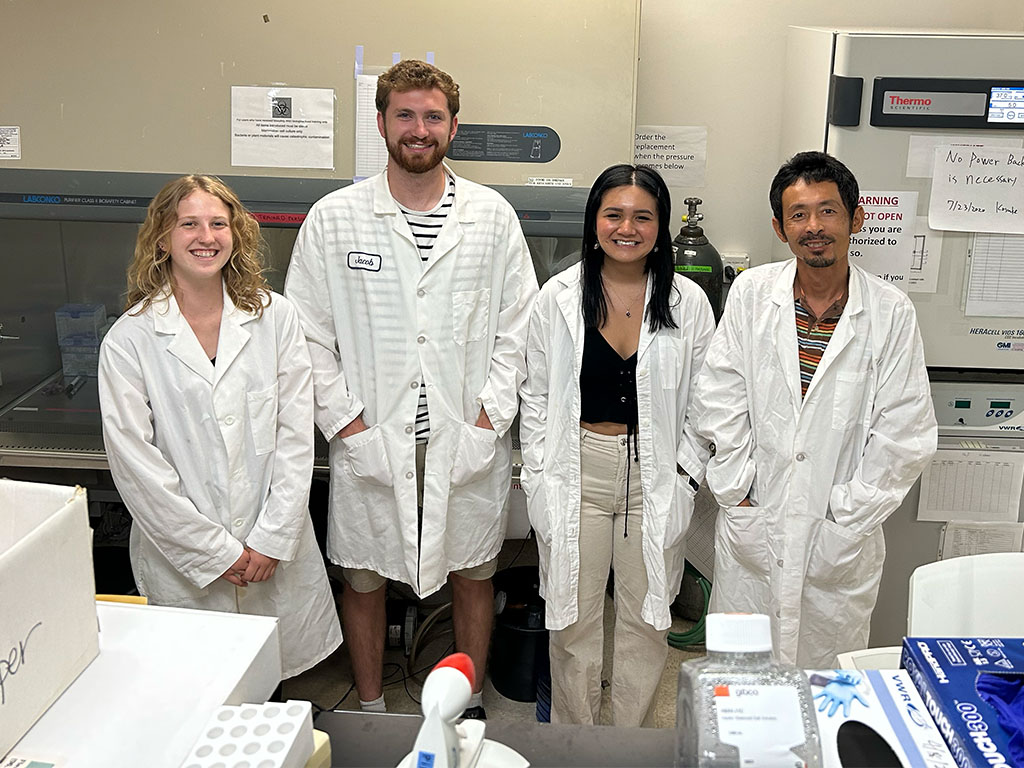 Pictured (left to right) are Elizabeth Milner, Stanley Harms, Jessie Nguyen, Kosuke Ohgo.
"The diversity and complexity of molecules produced by living organisms offer tremendous potential in drug discovery," explained Horgen. "Nature's molecules are pre-selected through natural processes to have biological activity, similar to how drugs function."
Part of the research project is conducted in a Biosafety Level 3 laboratory at University of Hawai'i, allowing the team to handle the virus safely while investigating potential inhibitors. By finding an effective compound that can halt viral replication, the team's research could lead to a breakthrough in treating COVID-19 and save countless lives.
Hawai'i's unique marine ecosystem provides an advantageous setting for this research. Horgen emphasized that the state's biodiversity and access to endemic marine organisms set it apart as an ideal location for such studies.
Apart from its potential impact on human health, the research project holds value in training future scientists and researchers. Professor Horgen and Professor Verma are mentoring a team of dedicated students who are instrumental in driving the project forward. HPU senior Elizabeth Milner (Biochemistry) and recent graduates Stanley Harms (Biochemistry 2023) and Jessie Nguyen (Biochemistry 2022) are the key personnel on the HPU team and have all already coauthored three scientific poster presentations. The team is also supported by the lab manager Dr. Kosuke Ohgo, who keeps the HPU high-tech instrumentation working properly and provides training and trouble shooting.
"The value of this research extends beyond finding a drug for COVID-19. It adds to scientific knowledge, develops opportunities for students, and nurtures a new generation of scientists and healthcare professionals," Horgen said.
The promising research is still ongoing. As the team gets closer to identifying potential drug candidates, hopes are high that their efforts will lead to a significant breakthrough in the global fight against COVID-19 and future viral diseases.