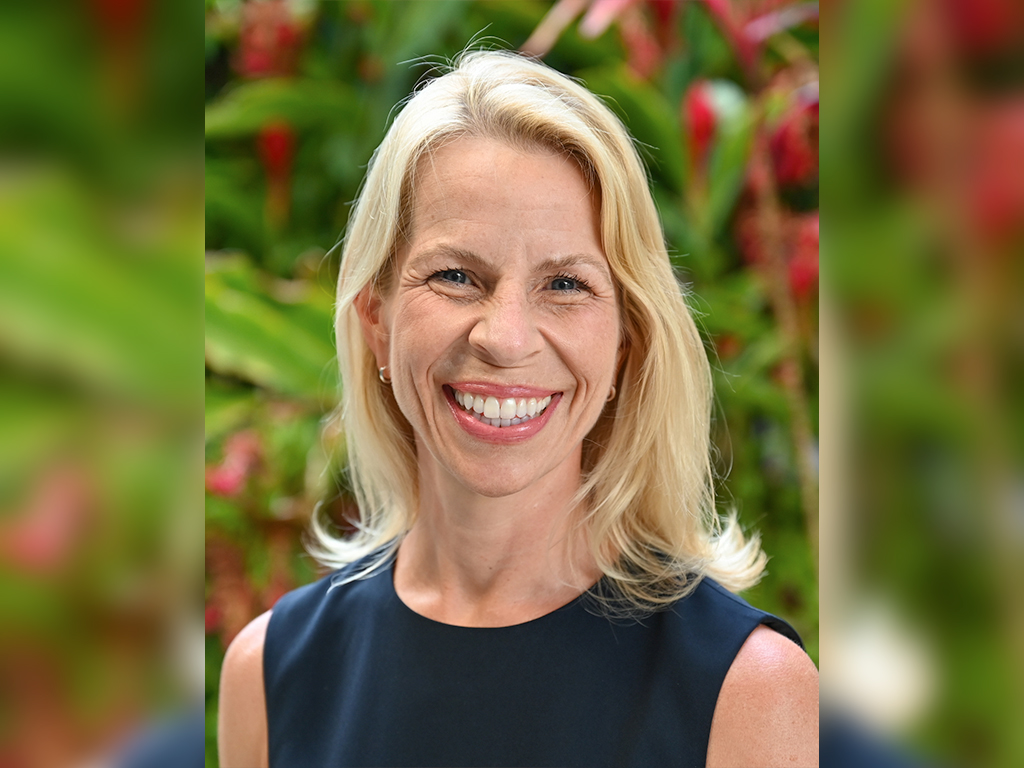 Tricia Catalino was selected as the first dean of the newly established Graduate College of Health Sciences.
HPU is excited to announce the establishment of the Graduate College of Health Sciences. The new graduate college incorporates the Doctor of Physical Therapy (DPT), Doctor of Occupational Therapy (OTD), and the Master of Medical Science in Physician Assistant (PA) programs at the University. HPU is the first and only university to offer both the DPT and OTD degrees in Hawai'i. The accelerated 24-month programs are structured for delivery in a hybrid format, combining the best of online learning with in-person lab immersions. 
"I am thrilled to announce the inauguration of the transformative Graduate College of Health Sciences at Hawai'i Pacific University," said HPU Provost and Senior Vice President Jennifer Walsh, Ph.D. "With the introduction of advanced applied healthcare degrees like DPT and OTD, we are setting new standards in healthcare education in Hawai'i. HPU's commitment to academic excellence and inclusion has attracted diverse graduate students from across the state and the nation, establishing us as a leading university in these fields."
The Graduate College of Health Sciences is centered in Waterfront Plaza and incorporates a newly constructed 10,000 square-foot laboratory where students engage in interactive, hands-on lab immersion sessions with sweeping panoramic views of the Pacific Ocean and Aloha Tower Marketplace. 
HPU's doctoral level programs have seen a remarkable surge in enrollment. In summer 2022, the University celebrated the arrival of its inaugural DPT student cohort, consisting of approximately 100 students hailing from 16 states and representing all geographic regions across the U.S. 
The recently launched Doctor of Occupational Therapy (OTD) program is scheduled to welcome its first cohort in January 2024, and the highly anticipated Physician Assistant (PA) program is planned to begin in January 2025. 
"The launch of our PA program reaffirms HPU's dedication to preparing compassionate healthcare professionals who will serve our communities and uplift underserved populations," said Walsh. "These milestones are a testament to HPU's unwavering pursuit of innovative education, and I am delighted to witness the impact it will have on shaping the future of healthcare in Hawai'i and beyond."
HPU Appoints New Dean of Graduate College of Health Sciences
HPU is pleased to announce the selection of Tricia Catalino, PT, DSc, as the first dean of the newly established Graduate College of Health Sciences. Catalino joined HPU in 2019 as DPT Program Director, and most recently served as interim dean of the HPU College of Health and Society. 
"I am honored to be selected as HPU's inaugural dean for our newly established Graduate College of Health Sciences," said Catalino. "This institution's commitment to excellence and its vision for healthcare's future align seamlessly with my own. Together, we embark on a journey to cultivate a generation of healthcare professionals who not only excel in their field but also carry forward the spirit of pono, kuleana, and aloha in every interaction, making a lasting impact on the well-being of individuals and communities. I am excited to work collaboratively towards shaping a transformative educational experience at HPU."
Catalino had a vital role as the Program Director and Professor of the DPT at HPU. She is a licensed physical therapist in Nevada and Hawaiʻi. Prior to HPU, she was faculty and Assistant Program Director of the School of Physical Therapy at Touro University Nevada.  
Catalino is a highly accomplished physical therapist with a wealth of experience in education and clinical practice. She holds a B.S. in Education & Social Policy from Northwestern University, an M.P.T. from Northwestern University, an M.S. in Rehabilitation Sciences from the University of Oklahoma, and a D.Sc. in Rehabilitation Sciences from the University of Oklahoma.
With nearly 25 years of clinical practice, Catalino has focused on aiding children with disabilities and their families in early intervention settings and participated in an FDA drug trial for Duchenne Muscular Dystrophy. She is a Board-Certified Clinical Specialist in Pediatric Physical Therapy. 
Her dedication extends to her leadership roles in the American Physical Therapy Association (APTA) Academy of Pediatric Physical Therapy and APTA Nevada, holding positions on the APTA Pediatrics Board of Directors and APTA Nevada Board of Directors. Her credentials include graduation from the APTA Fellowship in Higher Education Leadership, and she has held esteemed positions such as Past-President of the Nevada Division for Early Childhood Subdivision and Physical Therapy Coordinator for Nevada LEND.