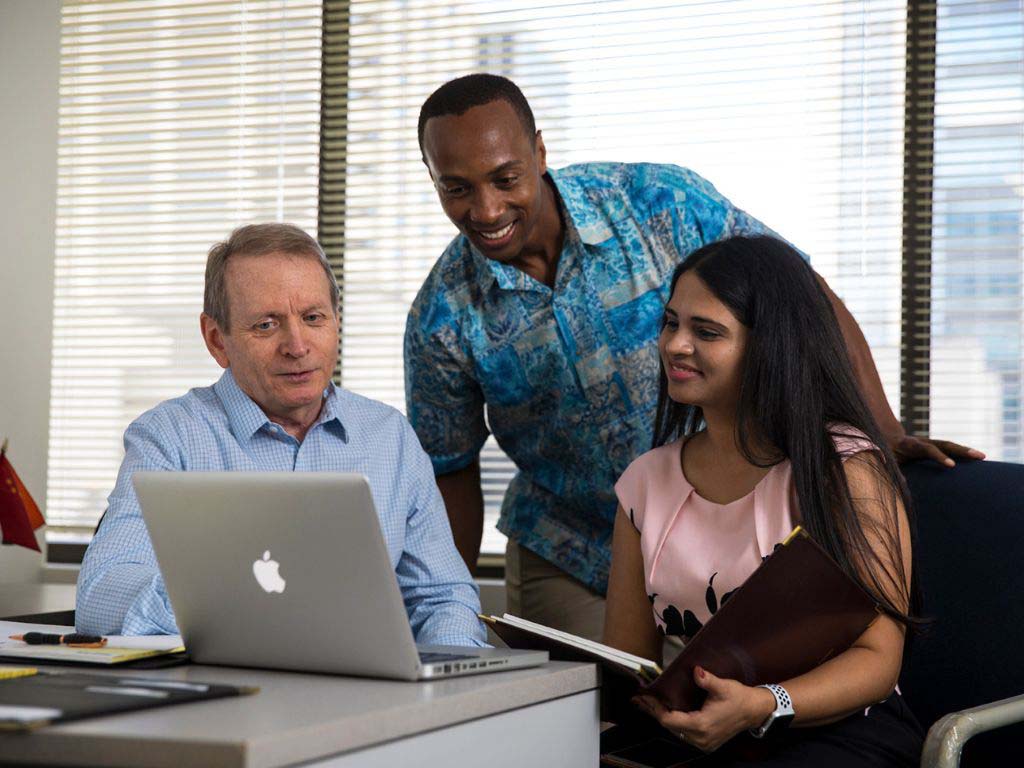 HPU Associate Professor Lawrence Rowland and HPU business students.
HPU announced that it is the first university in the world to partner with Coursera's Career Academy to offer career certificates that complement business students' degree programs. A certificate requires approximately 120 hours to complete, students learn at their own pace, and HPU business students may register for Career Academy certificates for free beginning this fall. Starting next fall, Coursera Career Academy certificates will be part of HPU students' course fees.  
"HPU's College of Business approach is to be practical, innovative, and experiential," said Senior Vice President and Provost Jennifer Walsh, Ph.D. "Partnering with Coursera provides students with a grounded liberal arts education that is focused on business administration, targeted for specific careers after students graduate from HPU."
HPU faculty are given the option to supplement any of their courses with Career Academy certificates, courses, or real-world cases. More specifically, instructional faculty may choose to use a Coursera career certificate as a primary learning tool, similar to how many faculty employ a traditional textbook. While other faculty may embed aspects, such as individual courses or cases into their classes, others may not see the skill-focused certificates as being pertinent to their courses. 
"When HPU faculty adopt a Coursera certificate, albeit from any company, I can be assured that students are learning meaningful skills that lead to employment," said HPU Dean, College of Business Mark S. Rosenbaum, Ph.D. "With Coursera's Career Academy, students acquire in-demand skills and job-ready credentials." 
The Career Academy offers 20 certificates for high-demand, entry-level digital jobs. Companies included in the Career Academy platform are Google, IBM, Meta, Salesforce, and Intuit; and those scheduled to join soon are Microsoft, HRCI, and Akamai.
HPU students who register for a Career Academy are provided a listing of in-demand careers that include median salary and the number of jobs currently available when earning the certificate. Careers include data analyst, IT support specialist, project manager, social media manager, marketing analyst, bookkeeper, application developer, and cybersecurity analyst. Coursera currently offers 18 careers to choose from on their platform and this number is expected to increase to 20 by the end of August. 
Hands-on, guided projects are included in each certificate. These projects teach specific tools, and they help build a portfolio of work for students to present to hiring managers. Projects are typically completed in two hours.
HPU was the first university in the world to pilot the Career Academy in spring 2022, offering 100 students the chance to register for certificate programs. The pilot program was a resounding success. A total of 613 lessons were taken and 164 certificates completed; the average course rating was 5/5. 
Coursera CEO Jeff Maggioncalda stated at a recent Coursera conference that there are "more than 1.6 million jobs openings in the U.S. alone that are now in reach because of these certificate programs." Coursera was founded in 2012 by Stanford University computer science professors Andrew Ng and Daphne Koller.