33 high school students from across Hawaii had the opportunity to learn from guest experts and mentors in the fields of STEM.

Student present their app projects in groups.

Students visited the Oceanic Institute of HPU and the Center for Marine Debris Research.
HPU hosted the third annual "CompuGirls CyberWarrior STEM Camp" where 33 high school students, ages 13 to 17 from across Hawai'i had the opportunity to learn from guest experts and mentors in the fields of Science, Technology, Engineering, and Math (STEM). Key HPU organizers of the camp include HPU Dean of the College of Natural and Computational Science Brenda Jensen, Ph.D., Assistant Professor Mary Smith, Ed.D., and Director of Outreach Programs Carin Iha.
Students in the camp stayed at HPU's Waterfront Lofts Aloha Tower Marketplace for the week of June 5-9. The camp was funded by a grant from the Defense Science, Technology, Engineering, and Mathematics Education Consortium (DSEC) to Arizona State University with a subaward to HPU. All students received free room and board, and airfare for those visiting from Hawaii Island and Maui.
"The CompuGirls CyberWarriors STEM Camp is a joint endeavor with Arizona State University's CGEST (Center for Gender Equity in Science and Technology) with the goal of introducing Hawai'i kids to several STEM disciplines that offer career opportunities in Hawai`i," said Jensen. "We introduce them to local mentors, draw connections to their own community and culture, and show that ancient Hawaiians were in fact scientists and engineers, keen observers of the natural world.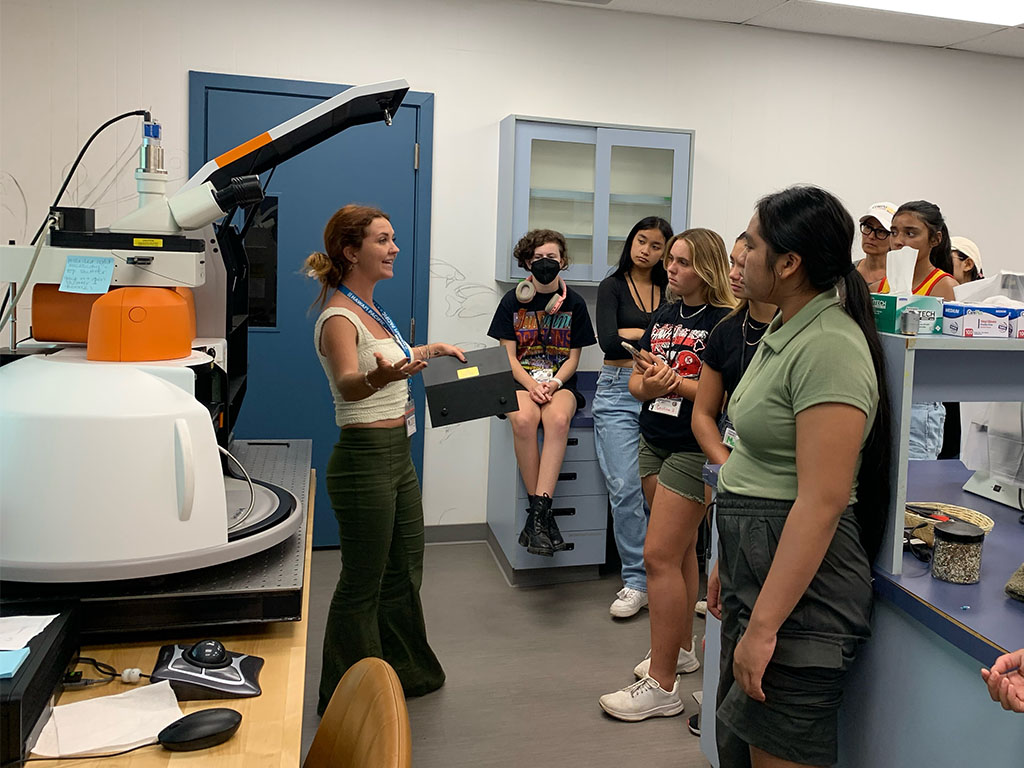 Students had the opportunity to learn from a ramen spectrometer with mentor and HPU alumna Jessica Hankins.
The camp's overarching theme of computer science provided a foundation for students to explore a diverse range of disciplines, including cybersecurity, engineering, astronomy, marine science, and ecology. By delving into these fields, students gained a holistic understanding of how computer science intersects with other areas of study and real-world challenges.
"The fact that it is a residential camp has the bonus of giving these kids the chance to live in the dorm for a week, giving them a taste of college life, which can reduce the anxiety of that aspect of going to college," said Jensen.
On Monday, students explored computer science, engineering, and cyber security through hands-on activities, including a two-hour cyber security session and a computer science fair featuring virtual reality exercises, electrical engineering demos, robot programming, and drone flying. Additionally, students participated in cultural events and craft projects that incorporated Native Hawaiian herbs, promoting cultural awareness and the use of local resources.
Tuesday was Astronomy Day, led by HPU Associate Professor of Physics Georgianna Martin, where students engaged with Hawaiian navigation and wayfaring. Students visited the Bishop Museum and met with navigator Ka'iulani Murphy and received a lesson in wayfaring and how to interpret the stars. 
Wednesday's theme was marine science and the students visited Oceanic Institute of HPU and the Center for Marine Debris Research (CMDR). Students toured both facilities had the opportunity to learn from a ramen spectrometer with mentor and HPU alumna Jessica Hankins. Students also had the chance to see the life stages of yellow tang with Katie Hiew, MSMS alumna working in the HPU Finfish Department.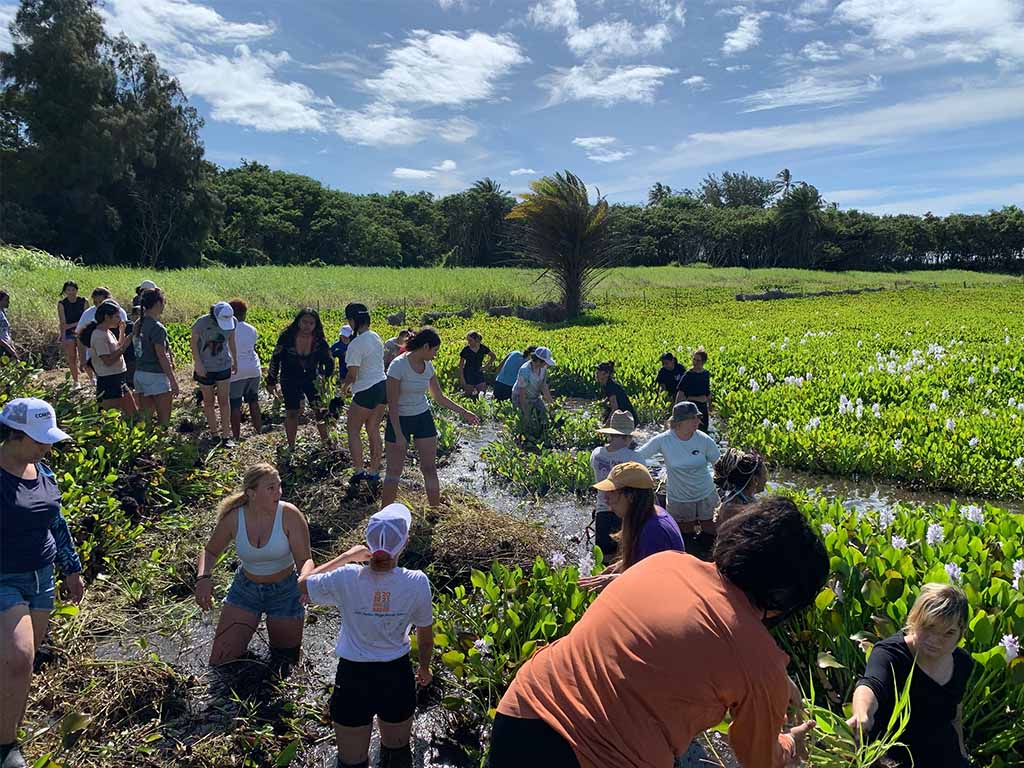 Students explored ecology by visiting Kalou fishpond.
On Thursday, students explored ecology with Assistant Professor of Environmental Science Carmella Vizza by visiting Kalou fishpond, a Native Hawaiian fishpond on the North Shore, and learning about the integrated agricultural and ecosystem known as the ahupua'a. They gained firsthand knowledge of water management from mountain to sea, modern water testing, and participated in the restoration of the fishpond by removing hundreds of pounds of water hyacinths. These plants were repurposed to create a stable walking platform around the fishpond. 
The camp culminated on Friday with a celebration of learning. Student presented their app projects, had zoom calls with parents and engaged in a cultural exercise where they made leis, and visited the HPU Esports Arena at Aloha Tower Marketplace. 
The camp was a resounding success, providing each student with valuable takeaways and knowledge in STEM fields and the diverse career paths available to them. Looking ahead, HPU is optimistic about the future of the program and the potential to continue making a positive impact on the next generation of STEM leaders. With funding likely to be renewed, the University is excited to host the fourth summer camp at HPU in 2024 and continue the mission of empowering students to pursue their passions and make a difference in their communities.
At Hawai'i Pacific University, we value program participants as unique individuals, and we welcome the variety of experiences they bring to our programs. We have a strict non-discrimination policy, and all individuals are able to apply and participate in our programs and events without regard to race, sex, gender identification, sexual orientation, national origin, native language, religion, age, disability, marital status, citizenship, genetic information, pregnancy or any other characteristic protected by law.