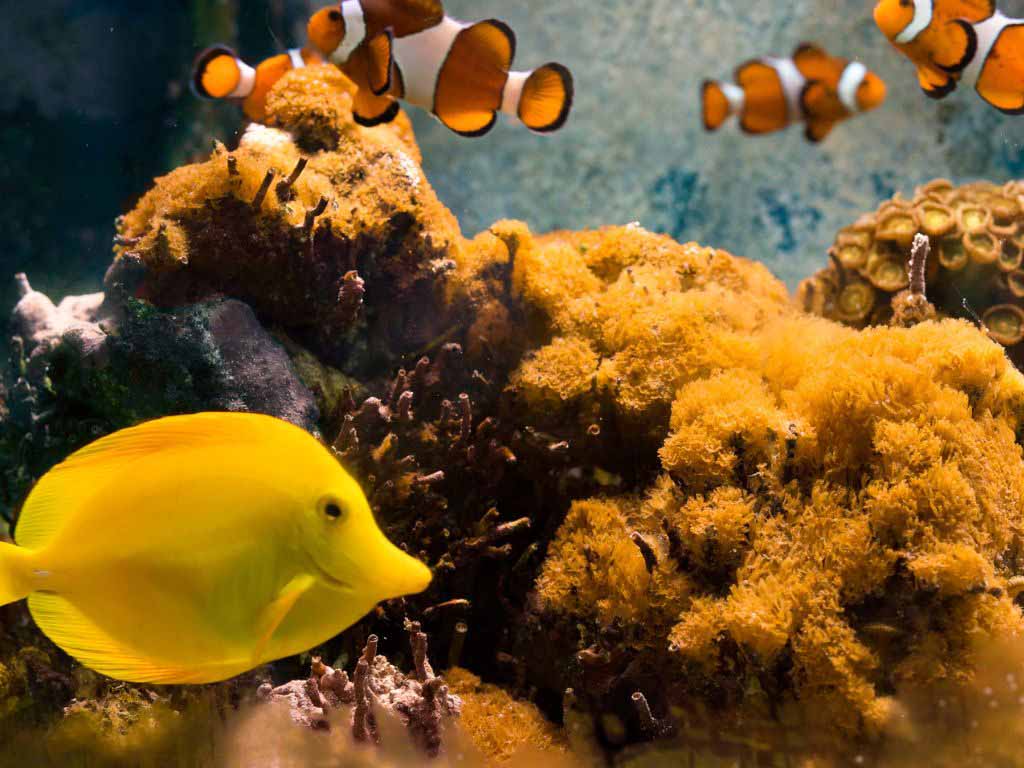 Sarcothelia edmondsoni, a soft coral that only grows in Hawai'i, seen with tropical fish (Oliver Koning)..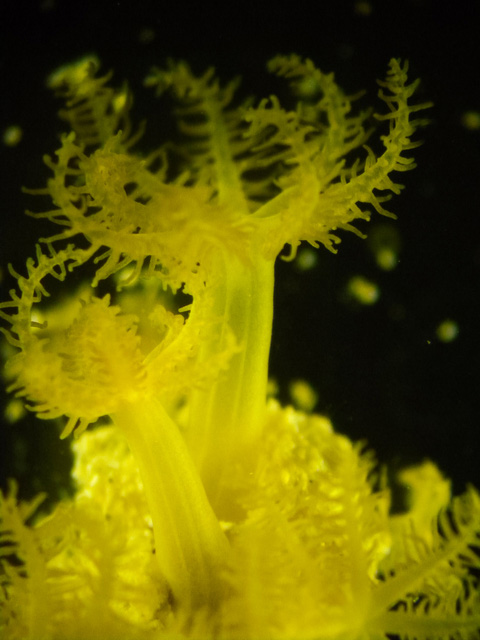 Macro shot of Sarcothelia edmondsoni (Paula Berger '15).
HPU senior Olivia Honaker has been awarded a grant to conduct research on an alternative drug target called TRPM7, an ion channel protein that has shown promise for those who have had a stroke. The molecule waixenicin A has been found in an endemic Hawaiian coral called Sarcothelia edmondsoni. The molecule has been confirmed to be a selective inhibitor of the TRPM7 ion channel.  
"Sarcothelia edmondsoni is a soft coral that is found mainly in shallow water off the North Shore and off windward Oahu," said Honaker. "The waixenicin A molecule comes from this soft coral. This molecule inhibits the TRPM7 ion protein, which is an emerging drug target for hypoxic-ischemic stroke and breast cancer. I hope to prove that waixenicin A makes a permanent bond to TRPM7 when applied to determine essential information needed for synthesizing better versions of waixenicin A."  
Honaker was chosen for the $3,000 research grant by the HPU Undergraduate Infrastructure Student Research Center (HUI SRC). The HUI SRC is funded by the National Institutes of Health (NIH), established in 2020 at HPU; they award grants annually to HPU students for health-related research. Honaker is a member of the HUI SRC and has been working with HPU Chemistry Professor F. David Horgen, Ph.D., for over three years as an associate student researcher on the INBRE (IDeA Network of Biomedical Research) grant that is funded by NIH and in its eighteenth year of funding at HPU. 
"Olivia has been an excellent research student who thrives on challenges, shows great initiative, has excellent leadership skills, and developed an impressive range of research skills," said Horgen. "The HUI SRC grant has been a perfect opportunity for her to compete for funding by building on her foundation and designing a project. She is on a great trajectory." 
The first part of Honaker's research is to culture cells, treat them with and without waixenicin A, analyze them, and then review the results to see if the TRPM7 protein is binding to waixenicin A. 
"We are interested to know if waixenicin A covalently binds," said Honaker. "Covalently bound drugs work very well in the body and are potent. About 30% of all drugs are covalently bound drugs, which means they form permanent bonds with their target proteins and permanently disable them. I hypothesize that waixenicin A covalently binds to TRPM7, which accounts for its strong potency."   
The second part of the project is to determine what amino acid residue waixenicin A binds to because this will propel TRPM7 research even further.  
"If we can figure out how this happens then we and our collaborators may be able to manipulate the structure even further and produce a drug to be used in clinical trials," said Honaker. 
Honaker is from Roanoke, Virginia. She is a marine biology major at HPU with a minor in chemistry. She leads HPU's student instrumentation mentoring program and is an American Academy of Underwater Sciences certified scientific diver. Honaker plans to earn a Ph.D., and focus her research on marine pharmacognosy – the study of drugs derived from marine life. She expects to complete her research at HPU and present her findings in spring 2023.