HPU first year PsyD students celebrated the launch of their textbook.

PsyD students and professors gathered at Waterfront Plaza campus to celebrate the launch of the new textbook.

Marta Garrett with students at the textbook launch.
In an unprecedented display of dedication and compassion for the study of mental health practice in Hawai'i, a cohort of 11 first-year Doctorate in Clinical Psychology (PsyD) students from HPU, and several seasoned Hawai'i mental health professionals, have authored a 400-page textbook on mental health practice in Hawai'i. 
Integrating Evidence-Based Mental Health Practice in Hawai'i includes 14 chapters that are written and researched by the cohort. PsyD students and psychology professors recently gathered in a classroom at HPU's Waterfront Plaza campus to celebrate the launch of the textbook. Adjunct Professor Marta Garrett, Ph.D., was present to honor her students' achievements who all worked to author the first-ever textbook on mental health practice in Hawai'i for new practitioners.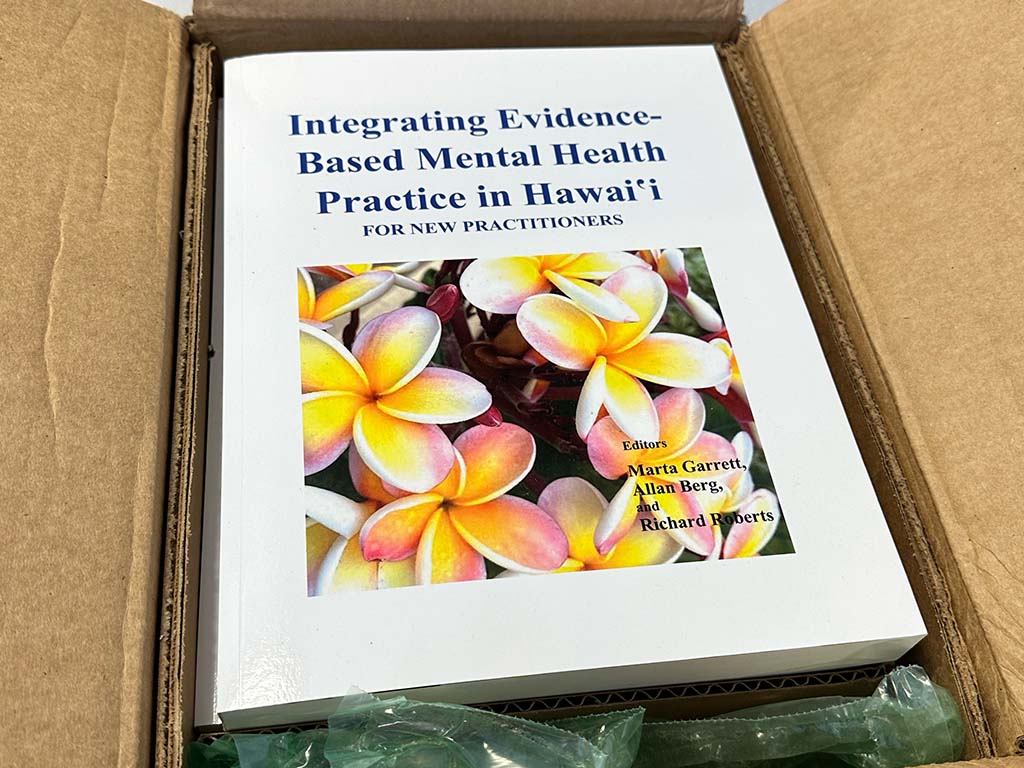 The 400 page textbook on mental health practice in Hawaii is available online.
"We are launching this textbook today after a year of work because there was not an appropriate textbook for our students when we started our evidence-based practice course," said Garrett. "There were some textbooks available, but they did not include Hawai'i. Evidence-based practice that is appropriate on the mainland U.S. does not necessary mean it's a fit for working with Hawai'i clients."
The close-knit cohort of students created their own case studies with an emphasis on local issues and cultural backgrounds. They divided the presenting issues that mental health practitioners may find in Hawai'i and addressed those case studies in the textbook.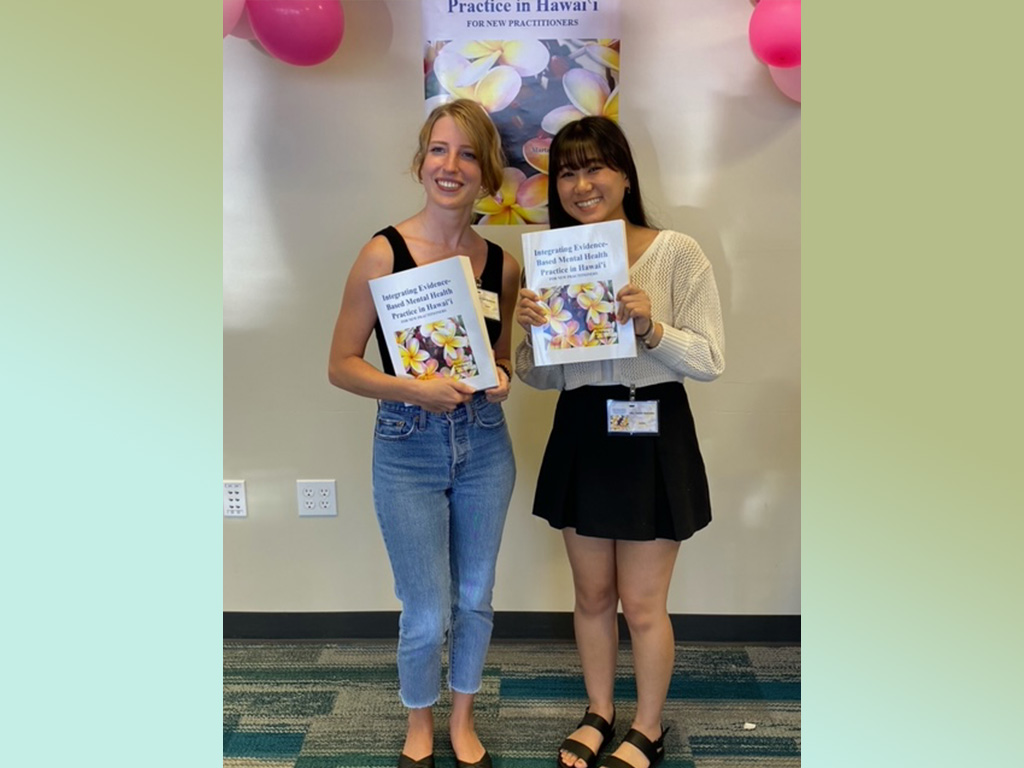 Tori Gutierrez (left) at the textbook launch.
Topics include anxiety, depression, grief and loss, substance abuse, trauma, and traumatic brain injury are all researched and written with a strong cultural lens to Hawai'i. 
"I am extremely proud of this achievement," said Garrett. "These chapters are centered on an evidence-based lens. What does the research say and how does that fit with the culture in Hawai'i? This is what we set out to accomplish in writing this textbook."
The first-edition textbook has already sold enough copies to break even in the cohort's self-publishing venture. In choosing to self-publish, HPU will offer the textbook at under $100. Textbooks in this area of study are typically priced at nearly $300. All proceeds from the book will go to HPU psychology doctoral students; if enough funds are available the profits will go towards scholarships for these students.
"It's been incredible to get this opportunity in our first year," said author and PsyD student Tori Gutierrez. "It will be my first publication. I am so proud of this and so thankful to be given this opportunity to work together, creating something where there was a real need. When you are at a small, private university like HPU the faculty really matter, and we have the opportunity to learn from wonderful faculty."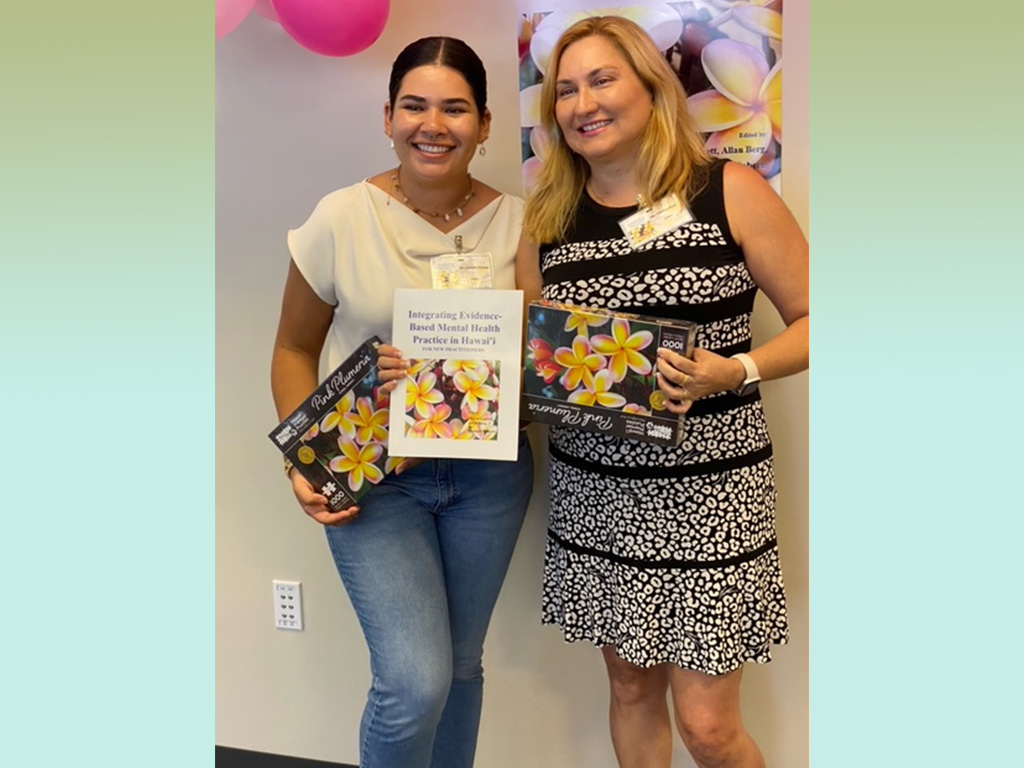 Patricia Maia (right) at the textbook launch.
HPU PsyD student and author Patricia Maia began the program a year ago and contributed to the chapter on depression. She stood with a copy of the textbook at the jovial launch party, surrounded by her classmates and happy to share her experience at HPU and writing the textbook.
"It has been a great experience to write a textbook in less than one year in this program," said Maia. "We worked in pairs. Professor Garrett made things simple for us, and I know it was a complex project, but she made it seem simple. I highly recommend the PsyD program at HPU. The professors are highly committed to making sure that you are successful in the program."
To purchase a copy and to learn more about Integrating Evidence-Based Mental Health Practice in Hawai'i go to BookBaby or Amazon.
To learn more about the HPU PsyD program click here.