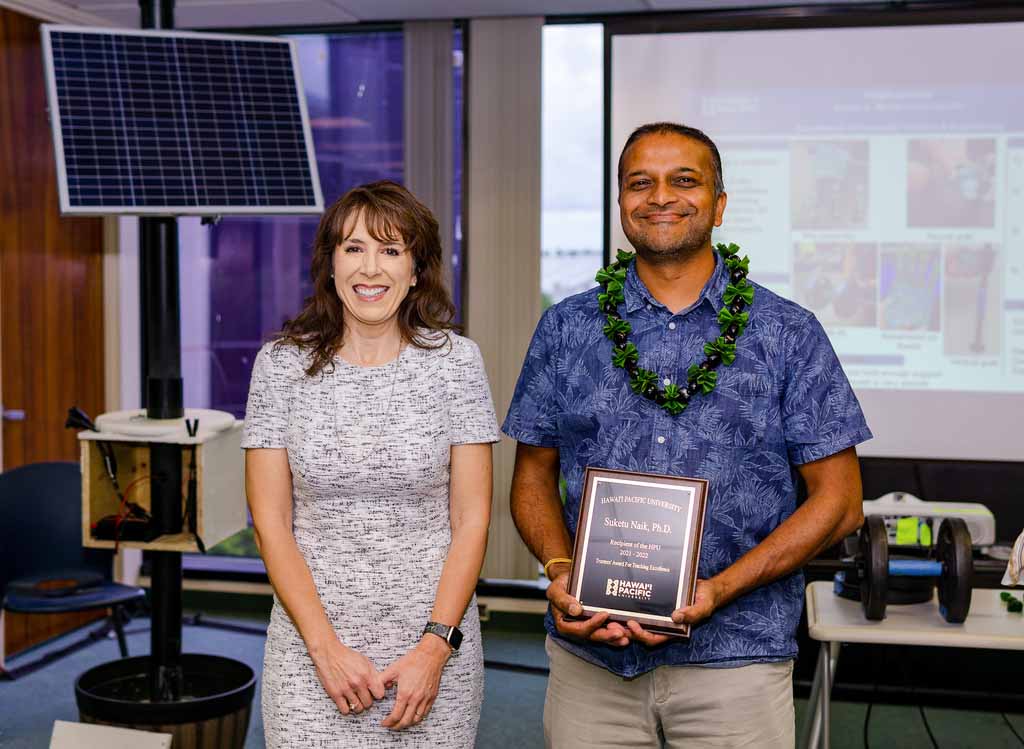 Senior Vice President and Provost Jennifer Walsh, Ph.D., and Suketu Naik, Ph.D.
HPU awarded Associate Professor of Engineering Suketu Naik, Ph.D., with the annual 2022 Teacher of the Year award. Naik is also the engineering program chair. He joined HPU in 2019 and teaches electrical and biomedical engineering courses. Naik was presented the award on April 27, at HPU's Engineering Demonstration Day, an event where engineering students showcase their design projects they have been working on during the academic year.
"I would like to thank my fabulous students who put in their hard work and dedication," said Naik. "I get to be my best with students who bring a lot of fresh ideas and great energy.  My deepest thanks to my amazing colleagues for their leadership and support."
Naik earned his Ph.D. in electrical engineering from Kyoto University in Japan. His multidisciplinary research focused on the dynamics of coupled systems, including biomedical systems, inertial sensors, and energy harvesting.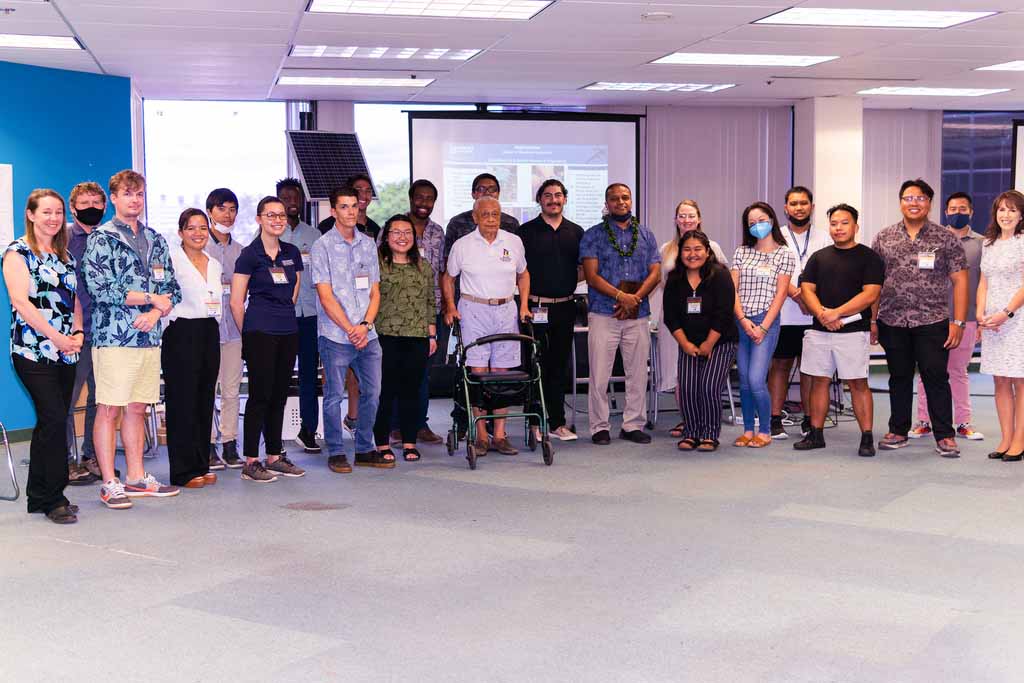 Suketu Naik, Ph.D., the 2022 HPU Teacher of the Year, is congratulated by his students in the HPU Allen and Nobuko Zecha Engineering Program, Allen Zecha, Ph.D., and HPU administrators.
HPU's engineering program students are offered the opportunity to apply theory learned through participation in research projects. One of Naik's students is working with him to design a therapeutic ultrasonic transducer system to aid in chronic pain and/or Alzheimer's disease.
" Dr. Naik is not only an outstanding and considerate professor, but he is an incredible mentor," said HPU biomedical engineering student Paige Ahladianakis. " I have only witnessed him go above and beyond for each individual engineering student, always pushing us to do our best, supplying us with anything we might need, and giving us ample patience even when the going gets rough. Each student's opinion matters to him, and he has been building the engineering program into something magnificent for us all. I could not imagine anyone more deserving of this title than him, he is the teacher of a lifetime to me!"
The inaugural class of HPU's Allen and Nobuko Zecha Engineering Program will graduate in the spring ceremony on May 7, 2022, at Aloha Tower Marketplace. A total of nine students will graduate with their engineering degrees, and several already have a job lined up after graduation; two students are headed to graduate school.
To learn more about HPU's engineering program and to see the degrees offered click here.