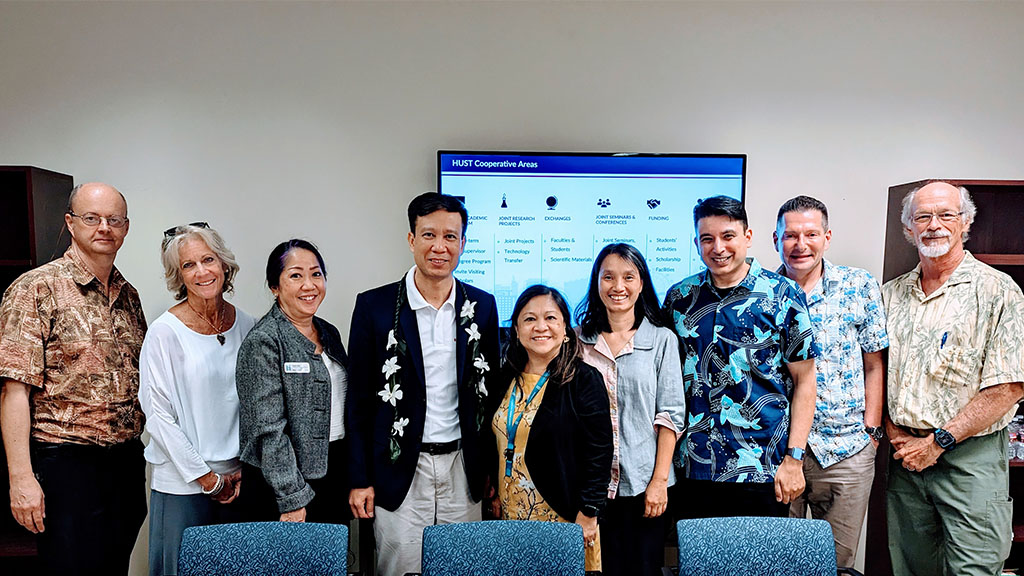 Pictured (Left to Right): Russell Hart, Barbara Hannum, Carin Iha, Tuan Le, Edna Magpantay-Monroe, Hanh Nguyen, Mani Sehgal, Mark Rosenbaum, Stewart Crawford.
Following the MoU (memorandum of understanding) between Hanoi University of Science and Technology (HUST) and HPU (signed February 2023), Chairman of the University Council, HUST, Dr. Tuan Le visited HPU on April 5, 2023, to discuss further collaboration areas between the two universities. The meeting was organized by HPU Assistant Professor of Applied Linguistics and Director of the International Group Program Barbara Hannum and HPU Professor and Director of the MA TESOL Program Hanh Nguyen, Ph.D.
HPU representatives invited to the meeting were Associate Professor and Chair of the Department of Computer Science and Engineering Stewart Crawford, Ph.D., Professor and Director of the Diplomacy and Military Studies Program Russell Hart, Ph.D., Director of Outreach Program Carin Iha, Associate Professor and Director of the Sustainability Program Serge Marek, Ph.D., Dean of the School of Nursing Edna Magpantay-Monroe, Ph.D., Dean of College of Business Mark Rosenbaum, Ph.D., Dean of the College of Professional Studies Mani Sehgal, Ph.D. (ABD).  
HUST is Vietnam's top science and technology university, ranking #360 for engineering and technology on the QS World University Rankings. HUST offers 130 academic programs, 19 of those are offered in English. With six Research Institutes & Centers and 12 Key Laboratories, HUST's research areas include health sciences and technology, data technology and intelligent systems, as well as sustainable energy and environment. HUST has a wide network of international partners, including many US partners. 
The HPU-HUST collaboration started in 2019 with a plan for a study-tour from HUST to HPU, but the plan was interrupted by COVID-19. In 2022, Nguyen visited HUST's International Relations office and gave an academic presentation at HUST's School of Foreign Language Studies. In 2023, HPU Assistant Professor Ngoc Phan, Ph.D., and HPU Associate Professor Micheline Soong, Ph.D., gave Zoom lectures to HUST's faculty and students on American culture and literature. 
At the meeting on April 5, 2023, Le and HPU representatives exchanged information about their areas of expertise and discussed ideas for potential collaboration, including consultancy in university development strategies, faculty research collaboration, and joint academic programs. 
HPU 'ohana is invited to contact Nguyen at hnguyen@hpu.edu for further information about HPU-HUST collaboration.