HPU's Division I Computer Programming Team.
HPU has taken the top spot in Hawai'i at the International Collegiate Programming Contest (ICPC) for the eighth year in a row, defeating UH Hilo. HPU has won the Division I in Hawai'i 12 of 19 times. That's more than any other university in Hawai'i since a Hawai'i site was created in 2003. HPU competes in the Pacific Northwest region, considered one of the toughest in the country.
"Participating in the contest is great for increasing problem-solving and programming skills, for a resume, and for job interviews," said Associate Professor Curt Powley, Ph.D. "This is invaluable for any discipline." 
The Division I team includes HPU students Alyssa Lawton, Edward Flores, and Linus Ehlers. The HPU Division II team grabbed fourth place; players include HPU students Truong Nguyen, Dorde Zlatanovic, and Abigail Lorber. Contestants in the ICPC were given the option to compete virtually or in-person at their respective universities.
HPU alumnus Kevin Chevalier assisted in coaching the Division I and II teams this year and helped manage the HPU contest site. Chevalier competed and won first place last year while on the Division I team and has since graduated from HPU with degrees in biology and computer science.
Powley and HPU Division I team member Brian Chalfant were interviewed last year on Hawai'i Public Radio's Bytemarks Café. They discussed the competition and how it tested the team's creativity, innovation, and ability to perform under pressure.
Click here to listen to the complete interview with Bytemarks Café host Burt Lum.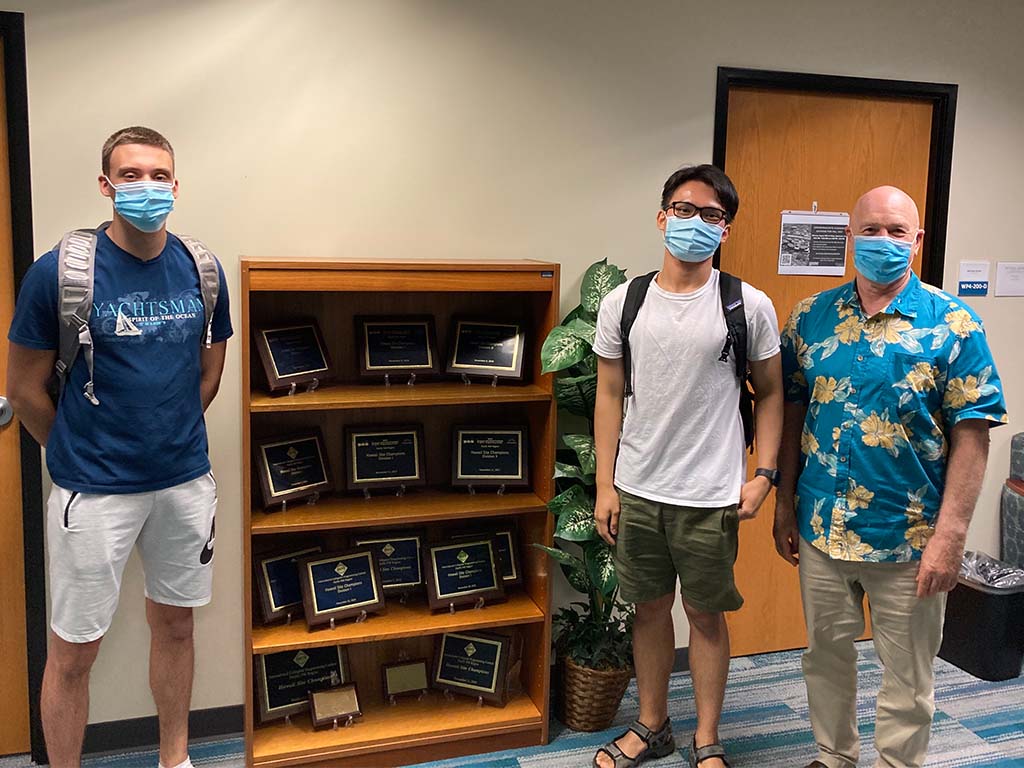 Dorde Zlatanovic, Truong Nguyen, Professor Curt Powley with plaques from HPU's prior contest wins..
The ICPC is the most prestigious computer programming contest in the world. Over 58,000 contestants from over 3,400 universities in over 100 countries compete from over 600 sites. Teams of three work to solve real-world problems, "fostering collaboration, creativity, innovation, and the ability to perform under pressure," according to the ICPC website.
To learn more about joining the HPU Division I and II teams contact Professor Curt Powley at cpowley@hpu.edu.