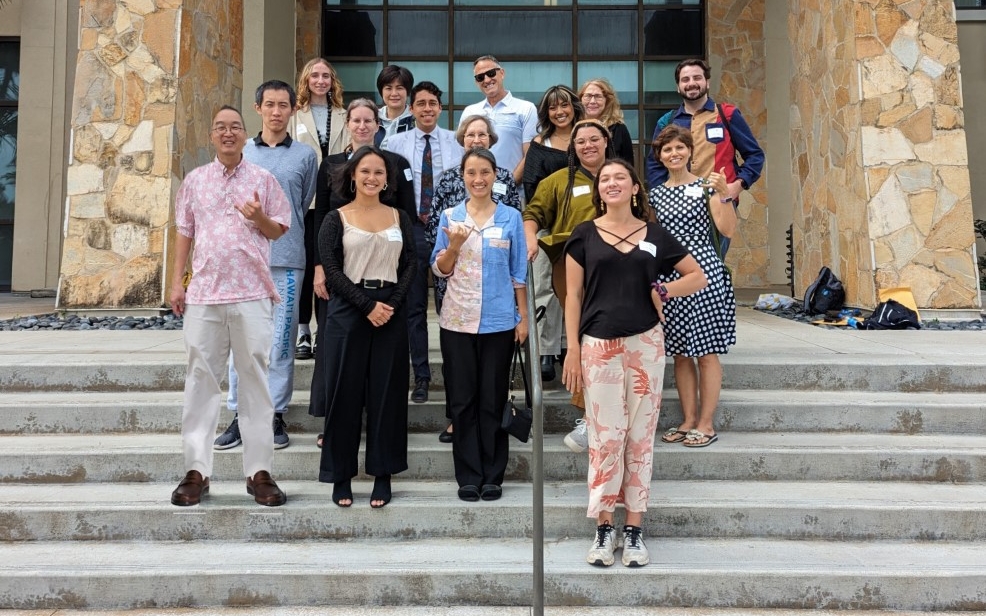 Photo taken by Jessica Barrera, edited by Kinohi Abafo.
Thirteen undergraduate and graduate TESOL students and five TESOL faculty members attended the recent Hawaii TESOL conference on February 18, 2023, at Brigham Young University - Hawaii, with funding support from Hawaii Pacific University. Among them, several presented talks and posters:


Jared Smith, Mia Mercado, Sadie Nitta, and Kinohi Abafo (MA TESOL students) presented a panel entitled Designing Learner-Centered Language Lessons (organized by Dr. Maria Levy)
Sadie Nitta (MA TESOL student) gave a presentation on A Corpus Analysis of Plesionyms Attribute, Characteristic, and Trait
Dr. Maria Levy gave a talk on Accessible and Relevant Grammar
Tatyana Lukov (MA TESOL student) presented a poster on Just Listen and Read: An Alternative Use of Instructional Time
Yuhui Du (MA TESOL student) presented a poster on Learning English Through Playing Basketball: A Total-Physical-Response Teaching Unit 

In addition, Jean Kirschenmann and (retired HPU TESOL professor) Sally La Luzerne-Oi raised over 300 dollars for a Ukrainian humanitarian organization at the conference. In return for donations, conference goers received Ukraine-themed bookmarks, some designed by students. Hawaii TESOL has had a longstanding sister affiliate relationship with TESOL Ukraine, thanks to Sally's teaching experiences there beginning in the 1990s.
The TESOL Program hopes to receive continued support to be able to carry out this important professional development activity for students and faculty members in the future.