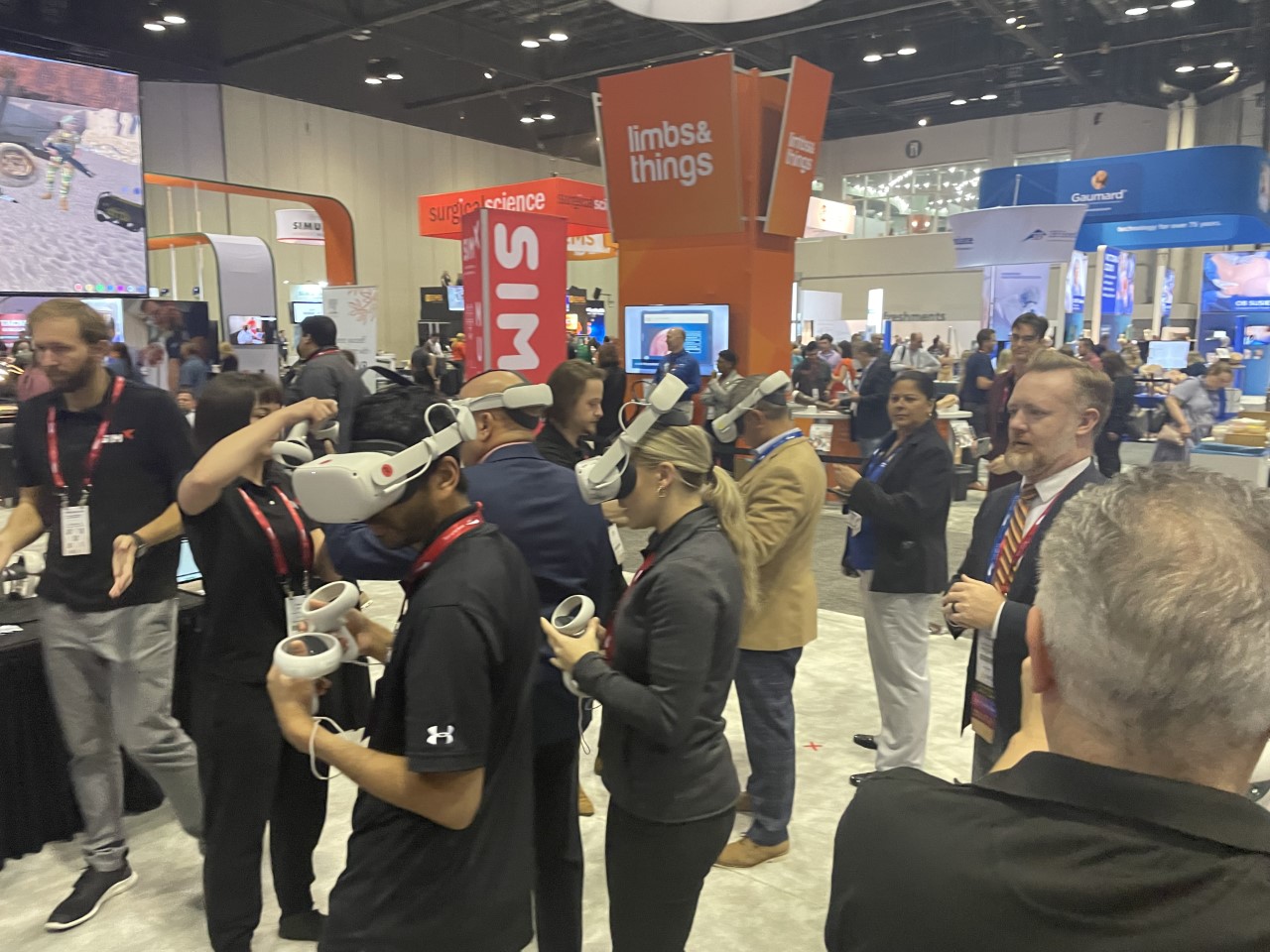 The SSH Exhibit Hall with many simulationists experimenting with virtual reality..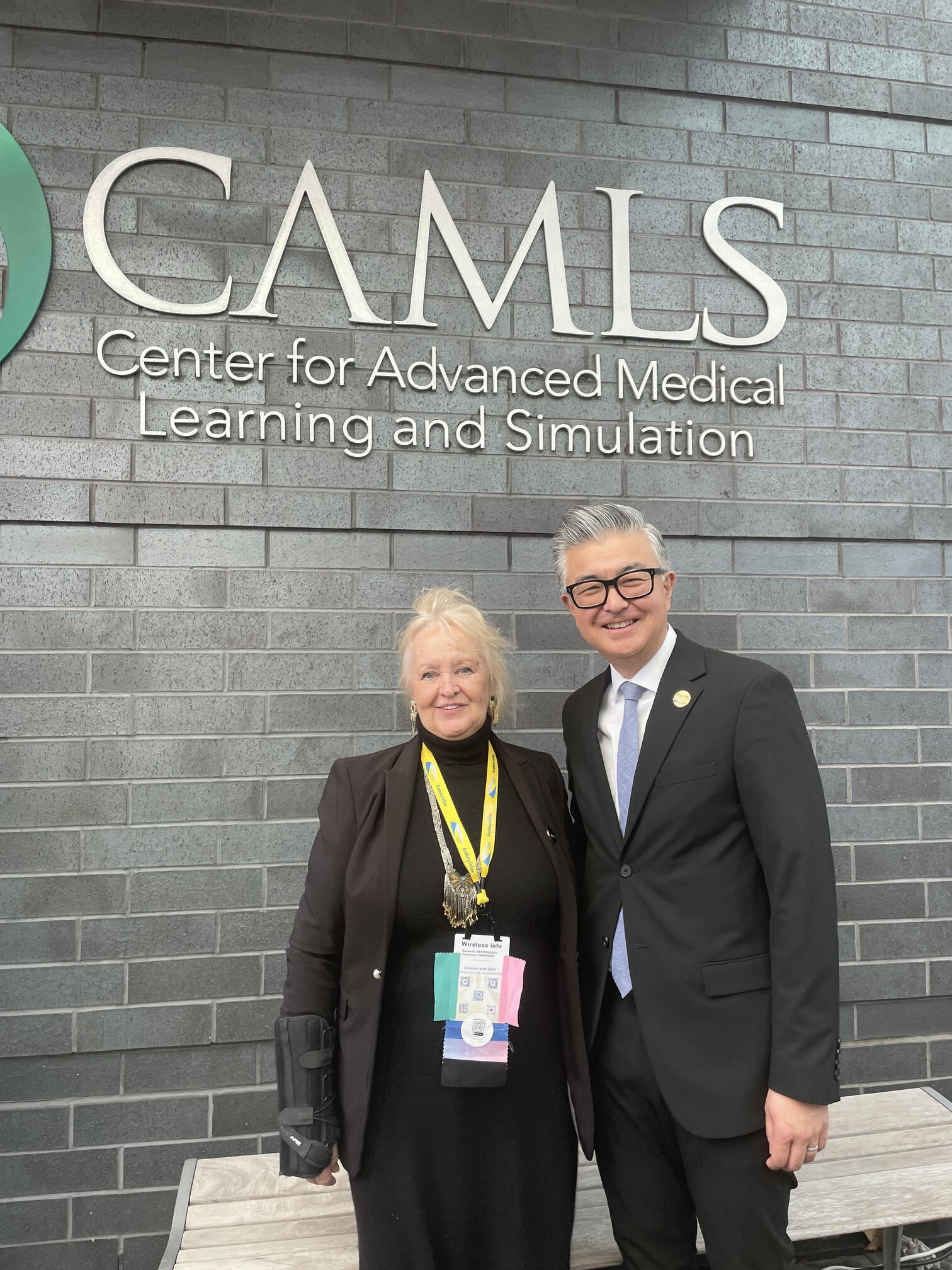 Dr. Jayne Smitten and the past SSH President Dr. Haru Okuda from Tampa, Florida, in front of the extraordinary 90,000 sq ft CAMLS Sim Center..
Sophisticated manikins, suffering various levels of pain and receiving a spectrum of medical procedures in emergency room environments – that was a sample of what HPU Associate Dean and Professor of the College of Health and Society Jayne Smitten, Ph.D., MEd, CHSE-A, FSSH, and over 2,200 healthcare professionals, educators, researchers and developers from around the globe had the opportunity to participate in at the 2023 International Meeting for Simulation in Healthcare (IMSH) Conference held in Orlando from Jan. 21-25.

"Simulation-based education, in all its diversity of clinical specializations, reveals promise for patient care progress in our future," Smitten said. "An explosion of healthcare and educational technologies was exhibited at IMSH 2023, including demonstrating HPU Simulation Center's recent acquisitions: a state-of-the-art maternal and neonatal simulator. HPU's manikin-based simulators enhance the opportunities to expose our nursing and health disciplines to real-life experiences in childbirth and critical infant conditions, including confronting the potential of scary complications." 

Excellent plenary speakers, research presentations, educational sessions, off-site immersive courses, breakout meetings by special interest groups, and the invaluable opportunity to network with simulation practitioners and leaders in the field inspired and invigorated Smitten at the conference. She saw the boundless possibilities of healthcare simulation to effect continuous improvement and innovation in patient safety and healthcare.

As the 2023 Society for Simulation in Healthcare (SSH) President, Smitten delivered a message to the conference attendees. "Healthcare simulation education must continue building on demonstrating its value, return on investment, and sustainability as we face diverse challenges towards achieving quality patient care, patient safety, and global workforce mindsets," she said. 

Smitten focused on the power of all SSH members to "be BOLD," seizing individual opportunities to ultimately make a difference collectively for the betterment of our communities.


Be Bold —dare to be inquisitive and probe for answers and solutions in this exciting IMSH conference environment. 
Open your mind to new, fresh ideas and thinking. 
Leverage your learning by sharing with colleagues and coworkers both here at the conference and back home. 
Dive into the multitude of sessions and presentations, industry trends and innovations, and networking opportunities. Build on your past relationships and make new connections in the global simulation communities.
Smitten has more than two decades of experience in interprofessional simulation center leadership and management involving simulation programs' assessment, teaching/education, research, and systems integration in a variety of healthcare settings. She is one of the original certified CHSE-A healthcare simulationists (Certified Health Simulation Educators- Advanced) worldwide. Smitten was the first simulation educator/administrator from Hawaii selected as a Fellow of the Society for Simulation in Healthcare Academy (FSSH), Class of 2020. Additionally, she is one of only 99 honored globally with the SSH Academy Fellow distinction, inaugurated in 2017. 
She has served on the SSH Board of Directors/Executive Council and continues to serve on the SSH Accreditation Board of Review Council and Reviewer/Team Lead/Mentor for the Accreditation of healthcare simulation programs globally. In her role as the 2023 SSH President, Smitten was elected through a competitive nomination and voting process involving over 5,000-plus SSH members.