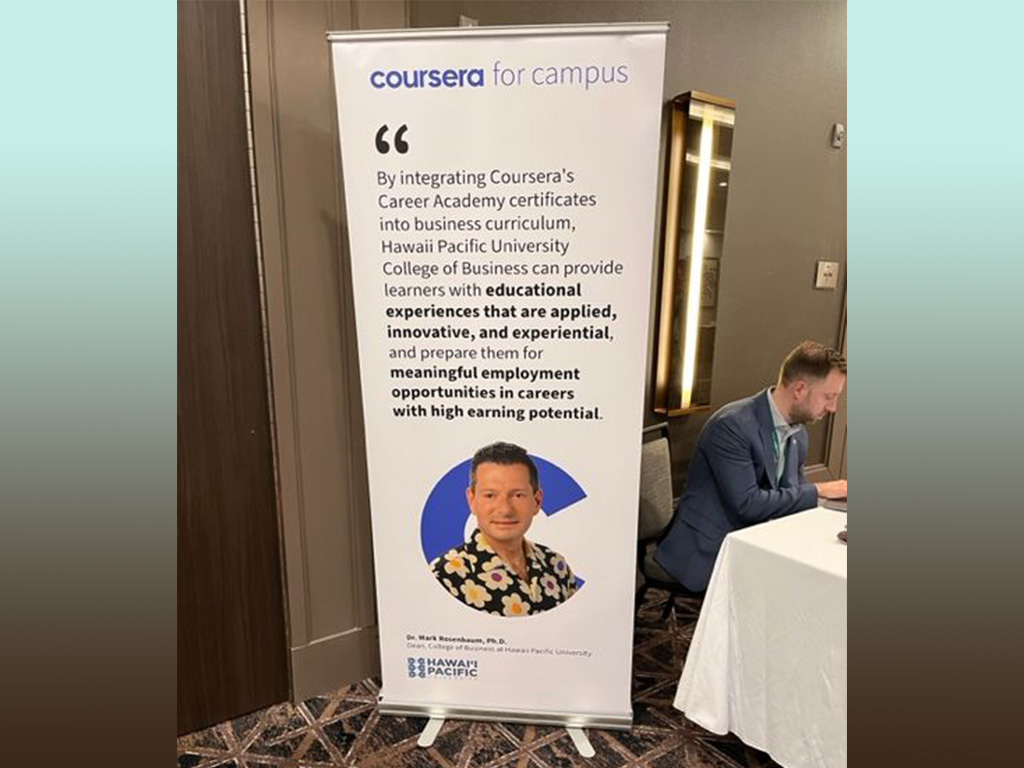 HPU College of Business Dean Mark Rosenbaum featured at the 2023 AACSB Deans Conference in San Antonio, Texas.
HPU College of Business Dean Mark Rosenbaum, Ph.D., recently returned from the AACSB Deans Conference in San Antonio, Texas where he represented HPU and participated in two important sessions on rapid growth of mircocredentials. The Deans Conference is an interactive workshop conference where, according to the AACSB website, more than 700 business school leaders gather at the world's largest event held exclusively for deans and heads of business units. 
The first session that Rosenbaum participated in was as co-chair of the new deans affinity group. Rosenbaum hosted Global Head of Coursera for Campus Coursera Career Academy Scott Shireman, who spoke about the importance and value of microcredentials for undergraduate and graduate students. Rosenbaum was able to provide attendees with first-hand experience as to how the HPU College of Business has incorporated Career Academy into many of its program offerings.    
"At this year's conference, I was delighted to see Coursera prominently feature the HPU College of Business," said Rosenbaum. "When HPU piloted Coursera's Career Academy last year, I knew that we were on the path to providing our learners with an educational experience that was applied, innovative, and experiential, preparing them for meaningful employment."  
In the second session, Rosenbaum joined UC Riverside School of Business Dean Yunzeng Wang and Coursera Account Executive Jesus Rosario to speak about the use of microcredentials in HPU's programs.  
"In a competitive and fast-changing labor market, employers increasingly expect entry-level employees to join their organizations equipped with job-relevant skills and hands-one experience," said Rosenbaum. "At the same time, university-age students and their parents are thinking more critically at the return on investment of traditional four-year degree undergraduate programs and whether students will secure a meaningful job after graduation." 
Rosenbaum is confident that new models of business education are emerging and that HPU's College of Business model will serve as a future benchmark for many teaching-intensive and regional comprehensive universities.  
To learn more about HPU's College of Business click here.