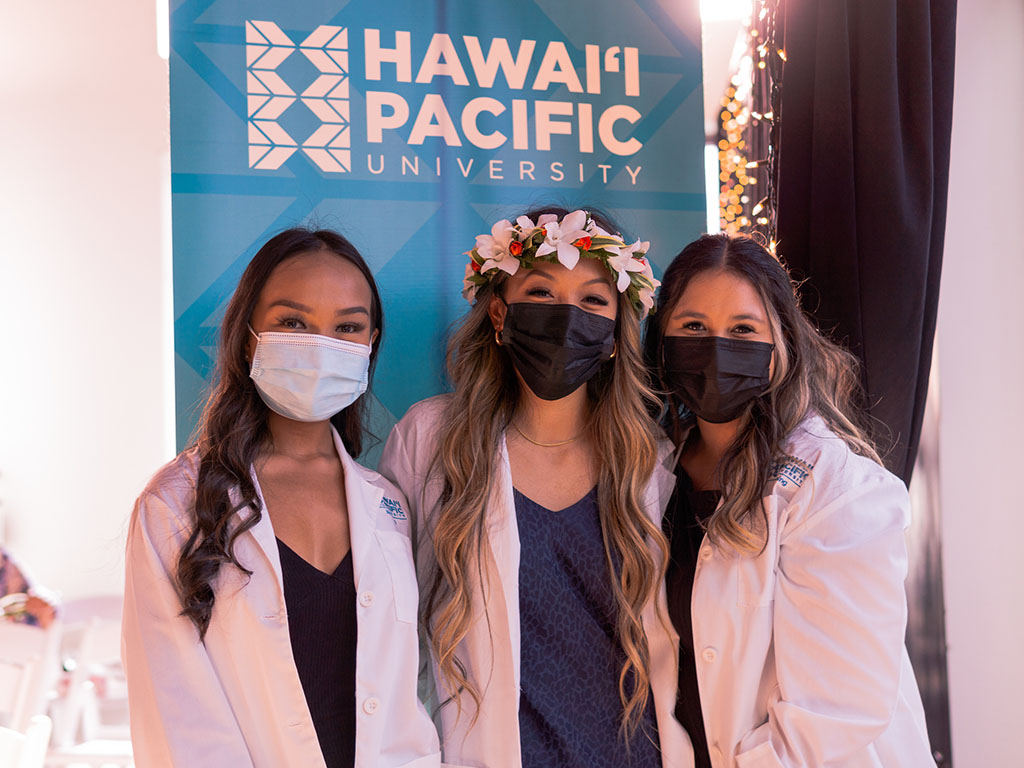 HPU nursing students.
HPU has formally announced the establishment of its new School of Nursing. Interim Executive Director Carolyn Yucha, RN, Ph.D., FAAN, was appointed interim dean of HPU's School of Nursing, while a national search for a permanent dean is forthcoming this spring. Yucha currently oversees all nursing programs at HPU, which were recently ranked in U.S. News and World Report's 2021 Best Colleges Ranking as the best undergraduate and graduate nursing programs among all private universities in Hawai'i.
HPU is launching its School of Nursing in response to growth in the University's nursing program and other programs within the College of Health and Society, including the state's first Doctor of Physical Therapy program. The College of Health and Society also offers Public Health and Social Work programs. Community demand is high for healthcare educational programs. 
"HPU is committed to serving our community in Hawai'i, helping meet its healthcare needs through education," said HPU Senior Vice President and Provost Jennifer Walsh, Ph.D. "Right now, with the nursing shortage in Hawai'i, HPU's nursing graduates are extremely well prepared to meet the state's current healthcare needs. Our experienced and dedicated nursing faculty provide students with  individualized attention and focused mentorship to ensure that a Hawai'i Pacific-trained nurse is head and shoulders above the rest."
Carolyn Yucha joined HPU from the University of Nevada, Las Vegas (UNLV), and has extensive experience as a nursing faculty member and as a nursing administrator. Most recently, Yucha was the dean of UNLV's nursing program. She is also a fellow in the American Academy of Nursing.
HPU nursing students and faculty had the unique opportunity to serve our community during the pandemic. They applied their healthcare skills at the Aloha Free Clinic, helping recently uninsured individuals, and assisted in the development of a COVID contact tracing course.     
At HPU's December 2021 graduation ceremony at Aloha Tower Marketplace, the university recognized the achievements of its bachelor's, master's, and doctorate nursing graduates.   
"HPU's nursing program has opened countless doors of opportunities after receiving my BSN," said HPU alumna Autumn Butler. "I'm grateful to have been a part of HPU's nursing program because of the accessible, flexible classes provided each semester. We worked hard to achieve our degrees and we are thankful we were able to graduate on time." 
HPU's School of Nursing offers educational programs for the Bachelor of Science in Nursing (BSN), Master of Science in Nursing (MSN), and the online MSN and online Doctor of Nursing Practice (DNP) degrees; the university also offers four post-master certificate programs. 
To learn more about the nursing programs offered at HPU click here.