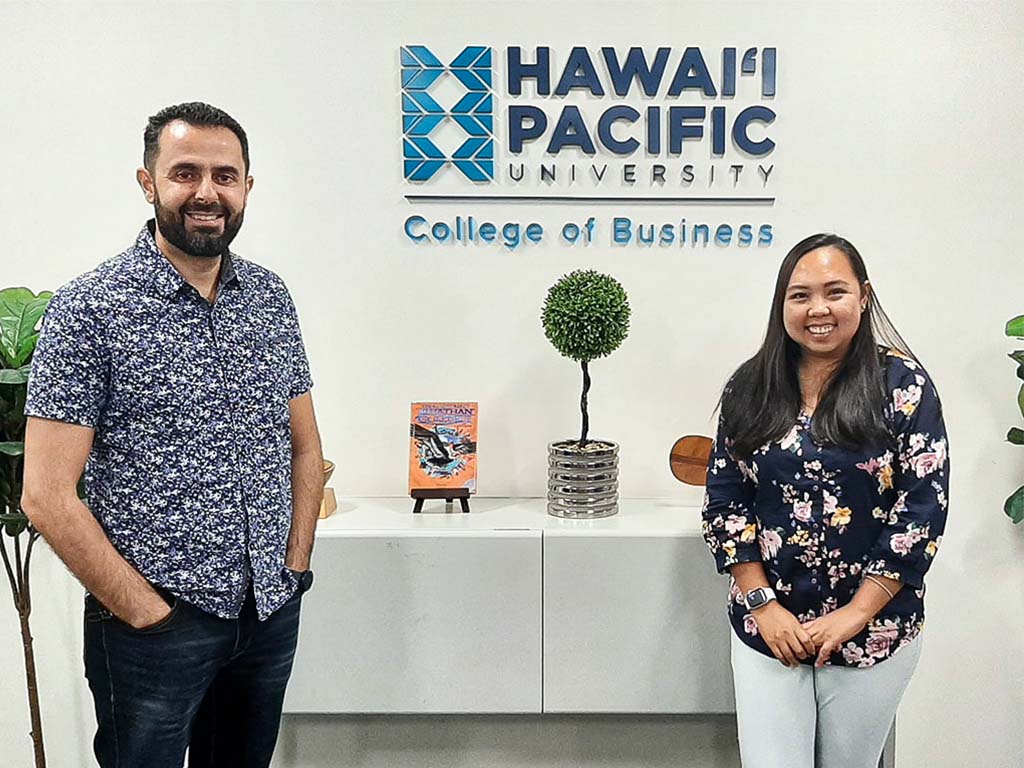 Ghazwan Hassna and Norhayatunajibah Hj Kifli (Naj) at the HPU College of Business.
Since July 2022, HPU Assistant Professor and MSBAIS Program Chair Ghazwan Hassna, Ph.D., has hosted visiting Fulbright Scholar Norhayatunajibah Hj Kifli (Naj) of Brunei through the US-ASEAN Fulbright Visiting Scholar Program. Naj recently completed the Program at the HPU College of Business on November 15, 2022. 
Naj holds a master's degree in management and information system and a bachelor's degree in business administration and information system from the University of Brunei Darussalam. She has several years of experience in academic and technical program development and is currently working as the Head of the Admission Unit at Politeknik Brunei (the first polytechnic/higher education institution in Brunei). Naj came to HPU to partner with Hassna and gain from his expansive knowledge and experience to conduct research on the topic of Big Data & Analytics utilization by higher education institutions in Southeast Asia.
Naj has spent the last four months in the Program at HPU searching and learning about the transformational potential of Big Data & Analytics in higher education.
"I had the chance to meet with my host mentor, Dr. Ghazwan Hassna, at least once a week for the whole duration of the program and obtained practical support regarding various aspects of the work during these meetings," said Naj. "Dr. Hassna guided me to the relevant literature and shared his own published and work-in-progress papers in the field of Big Data and Analytics research. I found Dr. Hassna's advice to be very helpful in terms of increasing the quality of my research and equipping me with the knowledge needed to conduct similar studies in the future."
Naj explained that Hassna not only highlighted any shortfalls in her research, but he also provided her with detailed explanations on how to overcome shortfalls in a very engaging manner.
"I found the sessions with Dr. Hassna to be highly motivational and informative experiences because they have increased the level of my personal interest in conducting research," said Naj. "Prior to joining this program, and having discussions with Dr. Hassna, I lacked exposure to what entails a research process. Thanks to my mentor, Dr. Hassna, I learned to appreciate the research process and the exploration of the various ways research was conducted and written."
Naj returns to Brunei on Nov 16, 2022, and her research collaboration with Hassna will continue in collecting data and writing the research report. Hassna's recently published work on Big Data & Analytics in Higher Education aligns well with Naj's research direction and interests.
Hassna is an Assistant Professor of Information Systems, the program chair of the Master of Science in Business Analytics and Information Security at the HPU College of Business and is the chair of the faculty senate and assembly. He earned his Ph.D. in information systems from the College of Business of City University of Hong Kong and his M.Sc. in management and information systems from The University of Manchester, U.K.
Before joining academia, Hassna had more than six years of experience in formulating, planning and managing large scale IT-enabled change initiatives. He worked in different geographies and for/with top international organizations and governmental agencies. He is currently interested in the research areas of AI Governance, Big Data & Artificial Intelligence Strategies and Applications, Blockchain Strategies and Business Applications, Digital Transformation, Crowdfunding and Internet Finance, and Smart Governments.