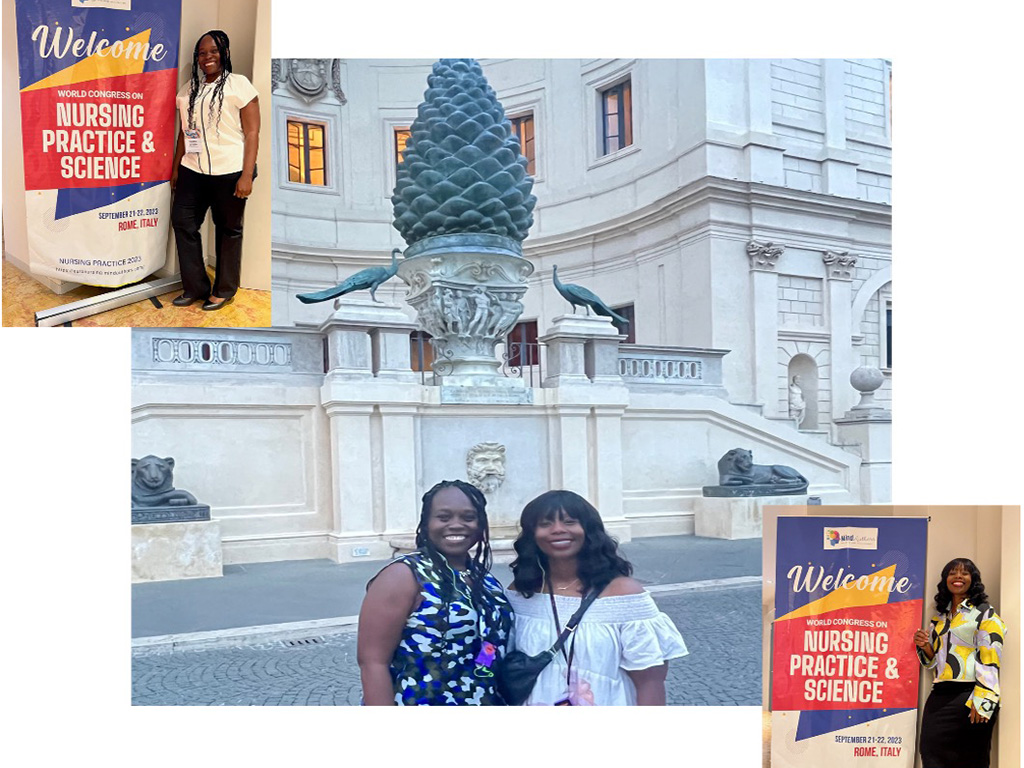 Tandrea Jackson and Shante Gleaton in Rome, Italy, for the 'Nursing Practice 2023' held in September 2023.
HPU Assistant Professor of Nursing Tandrea Jackson, DNP, APRN, FNP-BC and Adjunct Professor of Nursing Shante Gleaton, DNP, APRN, FNP-BC recently presented at the World Congress on Nursing Practice & Science held September 21-22, 2023, in Rome, Italy. The conference theme, "Exploring new ideas and challenges in Nursing Practice & Research," provided a platform for them to share their doctoral project.
Jackson presentation titled, "COVID-19 Related Anxiety Considerations Among Providers During the Pandemic: Dysfunctional Anxiety Self-Evaluation" highlighted impacts the COVID pandemic global rise among healthcare providers with mental health issues and the greatest risk for psychological distress for those providing direct care to COVID-19 patients. She emphasized ways to evaluate initial and post anxiety levels with the utilization of appropriate anxiety assessment tools and interventions to assist the provider with managing her anxiety. She also introduced relaxation techniques such as guided imagery and meditation.
Gleaton presentation titled, "Improving Medication Reconciliation: A Pictorial Medication Guide to Address Health Literacy" focused on patients who receive a pictorial medication guide and home visit for continual review prevent hospital readmissions. She stressed patients' importance to understanding the medications they take using an understandable pictorial format. She also presented a valuable model for improving the medication reconciliation process which ultimately will improve patient safety, medication use, and medication compliance while decreasing hospital readmission rates.   
Nursing Practice 2023 welcomed bright minds to discuss the advancements and upgrades in the Nursing and Healthcare industry. It aimed to create an environment of collaboration, engagement, and a platform for all researchers, analysts, and industrialists to share their knowledge on progressive instrumentation to serve humankind.