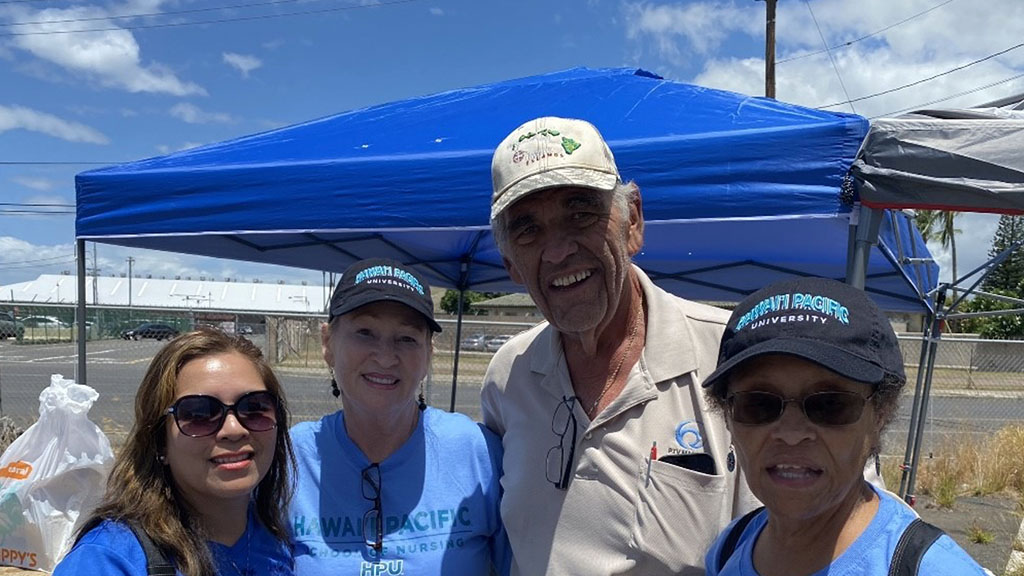 HPU School of Nursing Faculty members (left to right): Leeah Javier, Joy Bliss, Patricia Burrell with Charley Pires (third from right).
Oahu communities rose together in a remarkable display of unity and compassion on August 10, 2023, to support the people of Maui who have been severely affected by the devastating fires. Spearheaded by Charley Pires, owner of the vessel Kahana II, the volunteer-driven donation drive aimed to provide essential supplies and support to the people of Maui.
Pires recognized the urgent need for assistance and strongly rallied behind the noble endeavor. He stated, "the need is now," as he prepared to embark on a 10-hour journey to Maui on Kahana II that was equipped with supplies generously donated by Oahu communities.
Donations were meticulously organized and packaged by an array of volunteers, including HPU School of Nursing (SON) faculty members Joy Bliss, Ph.D., RN, Patricia Burrell, Ph.D., APRN APMHCNS-BC, CNE, and Leeah Javier, DNP, RN. Working alongside teams of eager volunteers, SON faculty members wrapped pallets and sorted donations, ensuring that the aid would reach those who needed it most. 
One key figure in the volunteer effort was Eric Tang, who expertly operated a forklift to load the pallets of donations onto trucks, preparing them for transport. Even Violet, the loyal guard dog, made her presence felt as part of the collective effort.
The focal point for the delivery of these vital supplies was the office of Maui's Mayor, Richard Bissen Jr. Mayor Bissen expressed his gratitude for the outpouring of support and stated that the island was in dire need of nonperishable items. Specific items like gloves, oxygen, monitors, and masks were listed as essential necessities for the affected communities.
The generosity exhibited by the people of Honolulu was heartwarming. The dedication of HPU faculty members, along with the collaborative efforts of volunteers and organizations such as the HPU Student Nurses Association showcased the unity of purpose that underlines the spirit of the communities across Hawaiʻi.
When the Kahana II set sail, laden with hope and supplies, the people of Honolulu stood united in their support for Maui. This volunteer event not only delivered material aid but also served as a powerful reminder of the strength that comes from standing together in times of crisis. The city's collective mourning for Maui was a testament to the compassion that binds communities in the face of adversity.