Pictured (left to right) are: Luis Llerena, Jayne Smitten, Edgar Herrera, Haru Okuda, Jesse Casanova.

Jayne Smitten at the Unidad de Congresos in Mexico.

Jayne Smitten (center) with peers at a 2023 SIMex International Meeting location.
HPU Professor Jayne Smitten, Ph.D., MEd, CHSE-A, FSSH, an esteemed simulationist, recently took center stage as the keynote speaker at the 2023 SIMex International Meeting. Held from August 9-11, 2023, at the Facultad de Medicina, a renowned institution under the aegis of the National Autonomous University of Mexico, this event marked a significant confluence of global simulation experts and healthcare professionals.
The SIMex meeting served as an international platform for simulation luminaries to convene and exchange insights. Smitten, a respected authority in healthcare education through simulation, brought her expertise to bear in her presentations and discussions. Notably, she illuminated the nuances of simulation debriefing mastery and expertly moderated roundtable sessions. These dialogues, involving eminent professionals hailing from Mexico and Latin America, concentrated on the integration of simulation techniques into the fabric of quality healthcare provision and the fostering of high-performance teams.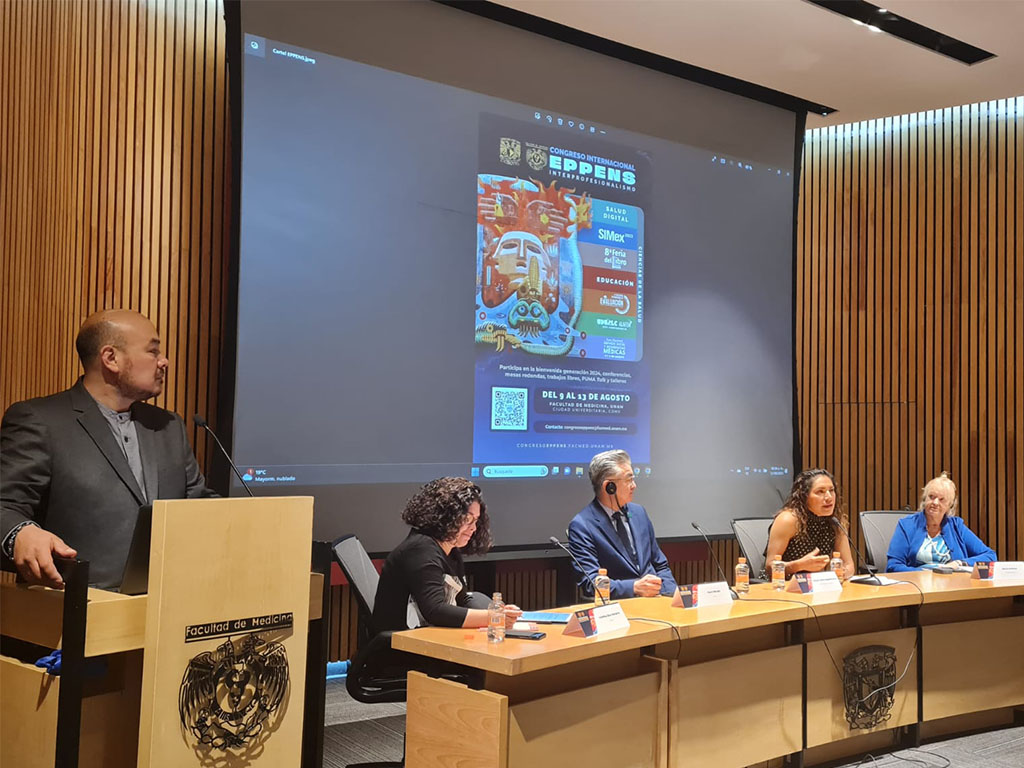 Jayne Smitten, seen far-right, moderating a roundtable session.
Smitten also actively engaged with her peers, fellow simulation leaders, and simulationists. Collaborating alongside colleagues from the University of South Florida's CAMLS division, she lent her insights to workshops that elaborated on the Society for Simulation in Healthcare's (SSH) rigorous educator credentialing process and the accreditation protocols for Simulation Centers. These collaborative efforts exemplified Smitten's commitment to advancing the field of simulation-based education.
A noteworthy announcement made by Smitten pertains to the upcoming SSH Annual Global Healthcare Simulation Week, scheduled for September 18th to 22nd, 2023. During this virtual event, healthcare disciplines at HPU will have the unique opportunity to partake in global discourse, sharing their experiences and insights with simulationist colleagues worldwide.
The event theme, "Be a Champion of Your Success Story," underscores the celebration of individual achievements and collective progress within the realm of healthcare simulation. For further information and participation details, interested parties are encouraged to connect with Smitten directly via email at jsmitten@hpu.edu.  
Smitten's leadership role within SSH is highly commendable. As the 2023 SSH President and a distinguished fellow of the Academy of Fellows in the Society for Simulation in Healthcare (FSSH), she has played a pivotal role in steering international simulation events. Her influence is palpable in the form of lectures and workshops that have benefitted multidisciplinary healthcare communities across global conferences.
Smitten's present collaborative efforts are concentrated on the final stages of executing the SSH 5-year Strategic Plan (2023-2028). This visionary roadmap, under her guidance as part of the SSH Board, emphasizes five fundamental pillars: Advocacy, Research/Innovation, Education and Learning, Credentialing, and Organizational Sustainability and Growth.
Her recent contributions underscore a profound impact on the advancement of healthcare disciplines through simulation. Her leadership, expertise, and collaborative spirit continue to shape the landscape of healthcare education on a global scale.