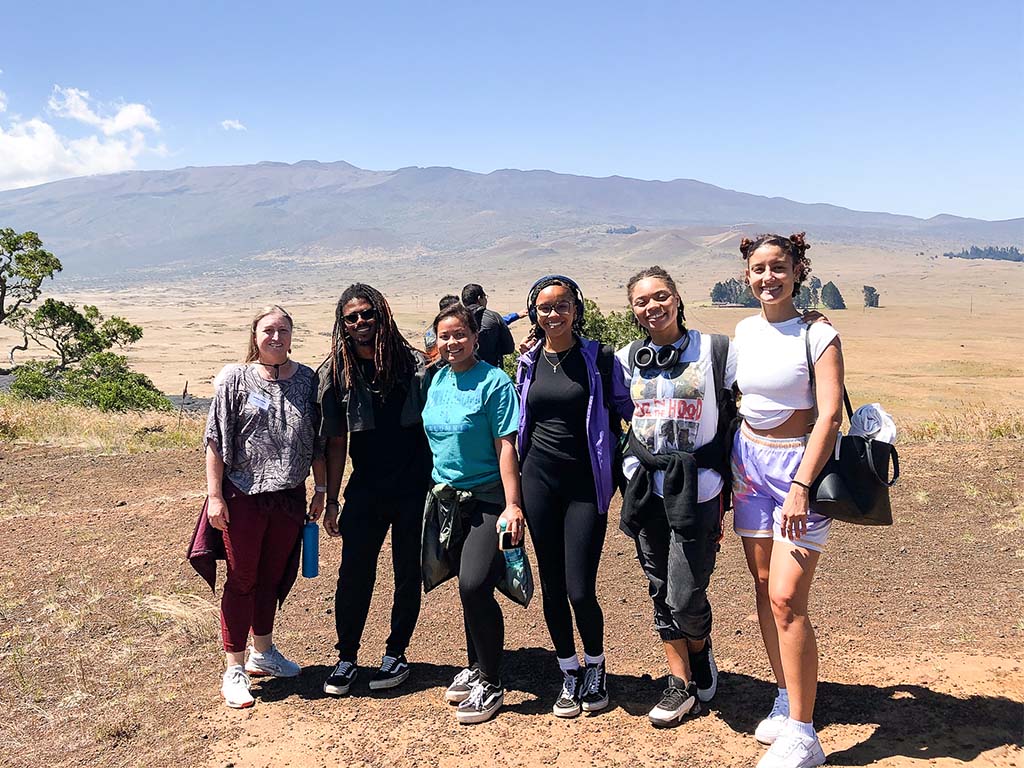 HPU attendees at Pu'u Huluhulu with Mauna Kea in the background (left to right): Barbara Quimby, Solomon Hayes, KaiLei'a Duriano, Allison Nims, Xenia Barnes, Nawel Hamroun.
In a celebration of diversity and academic excellence a group of five HPU students and alumni took part in the annual Student Research Symposium organized by the Islands of Opportunity Alliance–Louis Stokes Alliances for Minority Participation (IOA-LSAMP). Fueled by the robust support and resources provided by IOA-LSAMP, these scholars took center stage to share their discoveries and contributions to STEM fields.
Present at the symposium were HPU attendees Solomon Hayes, KaiLei'a Duriano, Allison Nims, Xenia Barnes, Nawel Hamroun, and HPU Assistant Professor Barbara Quimby, Ph.D.
The symposium is a National Science Foundation (NSF) funded program at HPU, and at 10 other universities and community colleges across Hawai'i and the U.S. Pacific. Its aim is to support underrepresented students in STEM. It is the only such program focused on Native Hawaiian and Pacific Islander students. 
The funding supports HPU paid undergraduate research assistantships, paid training in programming languages through the Data Camp program, and other cultural events and professional development tools through the IOA Learning Community.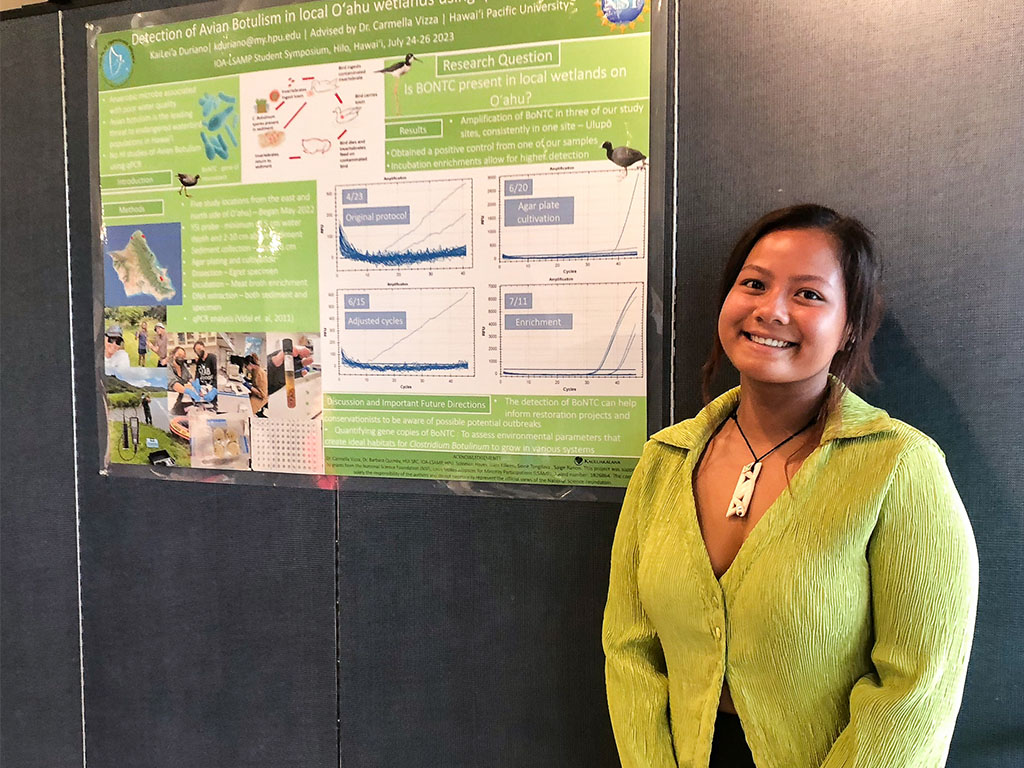 KaiLei'a Duriano.
Among the standout participants at the symposium was HPU student KaiLei'a Duriano, whose research on "Detection of Avian Botulism in Local O'ahu Wetlands using qPCR Techniques" not only garnered acclaim but also earned her the "Coordinator's Choice Poster Award" at the symposium.
"This symposium was such an inspiring and life-changing experience. To be surrounded by encouraging mentors and students from across the pacific created this beautiful atmosphere of supportive individuals who love their culture and science and can see a world where both can fit simultaneously," Duriano said. "I was honored and incredibly grateful to be a part of this scientific community, but more importantly a part of a community of people who understand the magnitude of connecting generations for the betterment of the world."
Duriano was guided by her mentor HPU Assistant Professor Carmella Vizza, Ph.D. Duriano's success at the symposium epitomizes the transformative power of mentorship and access to resources, reinforcing the impact of the IOA-LSAMP program.
To learn more about the IOA-LSAMP, click here.