On Friday, May 5, 2023, HPU held an induction ceremony for Delta Mu Delta, an international honor society in business. The ceremony convened at HPU's Aloha Tower Marketplace, where 41 HPU business students were inducted into the honor society.
HPU Dean of the College of Business Mark Rosenbaum, Ph.D., presented the initiation of the new members and HPU faculty advisor and College of Business Lecturer Leslie Blood, JD, MBA, provided a brief history of the honor society. Blood has been instrumental in the relaunch of the honor society at HPU, which saw a two-year hiatus during the COVID-19 pandemic. The original charter of Delta Mu Delta at HPU was established in 2003.
"I am so proud of our 41 inductees for their academic achievement and hard work at HPU," said Blood. "I am honored to be their faculty advisor and look forward to our work together to champion and nourish our HPU 'ohana and community."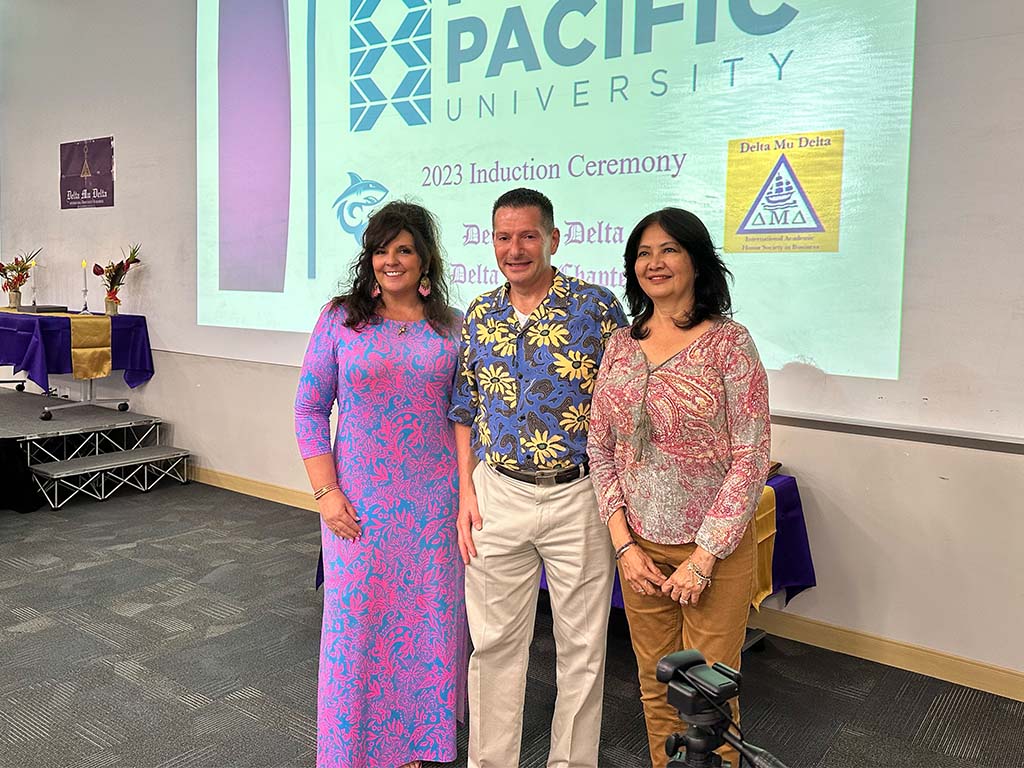 Leslie Blood, Mark Rosenbaum, Michelle Alarcon at the induction ceremony.
The honor society members are of high academic standing and must have a cumulative GPA of 3.7 or higher. "The Delta Mu Delta honor society is dedicated to high-performing university scholars and is an academic distinction at HPU," said Rosenbaum. "We are strongly interested in fostering a community of scholars at HPU."
Special guest speaker HPU alumnus Rebecca Teresia spoke on the significance of being a Delta Mu Delta member, and she highlighted her own experience at HPU as a double alumna, earning a BS degree in business administration and later an MBA. Teresia followed her passion in film and television, working as a producer for the award-winning film Junho and television shows like Magnum-PI and Hawaii Five-0.  
Delta Mu Delta was founded in 1913 at Harvard University, along with four professors at New York University and Yale University. According to the DMD website, their mission is to recognize the "academic distinction of students at select colleges and universities by acknowledging the achievement of its individual members who support and strengthen the communities they serve."
For information on joining Delta Mu Delta, email Dean Rosenbaum at mrosenbaum@hpu.edu.